Could BYD Seagull Be The Gamechanger In Electric Vehicle Adoption?
EV News
The BYD Seagull has a starting price of 78,000 yuan (approx. $11,000)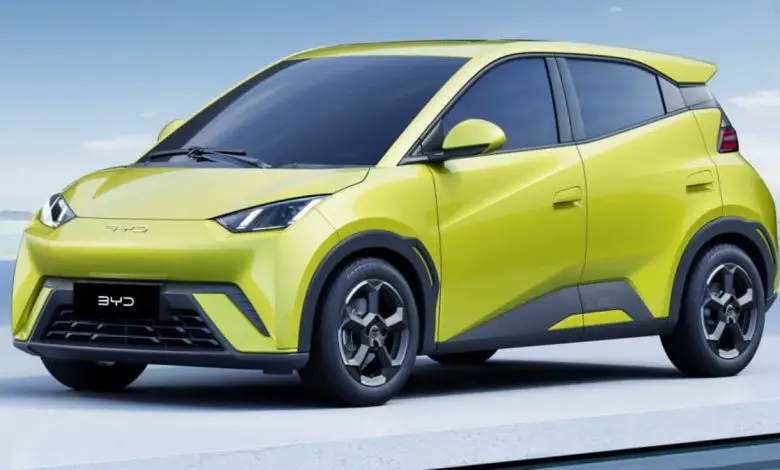 Most families care about the environment and would love to make the switch to electric vehicles but are held back by the high price tag. On the other hand, affordable electric vehicles are usually minuscule quadricycles that are distasteful. That makes the BYD Seagull the first truly affordable electric vehicle.
The new BYD Seagull has a starting price of 78,000 yuan (approx. $11,000) which is closer to what most families can afford. It was first presented at the Shanghai Auto Show. The BYD Seagull was built like a compact hatchback and will be positioned before the Dolphin in the brand's hierarchy.
In terms of dimension, the compact hatchback is 3,780 mm long and 1,715 mm wide, with a height of 1,540 mm. The 4-passenger mini hatchback is slightly shorter than a MINI Cooper and a little bigger than a Fiat 500.
Before now, drivers have been told by manufacturers that EVs cost more but save a lot of money in gasoline and maintenance in the future. However, what BYD Seagull has done is package all the benefits of EVs at a lower price so that drivers don't have to wait for the future to see the benefits of their spending.
According to CleanTechnica reports, the Seagull is based on BYD's e-platform 3.0 and is part of the Ocean series which also accommodates the Seal and the Dolphin. The mini hatchback features an aggressive front end with angular headlights.
It has other subtle design benchmarks that make it truly unique including lines that stretch diagonally along the doors, an exaggerated spoiler extending from the roof, a light bar that stretches across the rear, and rear side windows that extend upwards and merge with C-pillars with black accent.
BYD Seagull is built on the brand's third-generation EV platform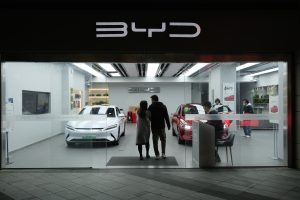 The BYD Seagull is expected to be available in two trims. It will feature front wheels positioned single electric motor with 75 hp (55 kW) and 135 Nm of torque. The motor will drive the car to a top speed of 84 miles/hour with an acceleration of 0 to 62 miles in 9.8 seconds. It will be available with two BYD Blade battery packs – 38.88 kWh or 30.08 kWh.
The trim with the smaller battery pack will have a range of 190 miles while the larger battery will offer 251 miles on a single charge. The range estimates are based on the optimistic CLTC standard which is preferred by Asian manufacturers. Interestingly, that number would be significantly lower using the NEDC standard in Europe or the EPA standard.
Using a fast charger, both battery packs can be recharged from 30% to 80% SOC in under 30 minutes. There are reports that BYD is planning to offer the Seagull in a sodium-ion battery pack later in the year. If that happens, the price of the EV will likely drop even further—but the range could also take a hit too. However, sodium-ion batteries are less prone to fires.
Sodium batteries don't have the same energy density as li-ion batteries and are far behind NMC batteries. A Seagull maxed-out with all the available options is still priced at $13,000 which is still far below what many EVs are offering.  
BYD Seagull features a minimalistic interior with a 12.8-inch infotainment screen, a 5-inch instrument cluster, cupholders, and a wireless charging pad. While the sale of the Seagull has begun in China, it is unclear if BYD plans to sell the mini hatchback in other markets.
Europeans may not be interested in the Seagull
BYD has continued to push its market frontiers. Earlier in April 2023, it launched the Dolphin compact hatchback in Europe with a starting price of $33,000 after tax. It has also unveiled the Atto 3 compact SUV, the Seal midsize sedan, Tang large SUV, and the Han large sedan in Europe.
While many believe that introducing the Seagull will fill the market gap for small and affordable hatchbacks, the director of Germany's Center for Automotive Research (CAR), Professor Ferdinand Dudenhoeffer is not so optimistic that Seagull will receive a glowing reception in Europe.
"It sounds interesting at first glance, but let's talk about some details," Dudenhoeffer said through an email, highlighting the difference between the Chinese and European markets. China's market doesn't place as much emphasis on the range as they do in Europe. The high-selling Hongguang MINI has a range of only 100 miles which could drop even further in cold weather.
"That doesn't work for Europeans," said Dudenhoeffer. "In China, this is used by small businesses and more in the suburbs or in rural areas. Do you remember the Tata Nano? It was supposed to be a revolution and ended up being a flop. Safety in small cars is a big issue in Europe, with airbags, door reinforcement, computerized safety, etc."
The Seagull will likely be shunned in America too who usually prefer vehicles with up to 7 passenger capacity and space for stuffing a week's worth of camping gear. For example, the Honda Fit was a fine car for routine drivers but it never sold well in America. Also, Americans seem to prefer pickup trucks and SUVs.
Chinese automakers are stepping up the competition for global EV market share
Apart from BYD, other automakers in China like Ora, Zeekr, NIO, and Great Wall Motors are becoming increasingly ambitious by exporting their products to other parts of the world. Some of them use price as a basis of competition while others emphasize their features and performance.
NIO Inc which sells its SUV in China for $80,000, a sticker price that is only comparable to Tesla, said it would launch its latest SUV, the ES6, in Europe later this year. The ES6 features voice-activated controls and has a range of up to 380 miles on a single charge.
"We are very confident the ES6 will compete in this premium SUV market," said NIO's founder and CEO, William Li in an interview at the Shanghai Auto Show. "This is not an easy task. Our products and services need to be prepared."
Related
BYD May Buy Ford's Automobile Plant In Germany And Push Electrification
BYD to unveil new Yunnian technology April 10
BYD Extends NVIDIA DRIVE Orin To Dynasty And Ocean Series