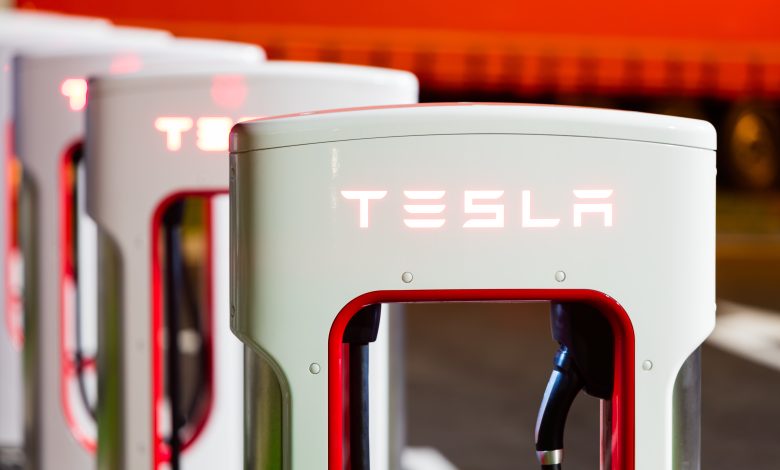 A rare collaboration in the auto industry will see Ford Motor partner with Tesla on charging initiatives. Speaking on Thursday, May 25, the CEOs of the companies confirmed that the agreement will open up over 12,000 Tesla Superchargers across the United States and Canada to current and future Ford EVs, beginning early next year.
Ford is expected to launch its next generation of electric vehicles by the middle of the decade and they will come with Tesla's charging plug instead of CCS chargers which is used by most other EV makers. Tesla charging stations outnumber CCS stations in the U.S. Existing Ford EVs will use an adapter to connect to Tesla's Supercharger stations. The agreement makes Ford one of the first automakers to key into Tesla's charging network.
"I have a tremendous amount of respect for Ford as a company, and it makes great vehicles," Musk said during the live stream. "This is something we're super happy to support."
The announcement was made by Tesla CEO Elon Musk and Ford CEO Jim Farley during a live, audio discussion on Twitter Spaces. This initiative is coming at a time when Ford is working tirelessly to ramp up production of its all-electric vehicles to catch up with and possibly surpass Tesla's sales.
"We don't have as many EV customers as you do, but we still have plenty, and for them to be able to have this benefit early next year already and not have to buy a new car is, I think, a real statement by you and the Tesla team to be really prioritizing the customer's experience," Farley told Musk.
The lack of adequate charging stations is still an obstacle to EV adoption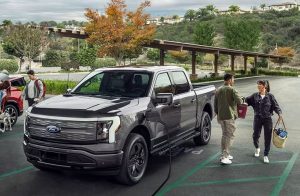 Critics continue to point out long stretches of highways without charging infrastructure as one of the reasons hindering many Americans from making the switch to electric vehicles. Nevertheless, several states in the U.S. continue to aggressively push for higher EV adoption.
States like New York and California have both passed legislation to limit the sale of new gas-powered vehicles by 2035. Although Tesla still dominates the EV space, Ford hit the number two spot in EV sales last year with 61,575 EV sales.
"It seems ridiculous that we have an infrastructure problem, and we can't even agree on what plug to use," said Farley, pointing out how Tesla's charging plug is different from the rest of EV makers. "I think the first step is to work together in a way we haven't, probably with the new EV brands and the traditional auto companies."
Farley said Ford is "totally committed" to the implementation of a single U.S. charging protocol which includes Tesla's plug port, known in the industry as NACS. A spokesperson from Ford told CNBC that pricing for charging "will be competitive in the marketplace". Further details about the deal will be unveiled closer to the 2024 anticipated launch date.
Tesla has previously mulled the idea of opening its charging network to other EVs. In February, White House officials disclosed that Tesla has committed to opening up 7,500 of its charging stations to non-Tesla drivers before the end of 2024.
During the first quarter shareholder deck, it was revealed that Tesla now has about 45,000 Supercharger connectors across the globe spread across 4,947 Supercharger Stations. Tesla still doesn't disclose the number of chargers in each country as well as how much it makes from the devices. Rather, it aggregates revenues from its Supercharging stations under the "services and other" segment.
Choosing an EV charging standard is going to be a tough choice for other EV makers
Following the Supercharging station announcement, shares of Ford Motor jumped by over 7% on Friday, May 26. Farley believes that Tesla Superchargers can become the standard for EV charging in the U.S. 
Speaking to CNBC, Farley said, "With adapters and software, we don't have to make a choice right now what the standard is, but I think it's going to play out in the free market."
The agreement reached between Tesla and Ford has attracted accolades from industry experts including from Pete Buttigieg, U.S. Transportation Secretary. However, Buttigieg noted that the Biden administration will impose a charging standard on the EV industry.
According to Farley, other EV makers are going to "have a big choice to make" between the CCS and Tesla's EV chargers. GM believes that opening up charging networks and standards will be the best way forward for EV adoption.
"We believe the move will ultimately increase Battery Electric Vehicles penetration in North America, and in a rising-tide-lifts-all-boats rationale, increase Tesla sales," said RBC Capital Markets analysts.
Tesla has been working on its proprietary high-speed vehicle charger known as Supercharger since 2012. The chargers are revered in the industry because they can add up to 200 miles of range in under 15 minutes, unlike the hours that they would wait using Level 2 chargers. Farley mentioned that Ford had about 10,000 fast chargers which will now be doubled as a result of the agreement.
Ford bows to pressure, will retain AM radios in vehicles
Ford made a U-turn on its previous decision to build new vehicles without AM radio after mounting pressures from lawmakers. Farley shared a post on Twitter and LinkedIn on Tuesday, May 23 saying that AM feature would be brought back to its vehicles starting from 2024.
"After speaking with policy leaders about the importance of AM broadcast radio as a part of the emergency alert system, we've decided to include it on all 2024 Ford and Lincoln Motor Co vehicles," Farley wrote. "For any owners of Ford EVs without AM broadcast capability, we'll offer software update."
Also, Farley mentioned that there are myriads of ways that owners of Ford vehicles can access AM radio content including through streaming. A week earlier, a bipartisan group of federal lawmakers introduced a bill asking the National Highway Traffic Safety Administration to mandate the inclusion of AM in new vehicles at no extra cost.
The "AM for Every Vehicle Act" sponsors argued that AM radio has a long history of helping to transmit vital information during emergencies, especially in rural settings. The act was inspired by the decision of automakers including Mazda, Volkswagen, BMW, Tesla, and Ford to retire AM radio from new EVs. The automakers claimed electric engines can interfere with the sound of AM radio stations.
The bill was criticized by the Alliance for Automotive Innovation, a trade group that represents major automakers. The Alliance for Automotive Innovation said the mandate to include AM radio in vehicles was necessary and defended their opinion.
"Whether or not AM radio is physically installed in vehicles has no effect on the ability of drivers to receive emergency alerts across multiple modes of communication available in automobiles manufactured today," the group tweeted. 
Related
Ford to Invest $1.3B in Converting Canada Factory into EV Hub
Tesla's Open Superchargers: A Game-Changer for Electric Vehicles?