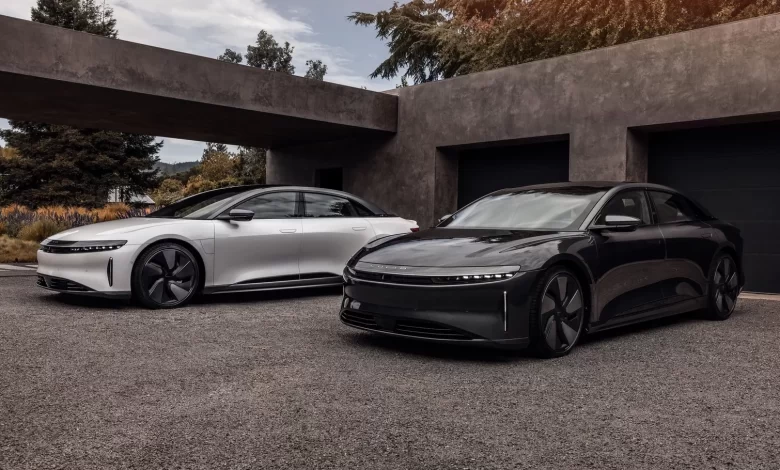 Lucid Group Inc, the electric car manufacturer, has recently encountered a major setback that has impacted the company's projected production and order figures for 2023. Despite being one of the most highly anticipated electric vehicle companies, Lucid has faced challenges meeting demand, resulting in a significant drop in orders during Q4 2022. This news caused the company's shares to plunge by 11% after hours. This marks yet another roadblock for Lucid in its quest to establish itself as a leading player in the EV market.
Located in Newark, California, Lucid was already grappling with supply chain and logistics issues that challenged car deliveries. However, things worsened when Tesla Inc (TSLA.O) unleashed aggressive price cuts that took customers away from Lucid's luxury cars, all while interest rates and inflation rates continued to rise. This made it even harder for Lucid to compete in the EV market.
According to CFRA Research analyst Garrett Nelson, the race for electric vehicles has become even more intense with numerous new players entering the game. Lucid Air is facing increased competition at lower price points. This could be causing frustration among customers who have been eagerly waiting for their orders to arrive. With so many options now available, the pressure is on for Lucid to deliver a top-notch product and meet customer expectations.
Lucid Motors' EV Production Falls Short Amid Challenging Environment
Lucid Motors, the luxury EV manufacturer backed by Saudi Arabia's sovereign wealth fund, has announced that it aims to produce between 10,000 to 14,000 electric cars this year. However, this projection falls short of the 21,815 cars expected by analysts, as reported by Visible Alpha. The company delivered only 4,369 vehicles in 2020, falling short of its target of 7,180 units. CEO Peter Rawlinson admits that the challenging macroeconomic environment has impacted demand despite overcoming major manufacturing bottlenecks. This announcement came after Lucid Motors reported Q4 revenue that fell short of expectations.
Lucid Faces Uphill Battle in Competitive EV Market
The competition in the EV market is intensifying, and with Tesla and Ford cutting their prices, it is becoming increasingly challenging for rivals such as Lucid and Rivian to gain market share. Despite offering a $7,500 discount on certain variants of the Air sedan until the end of March, Lucid has seen a decrease in reservations from the second quarter, with approximately 28,000 orders as of February 21. The company's CFO, Sherry House, has announced that Lucid will no longer be publishing quarterly reservation numbers. Instead, it will focus on improving production and deliveries while working to reduce operating and manufacturing costs.
Lucid Boosts Investment as EV Race Heats Up
Lucid Motors has announced a substantial increase in capital expenditures, with plans to spend between $1.5 billion and $1.75 billion in 2023. This marks a 40% surge from 2022; however, the figure falls short of analysts' projections of $2.24 billion. The announcement comes as the electric vehicle maker aims to ramp up production and expand its operations. Nonetheless, whether the move will be enough to keep pace with the fast-evolving industry and meet the growing demand for EVs remains to be seen.
Moreover, it has fortified its financial position with a significant cash balance of $1.74 billion in Q4, to a capital infusion of $1.52 billion in December. The EV manufacturer's cash reserves at the end of Q3 were $1.26 billion. The balance sheet gives the company ample room to invest in expansion and ramp up production to meet its target of 20,000 vehicles this year. However, the challenge lies in keeping up with the competition in the fast-growing EV market while maintaining a strong financial footing.
Lucid's revenue soared to $257.7 million in the fourth quarter, beating last year's $26.4 million. However, the figures fell short of analysts' $302.6 million average estimate. The company's net loss also narrowed to $472.6 million from $1.05 billion in the previous year. Despite this, shares of Lucid tumbled as much as 10.6% in extended trading after falling 82% last year when the company cut its production forecast due to supply chain challenges.
Lucid Air 2023
Lucid Motors' 2023 Air sedan has emerged as a true game-changer in the EV market. This luxury electric vehicle has an exceptional driving range and remarkable performance courtesy of its advanced technology. The Air's in-house designed big battery and compact motors enable it to outpace its rivals with an EPA-estimated range of 516 miles. The Grand Touring Performance model is capable of zooming to 60 mph in a mere 2.6 seconds. The Sapphire model promises to be even quicker, having an impressive 60 mph time of under 2.0 seconds. The Air's sleek exterior and spacious cabin make it a head-turner. However, its tech-laden interior reminds us of Lucid's Silicon Valley roots.
Although the materials inside the cabin could be more luxurious, the Air's performance, driving range, and overall appeal make it a strong contender against high-end EVs such as the Porsche Taycan and the Mercedes-Benz EQS, as well as Tesla's Model S. It is a truly remarkable electric vehicle that promises to revolutionize the EV market.
About Lucid Motors
Lucid Motors, the American electric vehicle manufacturer, has been making waves in the auto industry with its advanced technology and sleek designs. The company was founded in 2007 under the name Atieva, and it initially focused on developing batteries and powertrains for other automakers. However, in 2016, the company shifted its focus to producing its own electric vehicles, and Lucid Motors was born.
Since then, it has made significant strides in the EV market, and the company's flagship model, the Lucid Air, has received rave reviews from critics and customers alike. It is a luxurious, high-performance sedan that has a range of up to 520 miles on a single charge, making it one of the longest-range EVs on the market. The vehicle also features advanced driver-assist systems and an amazing modern design that distinguishes it from other electric cars.