Amazon's Zoox Robotaxi Drives Employees On Public Roads In California
EV News
Amazon paid $1.3 billion to acquire Zoox in 2020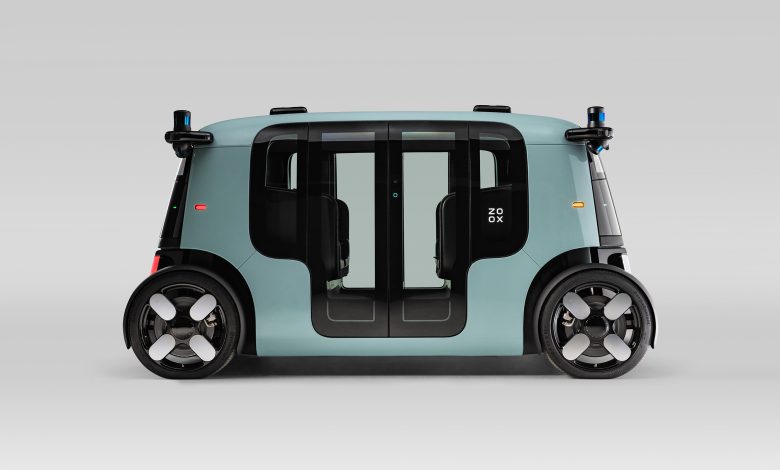 Zoox, the self-driving vehicle unit of Amazon.com Inc said on Monday 13 February 2023 that it successfully tested a robotaxi with employees as passengers. The testing was done on a public road in California and marks a significant milestone toward bringing the autonomous driving vehicle closer to commercial use.
"With the announcement of the maiden run of our autonomous employee shuttle," said Zoox CEO Aicha Evans, "we are adding to the progress this industry has seen over the last year and bringing Zoox one step closer to a commercialized purpose-built robotaxi service for the general public."
Zoox's robotaxi test was conducted on Saturday, Feb. 11 between two Zoox buildings that are a mile apart at its Foster City, California headquarters. the test marks the launch of a no-cost employee shuttle service which will also assist the company in refining its technology.
Speaking to reporters on a conference call, Evans said, "Putting the vehicle on [an] open public road and validating our approach to all of the different requirements, including regulatory, is a big step and we would not have done it unless internally we were already looking at the line of sight for going commercial."
Evans did not provide a commercial launch timeline. However, it is likely that the company will need additional government clearance for commercialization in some states. Autonomous driving vehicles have not rolled out as fast as anticipated as automakers continue to face steep challenges in mastering the technology.
Last fall, Volkswagen and Ford Motors announced the halting of their joint Argo AI self-driving unit and turned their attention to driver-assistance technology which had immediate returns. However, Alphabet Inc's Waymo and General Motors Co's Cruise unit continue to advance the development of self-driving technology.
Features of Amazon's Zoox robotaxi
Zoox robotaxi was purpose-built as a fully autonomous vehicle, unlike in most cases where automakers try to retrofit regular vehicles with self-driving capability. The robotaxi lacks pedals and a steering wheel and can carry four passengers.
The autonomous driving vehicle was designed to navigate through crowded city streets and can travel up to 35 mph. One interesting feature of the robotaxi is that it is bidirectional, meaning it doesn't have a front or back and can change direction without having to reverse or perform a U-turn like regular cars.
Zoox claims the electric taxi can drive for up to 16 hours on a single charge. The company also said that the robotaxi comes with safety features that are not usually found on most vehicles including a new airbag system.
To "eliminate typical blind spots" that most other autonomous vehicles have to contend with, Zoox robotaxi comes with sensor pods on the upper corners of the vehicle containing a combination of lidar and radar cameras and sensor-cleaning hardware that creates a 270-degree field of view from each corner of the vehicle.
Unlike other vehicles marketed as having autonomous driving capability, Zoox robotaxis look like nothing on the road. It has a box design that resembles a train coach with sliding doors. The self-driving vehicle has two rows of seats facing each other to help promote discussion among passengers.
Before testing it on a public road, the robotaxi was subjected to "rigorous" tests. The company revealed that it has gotten the necessary approvals from the California Department of Motor Vehicles—can handle right- and left-hand turns, pedestrians, traffic lights, vehicles, and any other obstacles on the road.
"If the vehicle is in a situation where it needs help because it either needs to do something it is not normally allowed to do or because it doesn't know how to handle a situation, we have what's called a 'fusion center' with trained guidance operators monitoring the output of the scene and will guide the vehicle by either giving it permission to do something or drop breadcrumbs on an alternative trajectory or pull over in worst-case scenario," Zoox CEO Aicha Evans told reporters.
How Zoox improved the efficiency of its autonomous robotaxis
Founded in 2014, Amazon paid $1.3 billion to acquire Zoox in 2020 as part of its aggressive expansion into self-driving technology. However, Zoox with its 2,000 staff functions as an independent subsidiary.
Zoox has been working on a fully autonomous vehicle and envisions a time when the ride-hailing population will use its app to order a ride in its autonomous vehicles.
The autonomous driving vehicle maker has been testing its hardware and software using Toyota Highlanders that move around the city streets. Unlike the robotaxis, the Toyota Highlanders equipped with Zoox hardware and software had pedals, steering wheels, and drivers behind the wheels that were ready to intervene.
As the vehicles moved around, they mapped the city, taking note of traffic lights, bike lanes, and speed limits. In 2021, the company started testing its hardware and software in Seattle with the hope that the rainy conditions will help its robotaxis learn how to drive in poor weather.
"Our goal isn't to change mobility in a few states; we want to reimagine transportation for the whole world," Zoox wrote on a blog through which it announced its expansion. "To do that, we have to prepare for unfamiliar roads and novel conditions."
During the Monday announcement, Zoox said it is the first company to deploy "purpose-built" self-driving robotaxi with passengers on public roads. According to Chris Stoffel the director of studio engineering, purpose-building rather than trying to retrofit existing vehicles with autonomous driving capability gave Zoox more control of the technology including the ability to fix and update it quickly or easily scale up.
"A regular vehicle that drives around every day is designed around the driver," Stoffel said. "Our product is designed around our AI driver and then our passengers."
Stoffel believes that a purpose-built vehicle is more closely related to the public's opinion of what an autonomous vehicle should be. "When we asked the public 'what is a self-driving car?' to them, it's not a regular car without a driver. It's a unique experience. It's something more special," Stoffel said.