EVgo to Renew Hundreds of DC Fast Charging Stations This Year
EV News
Many of then stations will have power levels of 350kW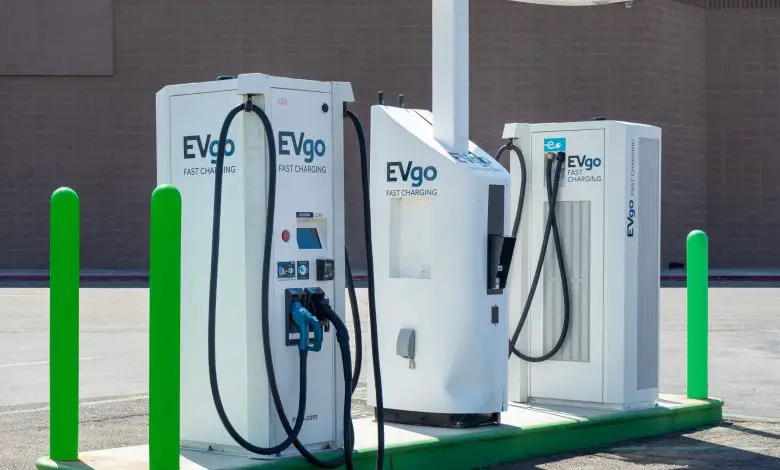 EVgo Inc. (NASDAQ: EVGO), a leading provider of public fast-charging solutions for EVs, is expanding its network with the launch of EVgo ReNew™. This innovative program offers an all-inclusive maintenance approach that guarantees EVgo's charging stations meet the highest quality and technological standards. With plans to upgrade, replace, or retire hundreds of stations in the coming year, EVgo aims to deliver better charging availability and range confidence for all EV drivers.
EVgo is revving up the future of electric vehicle (EV) charging with its advanced EVgo ReNew™ program. While the exact number of charging stalls that will be revamped remains unknown, sources say it will exceed last year's impressive record. The program's reliability is comprised of six core pillars: Prevention, Diagnostics, Rapid Response, Analysis, Resilience, and Continuous Customer Service. With over 60 metropolitan areas across 30+ states, EVgo is one of the nation's most extensive fast-charging networks, with more than 850 charging stations.
Moreover, it leads the charge in fast-charging innovation by carefully evaluating and selecting optimal charging sites. Their program assesses key factors like historical performance, user demand, technical capacity, and proximity to other charging stations to deliver the ultimate charging experience. They have the ability to install new chargers with power levels up to 350kW. EVgo's state-of-the-art analysis uses market insights, data-driven feedback, and customer input to identify sites for decommissioning and streamline charging options. It works hand-in-hand with site host partners to determine charger placement, station size, and power levels. They intend to ensure that the community and customers receive the best possible value.
EVgo's Decade-Long Legacy of Fast-Charging Innovation and Reliability:
Over a decade ago, EVgo blazed a trail in the EV industry by installing some of the first-ever public fast chargers. Now, with the introduction of the EVgo ReNew program, the company is redoubling its commitment to reliability by upgrading legacy infrastructure. They want to ensure that their charging network delivers the consistent, high-quality experience that customers expect.
According to EVgo CEO Cathy Zoi, the company is investing in building and maintaining a network that can handle the increasing demand for modern EVs with their larger battery packs and higher power capabilities. This approach is expected to rise to an all-electric future for every driver.
With a network currently servicing nearly 50 different EV models and over 100 expected in the next two years, EVgo ReNew is the driving force behind ensuring EV drivers can experience fast and convenient charging across the country. Through upgrading, replacing, or removing 125 charging stalls in 2022, EVgo is committed to maintaining and expanding its network in 2023 by working with partners and site hosts to evaluate hundreds of additional charging stalls for upgrading, replacing, or removing.
EVgo EV Charging Stations In the U.S.:
EVgo has a lot of charging stations in many parts of the country. There are more than 850 stations in over 30 states and 60 cities. You can find many of these stations in places like California, the Northeast, the East Coast, and the Washington, D.C. area. They also have stations in cities like Chicago, Detroit, and Texas. Unfortunately, there are no EVgo charging stations in some central, mountain, and southern states.
EV Charging to Retailers in 8 States:
EVgo recently announced the expansion of its innovative digital coupon platform, EVgo Advantage, to 22 new retail locations. With retail giants such as Cumberland Farms and Wawa now participating in the program, customers in eight states can take advantage of on-the-spot coupons and exclusive promotions while charging their EVs. By enhancing the charging experience, EVgo Advantage helps retailers increase customer engagement and loyalty.
Meanwhile, Wawa, the renowned convenience store chain, is also progressing. With plans to open an impressive 80 new stores, 40 in the Florida Panhandle and Alabama Gulf Coast and 40 more in the Mid-Atlantic states of Pennsylvania, New Jersey, Delaware, Maryland, Virginia, and Washington, D.C, Wawa is on track to expand its footprint to 1,800 locations by 2030. With over 950 stores already in operation, the brand is set to become a force to be reckoned with in the convenience store industry.
Innovative Solutions and Partnerships:
EVgo is revolutionizing the electric vehicle (EV) charging experience with its advanced technology and innovative programs. As a leader in charging solutions, it builds and operates infrastructure for various customers, including individual drivers, commercial fleets, and ride-share. Having a network powered entirely by renewable energy, EVgo has been purchasing renewable energy certificates since 2019. The company offers an array of products, such as EVgo eXtend, a premium service option, and software products like EVgo Optima, EVgo Inside, EVgo Rewards, and Autocharge+. This latter product allows drivers of "compatible combined charging system" (CCS) EVs to initiate a charging session in mere seconds without swiping a credit card or opening an app.
EVgo and Amazon Bring Voice-Enabled Charging to Life:
EVgo and Amazon are partnering up to make electric vehicle charging even easier with the help of Alexa, the virtual assistant. They announced its partnership with Amazon to enable EV drivers to locate and pay for charging stations. The collaboration will allow users with Alexa-enabled vehicles or those using Alexa automotive accessories to access data on 150,000 public charging stations through the Plugshare application programming interface. This exciting partnership is set to begin later this year, making it more convenient than ever to keep your EV charged and ready to go.
Finding EVgo Charging Stations:
Finding a charging station is an easy task. Simply head to the EVgo website and use their map to locate the closest charging station near you. You can also download their app, which shows you real-time charger availability and your current charging session and allows you to reserve a charger for your convenience. With the app, you can search for charging stations in a specific area or even see which ones are closest to you.
EVgo Charging Station Fees:
The cost of using an EVgo charging station depends on your location, membership status, and when you charge. Different plans have different rates, but all include a session fee. If you pay by credit card, there is an additional fee. The price also varies based on the time of day you charge. EVgo's website does not mention idle fees.