Hyundai Partners With LG For $4.3 Billion EV Battery Plant In Georgia
EV News
Construction will commence on the site in the second half of 2023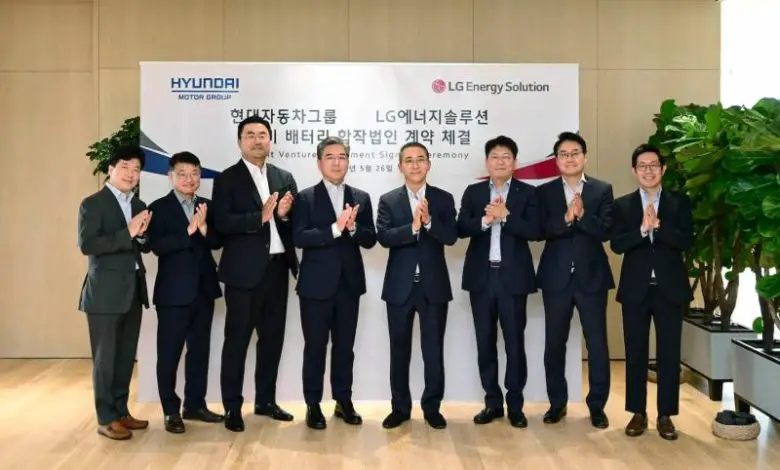 Hyundai Motor Group announced a strategic partnership with LG Energy Solution Ltd on Friday, May 26, 2023, for the building of a $4.3 billion electric battery plant. The facility will be part of Hyundai's new EV assembly plant in southeast Georgia. The investment will be split between both companies.
CEO of Hyundai Motor Co. Jaehoon Chang said that the battery facility will "create a strong foundation to lead the global EV transition," explaining the company's desire to fast-track the production of electric Hyundai and Kia vehicles in North America.
"Hyundai Motor Group is focusing on its electrification efforts to secure a leadership position in the global auto industry," Chang said.
Last year, the South Korean automaker disclosed it would invest $5.5 billion to assemble EVs and batteries in Bryan County, west of Savannah. The project is just adjacent to Hyundai's massive Metaplant that is under construction in Ellabell. The new $4.3 billion investment is part of the $5.5 billion previously announced.
According to state officials, both projects have a target of generating combined 8,100 jobs. Hyundai and LGES said construction will commence on the site in the second half of 2023 while battery production will start in 2025.
When operational, the facility will have an annual production capacity of 30 gigawatt-hour (GWh), enough to power 300,000 EVs, which is the initial production target of the adjoining Hyundai vehicle plant. However, Hyundai believes the plant may eventually expand to build 500,000 vehicles annually. The facility will be the largest economic development project in the history of Georgia state.
"This is exactly what we envisioned when Georgia landed the Hyundai Metaplant in May of last year, and this project is the latest milestone in Georgia's path to becoming the EV capital of the nation," said Republican governor Brian Kemp.
Hyundai Group which owns Hyundai Motor, Kia, and Hyundai Mobis Co (an auto part supplier) Ltd will share an equal stake in the joint venture with LGES. Tesla and General Motors Co. make use of batteries from LGES too.
"Two strong leaders in the auto and battery industries have joined hands, and together we are ready to drive the EV transition in America," said LGES CEO Youngsoo Kwon in a statement.
Auto parts suppliers have also pledged to invest over $2 billion and hire 4,800 people close to the Hyundai site which is also a big win for Georgia. Last year, Georgia lured the South Korean automaker with $1.8 billion in tax breaks and other incentives which trumps the previous state record.
The new project was lauded by Georgia leaders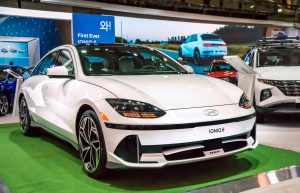 Leaders in the state said the project was a sign of Georgia's evolving economy. While many of them differed on the reason why Georgia was picked as the choice destination, U.S. Sen. Jon Ossoff attributed it to the Inflation Reduction Act signed by President Biden which offers billions in production and investment tax credits for battery and EV production.
"The IRA's manufacturing incentives continue to bring jobs and investment to Georgia," said Ossoff. "My goal remains to make Georgia the world leader in advanced energy production."
There is a growing battery and EV land rush all over the U.S. Under the IRA, EVs must be assembled in North America and a certain percentage of their battery material and minerals must come from North America or any country that shares Free Trade Agreement with the U.S. for the vehicles to qualify for the full $7,500 EV tax credit.
At the moment, Hyundai and Kia EVs no longer qualify for tax credits, unless they are leased. Although Hyundai has opposed the exclusion of foreign-made vehicles from tax credits, building the factory and making EVs in the U.S. will allow its vehicles to qualify for tax credits and boost its competing advantage.
"As soon as those vehicles are produced in Georgia, they can be eligible for the credits through the incentives in the IRA," Ossoff told reporters. "These manufacturing incentives are attracting and accelerating billions of dollars of investments in jobs and advanced energy and EV production capacity here in the state of Georgia."
Although the joint venture was Hyundai's second facility in the U.S., it was the seventh battery plant that is either operational or under construction in the United States for LG. Hyundai had earlier partnered with SK On, a unit of South Korea's SK Group, to jointly invest $4 billion to $5 billion for the construction of a new battery plant northwest of Atlanta.
The plant would supply batteries to Hyundai and Kia EVs assembled in the U.S. The Cartersville plant is scheduled to begin production in 2025 and would employ about 3,500 people. Hyundai will also need batteries for its EVs assembled at its plant in Montgomery, Alabama, and for the Kia EV9 which would be assembled at the Kia plant in West Point, Georgia.
Related
Hyundai Eyes Top 3 EV Maker Spot With $18 Billion Investment