BYD May Buy Ford's Automobile Plant In Germany And Push Electrification
EV News
The purchase would allow BYD to spread into smaller markets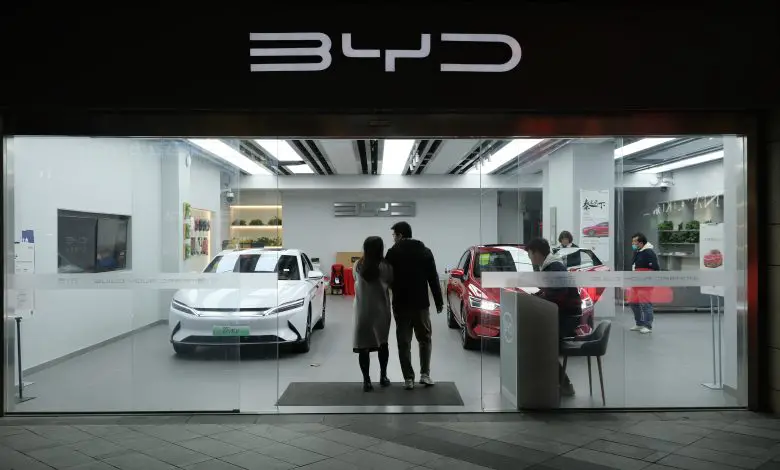 Credible sources have reported that BYD is negotiating with Ford for the possibility of taking over Ford's plant in Saarlouis, Germany. This information was relayed to the Wall Street Journal by an insider source.
A delegation from Ford is scheduled to travel to China soon for the continuation of talks which is still in the early stage. However, there are about 15 other parties that are interested in the plant—but some of them are not from the automobile industry.
Although BYD is yet to confirm its interest in the Ford plant, the purchase of the facility is in line with the Chinese automaker's plan to have one EV production facility in Europe. Stella Li, BYD manager told Bloomberg in December 2022 that the company was still assessing the best location to ramp up its production.
In the last quarter of 2022, BYD launched three EV models in some European countries. Two more trims may follow before the end of 2023 namely the Dolphin electric compact car and the Seal electric mid-size sedan.
BYD's Tang large SUV, Han large sedan, and Atto 3 compact SUV are currently offered in Europe. However, they are all built in China. A European facility will help the China-based automaker to cut down on logistics costs.
Last year, Ford revealed that its next-generation vehicle architecture will not be made in the Saarlouis plant. Instead, they have opted to produce them in Valencia, Spain. However, Ford continues to produce the Focus trims with internal combustion engines in Saarlouis, but they will be phased out in 2025.
BYD Seagull may push electrification to emerging markets
An IEA report predicts that 60% of new car sales in 2030 will be electric. Over 25 million EVs have been sold in the last 14 years. In 2022 alone, 13 million EVs were sold. However, Africa's new EV market share is just about a hundredth compared to global sales—even though the continent has more than 1 billion inhabitants.
The reason is that most African countries have low motorization rates. Only a small number of countries have 100 vehicles per 1,000 people. This is below the 500 passenger vehicles per 1,000 people in Germany and even far lower than the 800 vehicles per 1,000 people reported in the United States by a Siemens Stiftung study.
Looking at the figures from new vehicle sales alone will not present a clear picture because about ninety percent of African vehicle imports are used vehicles. Used vehicles sell more in Africa because they are cheaper.
Financial constraints and the absence of long-term car leasing and financing facilities make used cars attractive to most African buyers who simply cannot afford new cars. The most popular used cars imported into Africa are hatchbacks priced between $6,000 and $14,000.
Used mid-sized sedans and compact SUVs are sold between $12,000 and $22,000. The importation of cheaper used cars is taking its toll on the local manufacturers and assembly plants in Africa.
However, small affordable EVs from India and China may be the best opportunity to disrupt the market. In 2023, BYD is planning to launch more affordable models including a city electric hatchback, the BYD Seagull.
The electric hatchback has a starting price of about $9,000 in China and the launch into the Chinese market is expected later this year. EV enthusiasts got to know more about the model through images and technical data in an application submitted to the Ministry of Industry and Information Technology (MIIT).
Given an option between a brand new city EV with a range of over 155 miles for about $10,000 to $12,000 and an 8-year-old used ICE with a range of over 124 miles for about $8,000, most developing countries will likely go for the former considering the lower maintenance cost of EVs over time. In other words, the BYD Seagull brings EVs closer to price parity with used vehicles.
Features of the BYD Seagull
The BYD Seagull is part of the ocean series which includes the Dolphin hatchback. The EV will have a front-mounted 55 kW electric motor. This is about a third of the maximum output of the electric motor in Atto 3 (150 kW) and more than half of the Dolphin's rated output (70 kW).
According to the application, the BYD Seagull will be powered by a 30.7 kWh lithium-phosphate-iron (LFP) battery pack. The battery will be produced by FinDreams, BYD's subsidiary that specializes in battery technology.
In terms of size, the BYD Seagull is slightly smaller than the Dolphin. It measures 3,780 mm in length, 1,715 mm in width, and 1,540 mm high. The wheelbase is 2,500 mm long. Placed side-by-side with a bigger city car, the BYD Seagull is 345 mm shorter and 30 mm lower.
Also, BYD Seagull is slightly lighter which is good from a road safety perspective. Its weight is expected to be between 2557 to 2734 pounds. Consumers can choose between 15-inch and 16-inch wheels. The Dolphin, on the other hand, comes with 17-inch wheels.
BYD Dolphin has been slated for many markets including Australia. However, BYD is yet to reveal its target markets for the Seagull. Nevertheless, the 5-door hatchback will likely do well as a city car if BYD expands its market to Africa.