Ford Announces Huge Slash In Mustang Mach-E Price
EV News
Additional price cuts could come as early as the second quarter of '23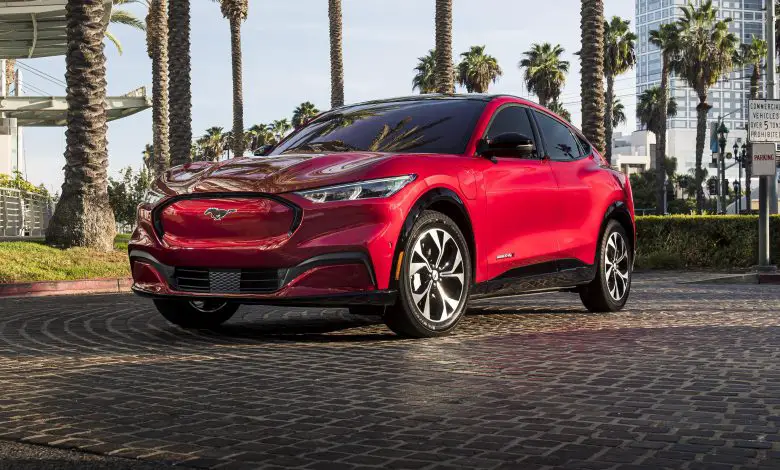 Weeks after Tesla announced a slash in prices of some of its electric vehicles, Ford has followed with a price slash of its flagship electric SUV called Mach-E SUV. In addition to that, the Detroit automaker said it will increase production of the Mach-E.
Reacting to the price slash Marin Gjaja, Ford's chief customer officer said, "We are not going to relinquish ground to anyone. We are making more EVs to cut customer wait times, offering competitive pricing, and working to create an ownership experience that is second to none."
Depending on the model, customers can now buy the Mach-E—an equivalent to Tesla Model Y—for an average of $4,500 less than the previous price. In general, the price slash range from $600 to $5,900. However, this is still far below the nearly $13,000 price cut on Model Y announced by Tesla earlier in January.
Tesla's price slash in the United States and Europe by almost a fifth earlier in January was blamed on the economic slowdown which led to a significant drop in demand. The move was widely praised by Wall Street analysts who said it would boost sales—notwithstanding concerns about diminished profits.
Once Tesla made that announcement, analysts expected other automakers to follow suit. For Ford, the price cut means not all Mach-E models are profitable depending on trim and on a per-unit basis. However, the automaker will try to make up for the profit shrink by raising production from 78,000 to 130,000 vehicle units annually.
"We want to make EVs more accessible, so we are increasing production and reducing prices across the Mach-E lineup," Jim Farley, Ford's Chief Executive wrote on Twitter. "With higher production, we are lowering costs, which allows us to share these savings with customers."
Updates on the prices of 2023 Mustang Mach-E trims
Trim

Former MSRP in $

New MSRP in $

% Change

GT (Extended range)

69,895

63,995

-8.4

California Route 1

(Extended range)

63,575

57,995

-8.8

Premium eRWD

(Standard range)

57,675

53,995

-6.4

Premium RWD

(Standard range)

54,975

50,995

-7.2

Select eRWD

(Standard range)

49,595

48,995

-1.2

Select RWD

(Standard range)

46,895

45,995

-1.9

Extended range battery

8,600

7,000

-18.6
"We are reacting to market changes," Gjaja said during a media briefing in reference to Tesla's price cuts and federal EV incentives. "We want to remain competitive in the market, thus have to respond."
The starting price of the Mach-E will now range from $46,000 to $64,000. In comparison, the price of the Tesla Model Y starts at $53,500 and goes up to $57,000.
In 2022, Ford jumped to the second-bestselling automaker in the United States and it was thanks to Mach-E. Although Ford was second on the sales log, it was still a long shot from Tesla which sat at the top of that list.
Ford sold over 65,000 EVs in the United States last year. Although Tesla doesn't report sales by region, More Intelligence estimates that the Elon Musk-led automaker sold over 522,000 EVs in the United States within the same period.
More price cuts are likely to follow from other automakers
While analysts expected other automakers to react after Tesla's price cuts, many did not expect it to happen this fast. With the Mach-E price slash from Ford, the heat has been turned on other automakers and more price cuts will likely be announced throughout the year.
"It's the continuation of the price war that Tesla began a few weeks back, and Ford is ready to sacrifice margin for more volume," said Dan Ives, a Wedbush analyst. "Ford needs to be aggressive rather than emphasizing on margins in the near future because it's an EV arms race that is unfolding at the moment."
Tesla cut the price of its vehicles twice in China, first in October and the second in Early January. This sparked protests among Tesla customers who ordered their vehicles after the first price slash. Eventually, Mercedes-Benz followed by lowering the price of some models of their EV.
"There is a window of opportunity here for the explosion of the EV market with soaring demand," Ives said. "The automakers don't want to cede customers to their rivals based on price."
Awaiting Ford customers will get the adjusted price
In a bid to avert a similar backlash received by Tesla when it cut prices in China, Ford has announced that Mustang Mach-E customers that are waiting for delivery of their vehicles will automatically receive the new price.
For customers that purchased one of the vehicles affected by the price slash after 1 January 2023 who have already received their vehicles, Ford promises to reach out to them with a "private offer". Furthermore, customers that purchase Mustang Mach-E from Jan. 30 to April 3 will qualify for special interest rates with Ford Credit, as low as 5.34%.
Ford did not disclose which trims of the Mach-E would be profitable after the price slash. However, the company will start reporting financial records for its EV business (Called Model e) separately later this year.
"We want to make money," Gjaja said. "Don't get me wrong. Believe me, I know we need to be more profitable because we will be publicly accountable for that number."
In a bid to ramp up Mach-E production, Ford is making major upgrades to its Mexico plant where the EVs are made. According to Ford, the plant should come back online sometime in February.
Dearborn, Michigan-based Ford is also making plans to ramp up production on the company's other EVs namely a van, SU, and a full-size truck.
According to the new guidelines from the Inflation Reduction Act which kicked in on Jan. 1, EVs below $55,000 that are made in the United States can qualify for a $7,500 federal tax credit. With the recent price slash, more versions of the Mach-E will become eligible for the credit.