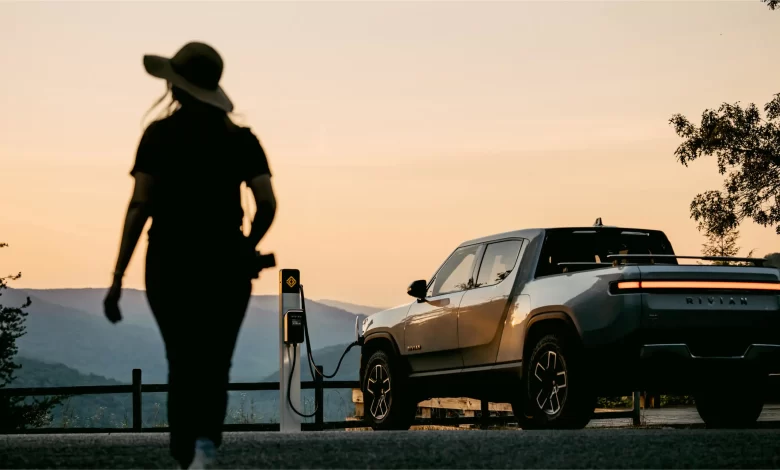 In February, Tesla announced that it was opening some of its charging networks to other brands. Although Rivian's charging network is nowhere near the size of Tesla's, the Irvine-based electric vehicle maker is towing the same line. Regardless of the size, opening the company's Adventure Charging Network will help to fast-track the Biden administration's EV adoption push.
Claire McDonough, the company's chief financial officer hinted that Rivian will begin to open up its charging stations sometime in 2024 and has pledged to add additional 600 new charging stations to the network by 2025. These stations when completed will offer a cumulative 3,500 DC fast chargers with an output of up to 200kW but can be upgraded to 300kW in the future.
This is an ambitious goal considering the fact that Rivian currently has less than 50 charging stations. Apart from fast chargers, Rivian also plans to build a network of level 2 chargers which is slower but more applicable in areas where drivers spend more time like parking lots and restaurants.
Even after its expansion in 2025, Rivian's EV charging network will still be significantly smaller than Tesla's. Nevertheless, it will be a relief to drivers of other EV brands that don't currently operate a charging network. Rivian is aiming at 99% uptime for its chargers.
Also, since Rivian makes use of an industry-standard charging plug, unlike Tesla, third-party EVs can easily hook up to Rivian chargers without hassles. Earlier, Rivian updated the software of its R1S SUV and R1T truck to allow the navigation system to locate Tesla Supercharger stations with installed Magic Docks.
Rivian is optimistic about qualifying for partial EV tax credits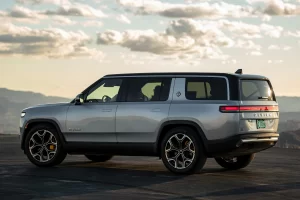 After the Treasury Department updated the guidelines for vehicles that will qualify for tax credits on April 18, a bunch of vehicles was dropped off the eligible list, remaining mostly American automakers. However, most of the automakers dropped off the list are working tirelessly to get back on. Rivian announced hours later that it expects to qualify for at least partial tax credits.
"Rivian has submitted updated documentation to the IRS stating that its 2023 R1T and R1S models qualify for the critical minerals sourcing criteria within the Section 30D Clean Vehicle Tax Credit which took effect on April 18, 2023," said a statement credited to the company's spokesperson as reported by WGTL. "We expect this eligibility to be reflected on the IRS website pending future updates."
The tax rebate regime for EVs has been chaotic, although the April 18 update by the Treasury Department tried to add clarity to it. Volkswagen was also taken off the list of eligibility but hours later the company announced that all trims of its ID.4 qualify for full tax credits, making it the first foreign brand to be on the list after the eligibility update.
What is certain is that the list of EVs that qualify for full or partial tax credits will continue to change as the years roll by. This is because the percentage of battery components and minerals that need to be sourced from North America for an EV to be eligible will continue to rise by 10% from the current 40% until it hits 100% by 2030.
President Biden's Inflation Reduction Act has been an effective bait that has lured automakers to invest heavily in the United States. An EV HUB analysis shows that investment in U.S. battery and EV manufacturing rose from $50 billion in 2021 to over $200 billion in 2023. The bulk of this financial growth has been attributed to the Inflation Reduction Act.
Rivian announces another string of layoffs in Orange County
Some automakers are struggling financially and are banking on the Biden administration's tax credits to stay competitive and operational. Rivian recently announced that it laid off 239 workers at its Irvine, Costa Mesa, and Tustin facilities. The move was to save costs and has reduced the company's headcount by 6%.
According to memos sent to the state Employment Development Department, the EV maker slashed another 240 jobs at three Palo Alto plants. That puts the total job losses in California at 479—albeit the company said the estimate was closer to 476.
Positions impacted by the layoffs include mechanical engineers, geometric design engineers, trail engineers, support service staff, software engineers, supply chain service staff, customer service, program management, purchasing, security, and digital surfacing. The company said workers at its assembly line in Normal, Illinois manufacturing plant will not be affected by the job cuts.
"To deliver over the long-term, we must focus our resources on ramp and our path to profitability while ensuring we have the right set of future products, services, and technology," said Rivian CEO RJ Scaringe in a recent memo.
The job cut in California is the second in about 12 months for the EV maker which amounts to a combined layoff of about 800 employees within this period. Prior to the latest cut, the total number of Rivian employees worldwide was around 14,000, according to Bloomberg.
Rivian holds first 5km run for Earth Day
Rivian marked Earth Day on Sunday, April 23 by organizing the company's first 5km run at Heartland Community College in Normal. The event was graced by hundreds of participants who came out to race, sprint, and jog for the cause.
"All the money raised today benefits the Ecology Action Center and the Friends of the Constitution Trail," said the company's communications manager Laura Ewan. "When we started planning the race, I was told to expect 50 to 200 people but we have officially crossed the 550 mark."
After the race, runners received food and refreshments and many of the participants volunteered to clean the Constitution Trail. Another Rivian employee, Andrew Catalano said the company is synonymous with helping out the community.
"We are a part of the community, our workforce is the community, so it really just builds on that," Catalano said. "We got to have a good relationship. That way, we're both successful together."
With the success of the 5km event, Ewan said she was confident it would become an annual event that would "hopefully just expand" to become bigger and better. Over $5,000 was raised through the 5km event. 
Related
Rivian Misses Q1 Production Target
JD Power: Rivian R1T Is The Most Satisfying Vehicle In 2023