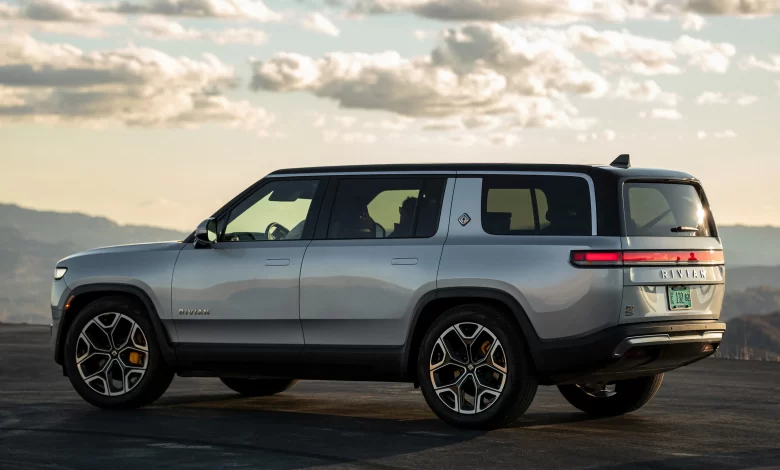 Rivian Automotive Inc posted its quarterly production estimates on Monday, April 3 and it was not looking too good for the electric vehicle maker. The company revealed that it produced 9,395 vehicles at the Normal plant in the first quarter of 2023 which ended in March. This was slightly lower than Visible Alpha's 10,300 vehicles estimates.
Rivian continues to battle with supply chain shortages. In February, the company's CEO R.J. Scaringe called it the "biggest constraint" stalling the full operation of the Normal plant in Illinois. The Amazon-backed EV maker said it paused commercial production lines for most of the first quarter of 2023 to bring in novel technologies including lithium iron phosphate (LFP) battery packs.
"The report likely indicates that RIVN has continued to burn through cash at an alarming rate and is nowhere near generating even a gross profit, much less a net profit," said Garrett Nelson, a CFRA analyst.
During Monday's midday trade, the company's shares fell by 2.3%. Notwithstanding the slip in production target for the first quarter, Rivian is still optimistic about hitting its annual production target of 50,000.
"We expect full-year production to be back-end weighted due to supply constraints…and the commercial line downtime we're taking in Q1 2023," said the company's finance chief Claire McDonough during an earnings call earlier in February.
The EV maker has been accumulating losses on every vehicle it builds. In 2022, it narrowly missed its annual target of 25,000 EV units. According to Nelson, the decline in production and deliveries is a reflection of a "step in the wrong direction for an EV manufacturer considered an early-stage growth company".
Rivian delivered 7,946 vehicles in the first quarter but analysts polled by FactSet expected the company to deliver at least 8,000 vehicles. Unlike Rivian, Tesla reported on Sunday, April 2 that it delivered 244,875 vehicles in the first quarter. That figure is 4% higher than the previous quarter.
Rivian plans to add a solar array and parking lot to its Normal plant
This Thursday, April 6, the Normal Planning Commission will weigh in on plans by Rivian to add a solar array and a 1,100-space parking lot outside Rivian's manufacturing plant. According to reports, the proposed parking lot will be located in the southern part of Rivian's plant, adjacent to College Avenue.
The EV maker is already conducting a traffic-impact study to determine what kind of traffic control may be needed at the access point from College Avenue to the parking lot. According to town staff, the study will also take into account the upcoming reconstruction of College Avenue. Illinois Department of Transportation and Town staff will need to approve the result of the study as well as the automaker's improvement plans.
U.S. Solar, apparently in collaboration with the automaker, plans to add a solar array on 15 acres east of Rivian's test track. On their part, Rivian will plant native pollinator habitats under the solar panels. The habitat will consist of native grasses and wildflowers.
A town staff disclosed that the solar array will have a positive impact on the grasses and native flowers as well as the entire environment. The Normal Planning Commission will listen to both project plans at its 5 p.m. Thursday meeting.
Rivian is opening its first Europe Service Center
Automakers are always looking for ways to extend to other markets beyond their primary production countries. This time it is Rivian that is pushing into the European market. The move into the European market was disclosed through the company's job posting searching for a Service Center Manager in Berlin, Germany.
"This role requires an experienced professional with high levels of energy and initiative, deep understanding of service, go-getter attitude, great leadership skills, and cross-team collaboration," read part of the job posting. "To be successful in this role, you must have a customer-first approach, thrive in ambiguous and unexpected environments, tackling all challenges with a creative and flexible mindset."
With the hiring for new positions in Germany, Rivian has shown its interest to expand outside the United States. However, it may still take a while before EU customers will be able to have their hands on the R1T truck.
Rivian is still trying to steer through the rocky terrain of startups and attain profitable scaled production before it hits bankruptcy. The company is also constructing a massive facility in Georgia. Rivian continues to expand its business model while also ramping up the production of its consumer EV and electric delivery vans for Amazon.
For now, it is still unclear what the roles of the service center manager would be. However, an insider source that was knowledgeable of the matter told Electrek that Berlin Service Center won't immediately be used to support Rivian customer EVs.
However, it is highly unlikely that the Berlin Service Center will end up just servicing delivery vans. Eventually, they may expand into servicing consumer EVs. However, it will be hard to tell how soon that will happen.
Amazon triples its fleet of Rivian electric delivery vans to 3,000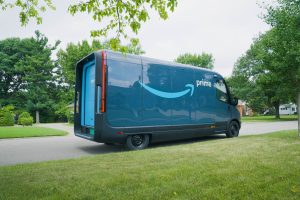 Amazon has continued to transition to an all-electric delivery fleet. The e-commerce giant claims that its rollout of Rivian electric delivery vans (EDVs) is the fastest by any delivery fleet in the U.S. Amazon said it has over 3,000 custom EDVs from Rivian navigating through more than 500 cities and regions across the country.
That number is triple the amount reported by Rivian in November 2022. According to the online retailer, it has delivered over 75 million packages using zero-emission vehicles. This is a quantum leap compared to the 10 million packages reported by the company in February 2022.
Amazon also noted that EDVs will soon start taking packages to customers' doorsteps in Toledo, Tampa, San Jose, Santa Rosa, Philadelphia, Grand Rapids, Cleveland, and many others. In 2019, Amazon co-founded 'The Climate Pledge' where it committed to achieving net-zero carbon by 2040. Consequently, it announced a partnership with Rivian to take delivery of 100,000 EDVs by 2030.
The 3,000 EDVs currently in Amazon's fleet are still a tiny fraction of the total 100,000 units that Rivian is bound to deliver by 2030. Considering the fact that Rivian has been struggling to become profitable, there are concerns about whether they will deliver the entire 100,000 EDV units by 2030.
Although Rivian continues to struggle with ramping up production of its R1T, R1S, and EDV due to supply chain shortages, being able to deliver 2,000 vans to Amazon in 5 months is a sign that production is surging.
Besides Rivian EDV, Amazon is adding over 15 other all-electric models to its fleet including e-cargo bikes, delivery vehicles, and e-rickshaws. The company has been testing these electric vehicles across India, the European Union, and the U.S.
In March we reported that Rivian was in talks with Amazon to readjust their exclusivity contract which will allow the automaker to scout for new customers for the EDV. This decision came after Amazon said it would buy 10,000 EDVs this year. It is hard to tell if Amazon will accept that offer. 
Related
Rivian And Amazon In Talks To Adjust Exclusivity