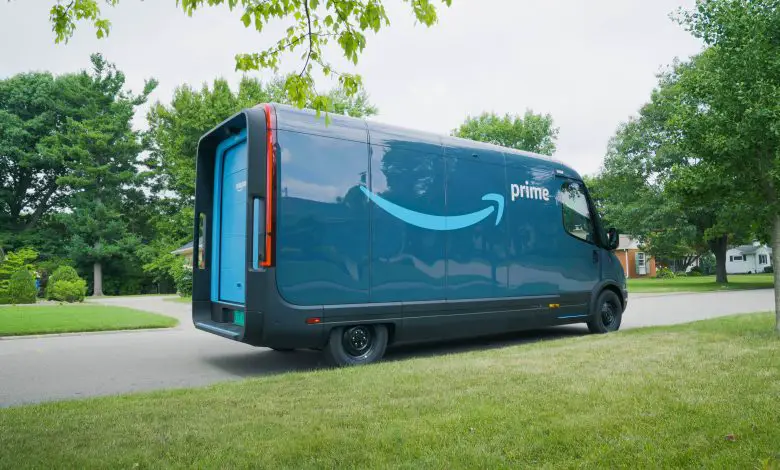 Irvine, California-based Rivian Automotive Inc, a renowned electric vehicle maker, is in talks with Amazon, its biggest shareholder, to bring an end to the exclusivity part of the electric vehicle van deal they signed. The news was reported by the Wall Street Journal on March 13, 2023.
Back in 2019, Amazon placed an order for 100,000 electric delivery vans (EDVs) from Rivian. This was part of the online retailer's plan to cut carbon emissions. The vehicles have been delivered and inducted into Amazon's fleet. To date, more than 10 million packages have been delivered using the electric vans.
This year, Amazon notified the EV maker that it will purchase about 10,000 vans, a number that was close to the low end of a range it previously provided Rivian. Apart from the electric delivery vans it delivers to Amazon, Rivian also makes R1S sports utility vehicles and R1T pickup. Rivian Spokeswoman Marina Norville said the two companies still maintain a positive relationship.
"We continue to work closely together, and are navigating a changing economic climate, similar to many companies," Norville said.
Rivian is desperate for cash after posting a $1.7 billion Q4 loss
Rivian is bleeding money. Its most recent earnings report showed that it lost $1.7 billion in the fourth quarter. Worsening the company's woes is the increasing number of recalls of its electric vans it has had to contend with in recent times.
The first of such recalls which had to do with problems with their fasteners that increased the risk of detachment of the steering wheel affected almost all of its fleet of vans. In February 2023, R1S and R1T were recalled after it was found that their airbag sensors may be faulty which may affect their proper deployment.
The elimination of the exclusivity part of the agreement will allow Rivian to reach out to new customers as it works towards increasing the production of its vans, as well as its R1 series pickup and SUV. Also, the automaker is desperate for cash as it continues to work on its upcoming R2 model.
In the first week of March 2023, Rivian announced plans to raise $1.3 billion through convertible note sales. The money will be used to fund the development and launch of R2. In February, Rivian laid off 6% of its workforce to cut costs.
Amazon denied that there was a change in the number of vans it planned to order from Rivian. In a statement, the online retailer said 10,000 vans was the original commitment.
"While nothing has changed with our agreement with Rivian, we have always said that we want others to benefit from their technology in the long run because having more electric delivery vehicles on the road is good for our communities and our planet," said an Amazon spokesperson. "We will have more of our custom vans from Rivian hitting the streets every day as we continue to partner together to bring 100,000 electric vans to the road by 2030."
There is increasing uncertainty about Rivian existence beyond 2025
For Rivian, it has been a rollercoaster of bad news. In December 2022, the proposed deal between the company and Mercedes-Benz AG which would have seen both companies collaborate to make electric vans in Europe was put on hold.
Although Rivian has hit a 50,000-van benchmark, it is still short of the 67,000 target that analysts projected for the company. This sent the company's stock tumbling in the wake of February's earnings call. Rivian's shares have shed about 90% of their value since the automaker's initial public offering in November 2021.
Rivian has tried to sound reassuring including promising a significant increase in its van deliveries over the next few months. The automaker said it will work on shortening its lead times from 12 to 18 months to below 3 months. Also, it plans to build 50,000 new electric vans in 2023. In 2022, Rivian failed to hit its 25,000 vans target, falling short by a few hundred.
As of February 2023, Rivian executives reiterated that the company had enough cash to keep running until 2025. However, what happens after that cannot be guaranteed, hence the desperate move to break from Amazon's exclusive deal to cater to other customers, raise production, and make more money.
Amazon's autonomous driving unit is also dealing with some problems
The National Highway Traffic Safety Administration (NHTSA) said on Monday 13 March 2023 that it has launched a probe into Zoox's self-certification in 2022 without traditional driving controls. Zoox is Amazon's autonomous vehicle unit and maker of a robotaxi.
Although NHTSA sets the guidelines for robotaxis, Zoox developed a separate process to prove that it met the requirements. In September 2022, NHTSA directed Zoox to explain the basis of certifying its robotaxis.
On Monday, Mar. 13, NHTSA announced that it was opening an audit query to ascertain if the Zoox "certification basis depended upon unilaterally developed test procedures or determinations that certain standards were inapplicable due to the unique configuration of the vehicle."
In response to the probe, Christopher Nalevanko, Zoox's general counsel said the company's self-certification tests "have met or exceeded applicable (federal) performance requirements. We are committed to working closely with NHTSA on the questions they have, and we remain confident in our self-certification process and data."
Unlike other self-driving vehicles, the Zoox robotaxi is built as an autonomous vehicle from the ground up rather than retrofitting existing vehicles with autonomous driving features. It comes without steering wheels or pedals and can accommodate four passengers. 
In February, Zoox announced that it has tested the robotaxis with employees as passengers on a public road, a step towards commercialization. However, the company continues to shy away from disclosing a commercialization timeline. 
Related: Amazon's Zoox Robotaxi Drives Employees On Public Roads In California