Hyundai's Automatic Charging Robot Revolutionizes EV Charging Experience
Autonomous Driving/AI
EV News
Intuitive Design Meets Cutting-Edge Technology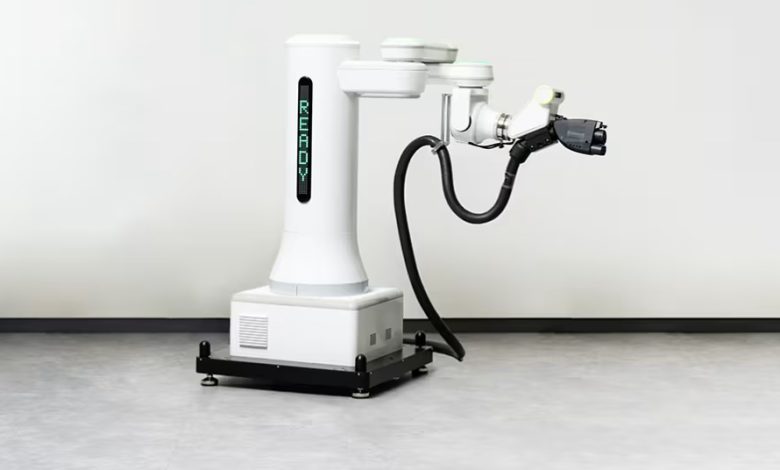 Hyundai Motor Group (the Group) has designed an electric vehicle (EV) automatic charging robot (ACR) and recently released a video demonstrating its abilities.
The ACR for EVs is a single-arm robot that can connect a charging cable to an EV's port and detach it once the charging process is finished. This new video showcasing the actual robot follows a CGI version unveiled by the Group in July of the previous year. (Link to the ACR video released in July 2022)
In the latest video, a Hyundai IONIQ 6 autonomously parks itself in an EV charging spot. When the vehicle stops, the ACR communicates with it to open the charging port, using an internal camera to calculate the precise location and angle. The robot then grabs the charger, attaches it to the vehicle's charging port, and initiates the charging session. Once complete, the ACR disconnects the charger, places it back in its original position, and closes the vehicle's charging port cover.
Dong Jin Hyun, Head of the Robotics Lab at Hyundai Motor Group, stated, "The ACR aims to simplify and enhance EV charging experiences, particularly in poorly lit areas. It will also boost accessibility for individuals with mobility challenges, as charging cables become more robust and heavier to facilitate high-speed charging. We will continue to refine the ACR to enhance safety and convenience, ensuring all EV users can soon enjoy its benefits at charging stations."
Although the ACR may initially seem straightforward, it showcases the Group's sophisticated robotics technology. The Robotics Lab has accounted for various factors when developing the ACR, including vehicle parking location, charging port shape, weather, potential obstructions, and charging cable weight.
To securely fasten a charger to the charging port, a robot needs software technology capable of calculating these multiple variables simultaneously. Consequently, the Group has created an algorithm that incorporates 3D camera-based AI technology for robots. This next-generation control technology allows robots to accurately handle heavy chargers.
Since most EV chargers are located outdoors without protection, the Group's engineers constructed a custom outdoor EV charging station at their R&D center to evaluate performance in different conditions. As a result, the ACR has achieved an IP65[1] waterproof and dustproof rating, ensuring stable operation even in extreme environments. Furthermore, engineers have installed a safety pole with an integrated laser sensor around the robot to prevent accidents by detecting stationary and moving obstacles.
The Group believes that automatic charging robots will significantly enhance the convenience of EV charging. In the future, if combined with autonomous parking control systems, they can improve utilization by sequentially charging multiple parked vehicles.
The recently revealed ACR will be showcased at Hyundai Motor's exhibit booth during the 2023 Seoul Mobility Show, taking place at KINTEX in Ilsan-gu, Goyang-si, Gyeonggi-do, from March 31 to April 9.
Related: Hyundai's Kona N Electric Might be Coming Your Way
Hyundai Motor Company Unveil $8.5 Billion Spending Plan