UNSW Professor Eyes World Record With Solar Race Electric Vehicle
EV News
The Sunswift 7 uses 4.5 square meters of solar cells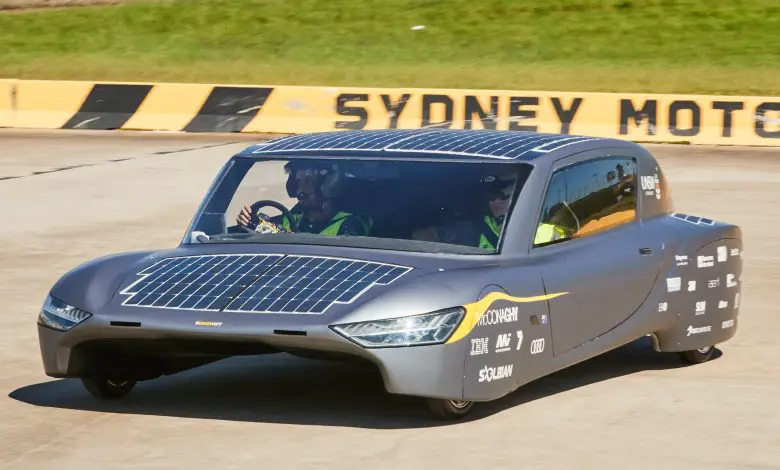 Former Red Bull team manager, Richard Hopkins, is innovating to put EVs on the race track and finally end range anxiety. With an acceleration of 0 to 62 mph in about 10 to 12 seconds, his solar EV may never be able to compete favorably on the race track. However, it will be more useful for those that love driving long distances.
Hopkins, now a professor of Practice at UNSW is exploring the possibility of fast electric vehicles that will likely pacify those with a thrill for speed to make the switch to EVs. "We want to be able to prove that EVs can be fun," Professor Hopkins said, "not just good for the environment and efficient."
According to Hopkins, his students are on the verge of achieving what used to be a dream. Professor Hopkin is the University of NSW's Sunswift Racing team principal. This is a project at the faculty of engineering comprising 80 students. The students' design and build race solar electric vehicles.
At the Australian Automotive Research Center in the west of Victoria, a million-dollar solar EV built by students wants to set the Guinness World Record for being the fastest solar EV with a range of about 622 miles (1,000 kilometers) on a single charge.
"There is no EV on the market today that can go 622 miles on a single charge, not even the most advanced Tesla," said Professor Hopkins, "so we are trying to demonstrate what is achievable if you pay more attention to efficiency."
The only car to have shattered that milestone was the second-generation hydrogen fuel cell car from Toyota called Mirai. It crossed 622 miles target with a fuel of 5.6 miles left in the tank.
Pioneering the solar car project are five drivers who are all students of UNSW and members of the Sunswift project. They want to complete 239 laps of the track in about 10 hours or 200 kilometers per diver.
Although some of the drivers are still on their P plates, Professor Hopkins believes that will not be a problem saying, "you can drive racing cars without even having to have a driver's license."
What makes the Sunswift 7 different from other solar EVs?
The Sunswift 7 solar EV is a sort of hybrid. It has the standard EV battery but can also harness the energy of the sun using 4.5 square meters of solar cells. "The sun's energy can be diverted straight to the electric motor so that at any instance the car's motion is powered by energy from the battery and from the sun at the same time," said Professor Hopkins. "When stationary, the sun's energy charges the battery."
Nevertheless, the car can still be charged the traditional way by plugging it into a charging station. Professor Hopkins said the reason for combining solar power and the electric battery was the UNSW Sunswift team's way of showing Australians that anything was possible.
"Many people see electric vehicles as things with batteries—which is largely true. But, there are different ways of producing electricity. Solar is one of them and hydrogen cells is another," said Hopkins. "I am not convinced that battery electric technology is the solution we are looking for. There should be other solutions out there, those solutions that will come as a mixture."
According to Professor Hopkins, the use of solar hybrid opens the way for future possibilities in powering automobiles besides the use of traditional lithium-ion energy batteries. At the moment, only one company has succeeded in commercializing solar EVs and the technology is still in its infancy. Professor Hopkins believes that could change someday.
"Solar energy is still a long shot from being the only solution," said Hopkins. "At the moment, there are no cells efficient enough to power trucks and cars from photovoltaic energy. However, they can be part of the solution."
The Sunswift 7 comes with solar panels on the hood, trunk, and roof as well as standard 38-kilowatt hour battery power motors in both rear wheels linked in a system with an efficiency of 98%. 
Regardless of the smaller battery size, it can travel 808 miles. On the other hand, the Tesla Model S comes with a 100kWh battery but can only travel about 311 miles.
Is there a market for solar EVs?
Building a car is one thing and finding a market for it is another. Statistics show that EVs make up less than 5% of new car sales in Australia. However, Hussein Dia who is a Professor of Urban Mobility at Swinburne University believes that many Australians want EVs but are held back by the price.
Therefore, the supply of low-cost EVs below the $40,000 range as well as EVs that can travel up to 497 miles on a single charge—which are now available in some countries—may be the incentive that most Australians will need to embrace electrification.
Professor Dia believes that solar passenger EVs are still a long way off. However, it was an interesting innovation that could evolve over time and reduce the reliance on the mining of other raw materials with potential side effects on the environment.