Hyperbat Beat Other EV Battery Manufacturers To Land Lotus Evija Contract
EV News
Hyperbat will assemble 12,000 components spread across 500 unique parts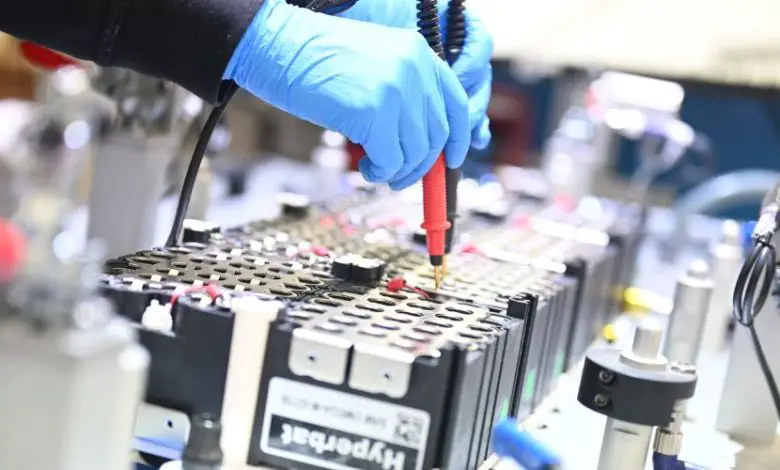 China may hold the ace in EV battery manufacture but a leading UK high-performance electric vehicle battery pack manufacturer, Hyperbat, is set to give other EV battery makers a run for their money.
They have shown their intent with the signing of a multi-million-pound contract to supply the batteries for the all-electric Lotus Evija, touted as the most powerful production car in the world. Hyperbat is expected to deliver a 90kWh lithium-ion battery for the first British-made all-electric hypercar.
Full production will happen at the firm's ultramodern site at the Unipart Manufacturing Group production line located in Coventry. The target output of the mid-mounted battery pack is 2,000 PferdStarke (the equivalent of 98.6% of 1 horsepower). Also, it is projected to have a performance of 0-62mph in less than 3 seconds and a top speed of 200mph.
Hyperbat was created by bringing together Unipart's ability to make critical safety products for OEMs and Williams Advanced Engineering's (WAE) EV battery expertise. The combination of Tier 1 manufacturing capability with engineering excellence was created to support the scaling up of electric vehicle manufacturing in the UK.
Reacting to the contract, a director at Hyperbat, Andy Davis said, "Winning a contract with Lotus to supply battery packs for the world's most powerful production car is a clear demonstration of our manufacturing expertise and exceptional technology. This is a product of decades of research in the automotive industry. It also shows how Hyperbat can continue Britain's heritage at the frontier of technological innovation in the automotive industry."
Hyperbat will leverage Unipart's expertise in execution. The company will also deploy the latest digital technologies to ensure they achieve the highest level of product quality and performance.
Hyperbat is ready to handle the complex contract requirement
The contract with Lotus will see Hyperbat assemble 12,000 components spread across 500 unique parts. Also, the company will be doing about 100,000 welds in each pack. Since this is a complex process that must be completed to perfection, Hyperbat relies on sensors, cameras, and vision systems to monitor the data for each component of the battery.
"Hyperbat is one of the few establishments that has invested in this advanced manufacturing technology," Davis said. "The technology is further enhanced by the research and development work done by the Institute of Advanced Manufacturing and Engineering (AME), who give on-site support to our R&D team. This is the perfect example of academia and industry working in partnership."
Davis highlighted that the partnership gives Hyperbat "a digital advantage for the making of highly complex batteries for the most demanding customers in the world."
Hyperbat has garnered experience by working on global electric motorsport and high-performance road car programs. They can harness this experience and expertise to offer support to new customers.
Also, Hyperbat has a reputation for choosing the most competitive and best supply solutions. They are actively working with the Advanced Propulsion Center and are poised to boost the electric vehicle supply chain capability of the UK through its "H1perChain" project.
"Hyperbat is working with its partners and shareholders across industry, government, and academia to sustain the development of skills required for the UK to be at the forefront of battery manufacturing," Davis said.
Why Lotus Cars chose Hyperbat for their battery pack manufacture
The executive director of engineering at Lotus Cars, Mark Edwards explained why the automaker chose Hyperbat to make their battery packs. Edward said Lotus Cars has been working with Hyperbat and Unipart for several years.
Therefore, they were confident that the company will deliver quality products as well as offer the highest "level of Tier 1 manufacturing support" that Lotus desires for the prestigious project. "With that in mind, we are excited to choose Hyperbat for battery production for Lotus' first all-electric hypercar," Edward said.
"We are deeply proud to be chosen as the battery manufacturer for this prestigious program and excited to deliver premium battery suitable for a premium application," Davis said. "Our success in battery manufacture hinges on three principles; getting the core process right, ensuring reliability and repeatability of the complete manufacturing process, and accelerating speed to market."
Hyperbat is a member of a consortium that leverages the newest 5G-enabled technology to accelerate its manufacturing process. They have entered into a partnership with NVIDIA, Ericsson, and BT to enjoy the possibilities of the world's first 5G virtual reality (VR) 'digital twin' solution.
This allows the company to harness the power of remote teams scattered across different parts of the country to collaborate, connect, and interact using a virtual 3D engineering model.
The commercial director at Hyperbat, James Hoxey said; "We have spent the last few years developing and proving our capability. This nomination is an important milestone for our business, allowing us to demonstrate what Hyperbat can provide to the market. Interest in the business is growing rapidly as well as our capacity. New businesses will follow soon without a doubt."