Tesla Vows to Slash EV Production Costs, Musk Does Not Unveil Affordable Car
EV News
Musk Announced A New Factory in Mexico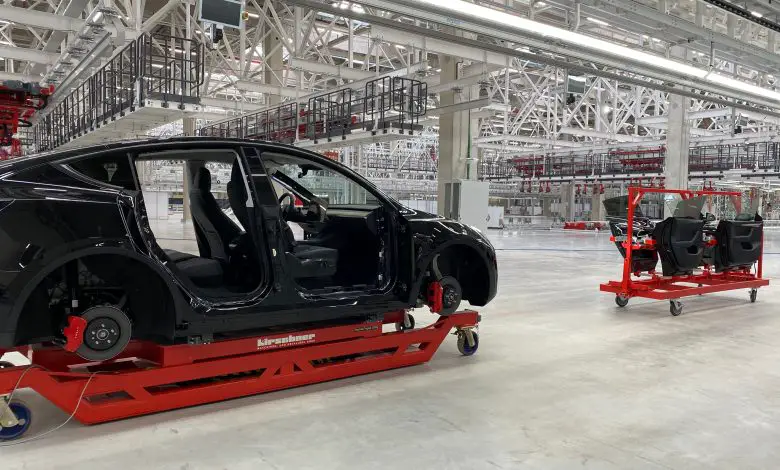 Tesla's Investor Day had all the buzz and excitement that one would expect from one of the world's most innovative companies. Led by the CEO, Elon Musk, and a team of top executives, the event was jam-packed with discussion on a range of topics, from their plans for a sustainable energy revolution to the latest manufacturing and service innovations.
However, while Tesla's engineers revealed that they will be cutting assembly costs by a whopping 50% in the next generation of cars, investors were left disappointed by Musk's silence on the launch of the highly-anticipated affordable electric vehicle. As a result, Tesla's shares took a hit, falling over 5% in after-hours trade.
The highly anticipated Investor Day drew attention from all corners of the world as a lineup of top senior engineers took the stage to showcase the depth of the company's executive bench beyond the familiar face of Elon Musk. Among the prominent figures was the new global production chief, Tom Zhu, as Tesla aimed to project its leadership and expertise in the industry.
Tesla's Mysterious Next-Gen Models and Billion-Dollar Production Plan
The investors were left in the dark about the launch date and specific models for Tesla's next-generation cars. Musk's much-anticipated plan to introduce a more affordable EV that would expand the brand's appeal and stave off competitors remained a mere secret. While investors may have been disappointed by the lack of specifics, Tesla's unwavering commitment to innovation and sustainable energy remains an inspiring force in the automotive world.
Tesla's top executives have hinted at the possibility of multiple vehicles being manufactured in their next-generation platform, with standardized factories being the norm. However, when questioned about the specific models in mind, CEO Elon Musk remained tight-lipped. Instead, the company is focusing on reducing production costs, said Chief Financial Officer Zach Kirkhorn and other members of the executive team.
Kirkhorn estimated that Tesla must invest significantly more than it has thus far to achieve its ambitious goal of producing 20 million vehicles annually by 2030, which is ten times its current capacity. In fact, the company may need to invest as much as six times its recent investment, which could add up to a whopping $175 billion.
Musk Announces New Factory in Mexico and Confirms Release of Cybertruck
Musk announced the company's next major investment: a brand new factory in northern Mexico. This will mark Tesla's first manufacturing plant outside of the United States, Germany, and China and signals the company's unwavering commitment to growth and expansion.
While remaining tight-lipped about future plans for the Model Y and Model 3 sedans, Musk did confirm that the highly-anticipated Cybertruck pickup will hit the market this year. This news was echoed by the company's design chief, Franz von Holzhausen, who expressed his excitement about the upcoming release. As always, Tesla is at the forefront of innovation and disruption, pushing the boundaries of what is possible in the world of EVs. With new factories, new models, and new technology on the horizon, the company is expected to continue its meteoric rise and cement its position as a true industry leader.
Significance of Mass Market
For Tesla, capturing the mass market is crucial to achieving its ambitious annual production goal, which surpasses the combined output of Germany's Volkswagen and Japan's Toyota – the two largest vehicle makers in the world. If successful, this would translate to a remarkable 25% of last year's total global car sales for Tesla alone. Musk understands that the key to driving sales volume is to make Tesla's electric vehicles more affordable for consumers. In fact, he believes that the demand for Tesla vehicles is extremely high, with the only limiting factor being the ability of consumers to pay for them.
Tesla's lead in manufacturing EVs at a profit gives the company an edge over its rivals. Chief Engineer Lars Moravy revealed that the company expects to build its next-generation vehicles for half the cost of the current Model 3 or Model Y, thanks to an "unboxed" production process that reduces complexity and time. Moreover, Tesla's innovative use of data to cut costs is amazing. For example, customer data showed that Tesla owners did not use the sunroof, leading the company to remove it from future models.
Despite some recent price cuts to boost sales, Tesla has outperformed the industry in recent years, growing rapidly despite pandemic-related disruptions to global supply chains. With its sights set on the mass market, Tesla is expected to continue its impressive production and revolutionize the automotive industry.
Focus on Battery Technology for Growth
According to Elon Musk, the "fundamental limiting factor" for the widespread adoption of sustainable energy and affordable electric cars is battery technology. Improving its battery technology is paramount for Tesla to achieve its lofty production goals. Unfortunately, Tesla has been grappling with the challenge of scaling up the production of advanced batteries known as the 4680s. While executives have expressed confidence that they could achieve volume production of these batteries by the end of the year, they also revealed that they are still testing two different production processes.
For Tesla, developing advanced battery technology is critical to achieving its mission of a sustainable energy future. It remains to be seen how the company will tackle this challenge. However, one thing is clear: its success in revolutionizing the automotive industry will depend heavily on its ability to scale up the production of advanced batteries.
In a nutshell, Tesla pledges to reduce production costs for electric vehicles, and it's clear that the company's mission to accelerate the world's transition to sustainable energy is still going strong. While many were disappointed that Elon Musk did not reveal an affordable car during the event, we can't deny the fact that their commitment to lowering production costs is a major step towards making EVs more accessible to the masses. The road ahead may not always be easy, but with Tesla leading the charge, we can be sure that it will be an exciting one.