Revolutionary Tesla Cybertruck to Break the Mold with Colorful Options
EV News
Will Adding Hues to the Cybertruck Boost its Popularity?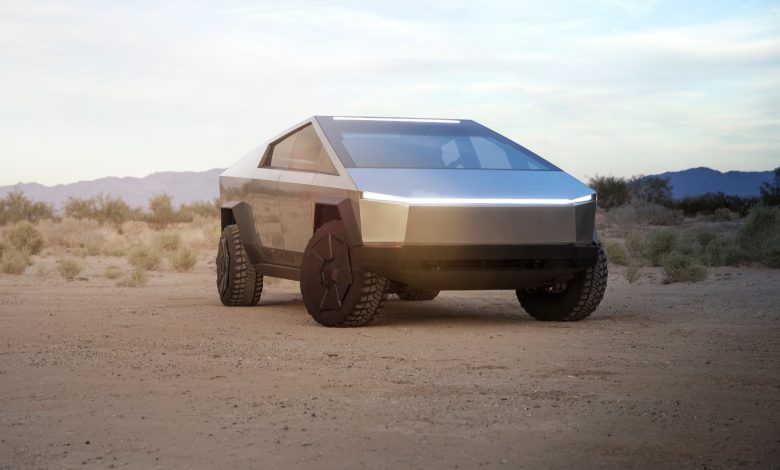 Are the vibrant colors of the rainbow coming to the futuristic Tesla Cybertruck? Despite previous statements from CEO Elon Musk that the vehicle would not come in multiple paint colors due to its unique stainless steel exterior, recent clues from Tesla's Careers website suggest otherwise.
The Cybertruck's distinctive exoskeleton requires no paint, as its stainless steel finish is one-of-a-kind. However, the automaker's recent recruitment efforts have sparked speculation that they may expand their color options. Musk previously suggested that owners could customize their Cybertruck with wraps. However, the latest developments indicate that Tesla may be preparing to offer a wider range of colors for this revolutionary vehicle.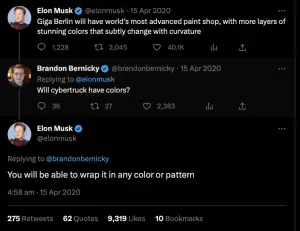 The speculation surrounding the Tesla Cybertruck's potential for a color change continues to intrigue car enthusiasts. While rumors of the vehicle being wrapped for a fee or its exoskeleton being heated to produce color variations have circulated, Tesla has yet to confirm these possibilities. The unique cold-rolled stainless steel finish of the Cybertruck has been a topic of much discussion since its unveiling, with some speculating that the steel could be heated to create new shades. There is no public confirmation of such plans from Tesla, but the possibility of a heated color-changing Cybertruck remains a tantalizing idea.
Tesla's Hiring Rumors of Color Options for Cybertruck
Tesla's recent hiring spree has sparked curiosity among car enthusiasts, with many speculating that the recruitment drive may be linked to the company's plans for the Cybertruck's color options. A range of job vacancies, including Production Supervisors and Manufacturing Engineers specializing in Equipment, Automation, and Controls, appear to be related to the production of the Cybertruck's exterior. While this is not a confirmation of paint options for the Cybertruck, the news has certainly stirred up excitement among Tesla followers. The latest developments only serve to deepen the mystery around what the future holds for the Cybertruck's iconic stainless steel finish.
Elon Musk, the CEO of Tesla, has never been one to shy away from controversy, and his views on the Cybertruck's color options have been no exception. Despite initial statements that the truck's unique stainless steel finish would not be painted, Musk later hinted that a Matte Black option could be in the works. Tesla's reputation for being responsive to customer feedback is well-known, with the company has made notable changes to its products based on input from fans and shareholders alike. Musk's declaration that the Cybertruck's yoke steering wheel was here to stay was initially met with resistance, but ultimately the company relented after widespread complaints. It remains to be seen whether the Cybertruck's paint options will follow a similar path.
Will Adding Hues to the Cybertruck Boost its Popularity?
While the Tesla Cybertruck's unique design has garnered much attention and praise, the lack of color options has been a point of contention for some potential buyers. Offering a wider range of paint options could significantly impact the vehicle's overall design and appeal, potentially attracting a broader range of customers. Some may argue that additional colors could take away from the futuristic aesthetic of the stainless steel exoskeleton.
However, others may argue that providing options could enhance the vehicle's already iconic design and allow for greater personalization. In addition, offering color options could open up new marketing opportunities for Tesla, as the company could create limited edition models with unique colors and finishes to drive up demand. Ultimately, the decision to offer color options for the Cybertruck will significantly affect its market appeal. Only time will tell how fans and potential buyers will receive this decision.
Cybertruck: Overview
If you're a pickup truck enthusiast, you might find it hard to ignore the hype surrounding Tesla's Cybertruck. The unique design might be different from everyone's cup of tea, but the electric truck's performance capabilities and impressive features are hard to overlook. With a stainless steel exterior that is resistant to scratches and dents, the Cybertruck is built tough. The EV can tow up to 14,000 pounds and has an estimated driving range of 500-plus miles. The truck starts at a relatively affordable $39,900, but the most expensive model comes with even more bells and whistles.
However, the Cybertruck isn't the only all-electric pickup truck on the block. It will have to face stiff competition from the likes of the Ford F-150 Lightning, GMC Hummer EV, Rivian R1T, and Chevy's upcoming electric Silverado. But with CEO Elon Musk promising a 2023 release, it's only a matter of time before the Cybertruck hits the streets.
The Tesla Cybertruck is set to make waves in the electric vehicle market with three different configurations to choose from. The entry-level option is the Single Motor Cybertruck, starting at $39,900. This version offers rear-wheel drive, making it the most affordable option. However, for those looking for more power and capability, the Dual Motor Cybertruck is priced at $49,900, offering all-wheel drive and increased towing capacity. And for the ultimate experience, the top-of-the-line Tri-Motor configuration has an amazing range of features, including faster acceleration, longer driving range, and the highest towing capacity of them all. While the different configurations cater to various needs and budgets, all versions of it will feature Tesla's advanced electric technology, making for a sustainable driving experience.
The Three Motor Options of the Cybertruck
Tesla's Cybertruck isn't just any ordinary pickup truck. It has three electric motors; each one offers faster acceleration, a longer range, and greater towing capacity. The base single-motor it has rear-wheel drive, while the two- and three-motor versions offer all-wheel drive. The latter can go from zero to 60 mph in just 2.9 seconds, making it a force to be reckoned with. All models come with an adjustable air suspension that can be adjusted on the fly, providing up to 16 inches of ground clearance. Paired with a 35-degree approach and 28-degree departure angles, it can conquer even the toughest off-road terrain. With its impressive speed and power, it proves that Tesla is not just a company that excels in the electric vehicle market but also can challenge the dominance of traditional gasoline-powered pickup trucks.
Related
Tesla To Produce Four Million Units Of Cheaper EVs Annually
Tesla's Model S and Model X Set to Raise the Bar with New Cameras