Lyft To Expand Electric Vehicle Service
EV News
Lyft encourages drivers to make the switch to electric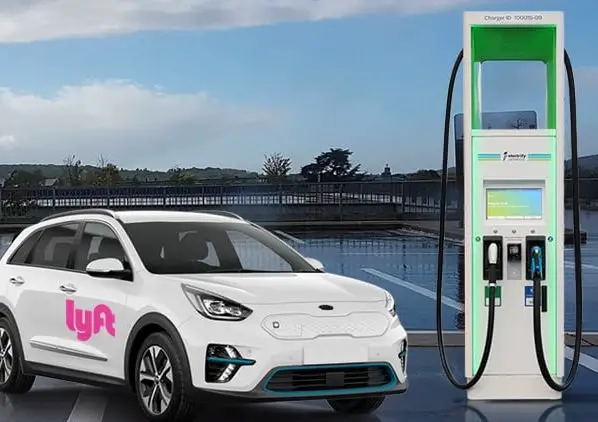 Lyft, a California-based ride-hailing service provider announced that it will relaunch a feature that will enable riders to request hybrid or electric vehicles for their next pickup. In the first phase, the service known as Lyft Green will be available in a few cities and will be open to business travelers.
Business travelers will need to sign up for a Lyft business profile using their work email. Lyft Green relaunch will happen on April 17. This is Lyft's second business initiative this year. Earlier in January, the company launched a reporting tool that assists businesses to track their emissions.
The first time that Lyft Green was introduced to the public was in 2019 in Seattle. At that time, the company had plans to scale to other cities. However, in 2021, the service was rolled back. A Lyft spokesperson said the service was "a bit ahead of its time" and suffered low demand.
With the ongoing EV revolution, more riders have been exposed to EVs and have become more excited to give them a try. This has spurred Lyft to relaunch the service as well as set the tone for a possible global market expansion.
The announcement is coming barely a week after Uber expanded its Comfort Electric option. The service allows riders to select luxury EVs like Audi or Tesla. Uber's Comfort Electric service is currently offered in 40 cities. Also, Uber has a more budget-friendly version known as Uber Green which gives riders the option to request a hybrid vehicle or a less flashy EV.
Lyft Green is part of the company's goal of reaching 100% EVs on its platform by 2030. This goal was partly necessitated by the 2021 California ruling. Consequently, ride-hailing service providers like Lyft must make aggressive changes to beat that deadline.
Lyft encourages drivers to make the switch to electric
Lyft has introduced initiatives to encourage drivers to make the switch to electric. In December 2022, the ride-hailing company introduced expanded EV inventory for the company's Express Drive as well as offered discounts on charging, all in an attempt to encourage drivers to make the switch to electric.
In addition to that, Lyft offered $150 per week to California drivers if they offer 50 rides in their personal EVs. That offer will last until 2024. The company also partnered with Hertz, a car rental company, to offer vehicle rental opportunities.
Lyft has also made EV rides affordable. According to the company's spokesperson, Lyft rides only cost $1 more compared to standard rides. Also, the extra dollar is split between the company and the driver.
Uber has used a slightly different approach to encourage drivers to make the switch to electric. The company is offering drivers $1 for every trip completed with an EV with a cap of $4,000. Also, Uber is working with rental companies to give its drivers discounts on EVs.
Lyft Green is available in Phoenix, Sacramento, Orange County, Denver, Austin, Washington D.C., San Diego, Chicago, New York City, Silicon Valley, Los Angeles, Boston, Seattle, and San Francisco.
In continuation of its sweeping changes, Lyft announced a new CEO in the person of David Risher. The new CEO will take over on April 17—the same date as the relaunch of Lyft Green. The company's co-founders John Zimmer and Logan Green stepped aside from their positions as president and CEO respectively.
New York City officials asked Uber and Lyft to go green
Earlier in January, New York City asked Lyft and Uber to transition to zero-emission by 2030, a decision that would affect over 100,000 for-hire vehicles operating in the state. Making the announcement during his second State of the City address, the New York mayor, Eric Adams, said the initiative was part of his administration's "Working People's Agenda".
"Today, we are announcing that Lyft and Uber will be required to have a zero-emissions fleet by 2030," Adams said. "That's zero emissions for over 100,000 vehicles on our city streets. We're also encouraging New Yorkers who drive to make the switch to electric vehicles as well, adding charging stations in all five boroughs."
At that time, the mayor said the transition will come at no extra cost to drivers. However, he did not detail how that would happen. Lyft and Uber later released statements expressing their support for the policy.
"We are excited to partner with New York City on our journey," said Paul Augustine, Lyft's director of sustainability.
Uber's senior director of policy, Josh Gold said, "We commend the mayor's ambition for reducing emissions, an important goal we share".
Lyft and Uber have separately announced a goal to transition to 100% zero-emission by 2030. California passed a related rule, mandating rideshare drivers to use only EVs by 2030. Ordering ridesharing companies to move to EVs and encouraging residents to do the same will significantly lower pollution around major cities and give residents cleaner air.
Uber and Hertz have extended their partnership as well as expanded into Europe. The move will see both companies deploy 25,000 EVs in Europe.
"Expanding our partnership with Hertz into Europe will significantly boost our transition to zero emissions, helping drivers reduce running costs and cleaning up urban transport," said Hertz CEO, Dara Khosrowshahi. "We aim to become a 100% electric platform across Europe by 2030."
Related
Hertz And City Mayors' Partnership Will Bring Thousands Of EVs And Chargers To The US