Hertz And City Mayors' Partnership Will Bring Thousands Of EVs And Chargers To The US
EV News
Hertz wants to make up to 25,000 EVs available to Uber in Europe by 2025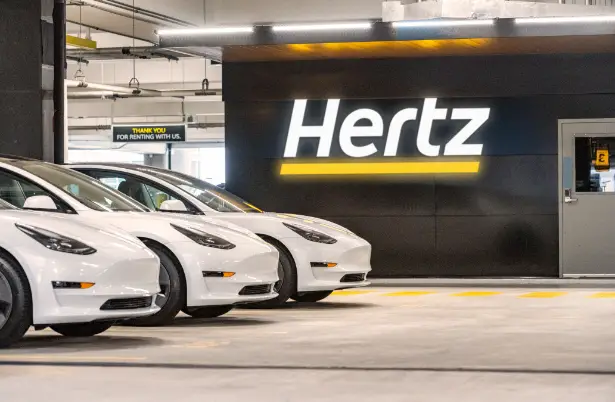 On Thursday, January 19, 2023, Hertz announced that it has reached a public-private partnership with mayors across the country to expand its electric vehicle rental fleet as well as build public charging infrastructure via its partnership with bp Pulse—a unit of the oil giant.
"I can't think of a better partner in Hertz's move to electrification than American cities where innovation is happening," said Hertz CEO Stephen Scherr. "Hertz is delighted to launch Hertz Electrifies in partnership with the city of Denver, which is fast becoming a center for sustainability under the leadership of Mayor Michael Hancock."
The launch of the initiative will start in Denver under the brand 'Hertz Electrifies', in partnership with Mayor Michael Hancock. Consequently, Hertz will bring over 5,200 rental EVs to the city for use by rideshare drivers and Hertz customers.  
Reacting to the partnership, Denver Mayor Michael B Hancock said the benefits of EVs to communities in Denver were diverse and that he was delighted to work with Hertz to extend electrification opportunities across the city.
"Our goal is to achieve an 80% reduction of Denver's carbon emissions by 2050. Expanding the availability and use of EVs is key to achieving that goal," Hancock said. "Hertz partnership will provide useful data about where we need charging infrastructure the most and create opportunities for good-paying jobs for our current and future workforce."
Hertz has a long list of goals it hopes to achieve through the initiative
"EVs are set to transform the future of mobility," Scherr said. "Therefore, Hertz is investing in the largest electric vehicle rental fleet in North America and bringing a new driving experience to business and leisure customers as well as rideshare drivers."
Hertz plans to boost charging capacity at Hertz locations as well as the Denver International Airport by installing a blend of fast chargers and Level 2 chargers. They will also install publicly accessible EV chargers in different neighborhoods in Denver.
"bp is transitioning for a lower carbon future, and our partnership with Hertz to roll out Giga hub charging in the US will help the world do the same," said Dave Lawler, Denver native and bp America chairman and president. "Priority focus is on dynamic urban centers like Denver—and we are just getting started."
In addition to helping to expand the EV charging infrastructure in the US, Hertz wants to create educational and training opportunities that will lead to high-quality jobs as the world moves into a new era of mobility.
It plans to do these through its auto certificate program at Montbello Career and Technical High School as well as offering summer job opportunities through the Denver Youth Employment Program. Hertz will also interact with local organizations to spread the benefits of electrification to underserved communities.
Hertz will also share data from its fleet of connected cars to improve information about public EV charging infrastructure plans. Once the Denver pilot initiative becomes a success, the model will be replicated in other cities.
Hertz to offer up to 25,000 EVs to Uber
Apart from the United States, Hertz is also taking its green revolution in the mobility sector to Europe. The car retail firm wants to make up to 25,000 EVs available to Uber in Europe by 2025. The implementation of the agreement will start in London before the end of January 2023.
Subsequently, the program will be spread to other European capitals including Amsterdam and Paris. According to Uber, the EV models that Hertz will be offering include Polestar 2 and Tesla Model 3. The rental price will be available at the launch of the service in London.
Uber said London is its leading European city for EVs, having over 7,000 zero-emission vehicles driving 15% of Uber's miles there. The partnership is in line with Hertz's strategy to build one of the largest EV rental fleets as well as Uber's commitment to becoming a zero-emission platform in North America and Europe by 2030.
Unveiling the plan on Tuesday 17 January 2023, the companies emphasized that close to 50,000 U.S. Uber drivers have rented a Tesla through the program. To date, around 24 million fully-electric trips spanning over 260 million miles have been completed.
In the U.S., the Tesla rentals (consisting of mostly the Model 3 sedan) for Uber drivers cost $334 a week. The price tag covers maintenance and insurance.
Previously, Hertz has made public their plan to purchase up to 65,000 Polestar EVs, 100,000 Tesla Model 3s and up to 175,000 GM EVs through to 2027. They also fancy the idea of purchasing more cars from other automakers.