VinFast To Supply 2,500 EVs To Autonomy, Break Ground For $275M Battery Plant
EV News
VinFast will deliver 2,500 VF 8 and VF 9 to Autonomy in 2023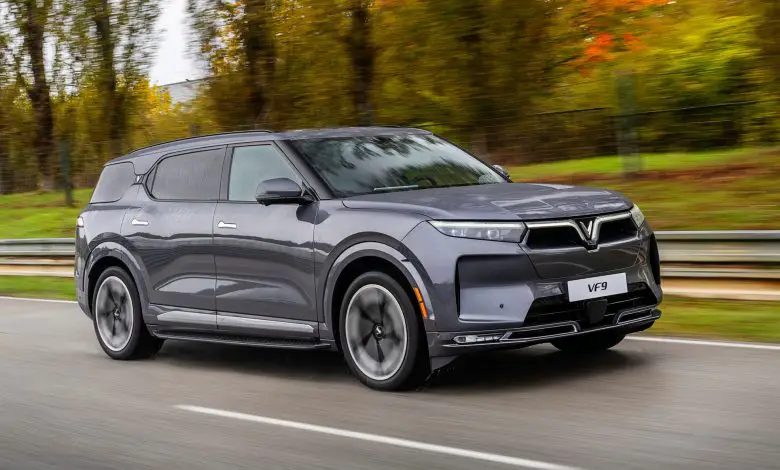 VinFast, a Vietnam-based EV manufacturer, announced that it has received over 2,500 orders for its VF 8 and VF9 electric vehicles. The order came from Autonomy, the largest EV subscription company based in Santa Monica, California. The announcement was made at the Los Angeles Auto Show 2022. This is VinFast's biggest corporate order to date as well as Autonomy's biggest EV order.
"We are thrilled to include VinFast in our subscription offer and help boost the awareness and interest of U.S. consumers about the company's luxury EVs through Autonomy's car subscription," said Scott Painter, Founder and CEO of Autonomy. "Autonomy is making it easier for consumers to switch to EV as well as explore emerging models and brands on the market."
The order validates the positive reception of the Vietnamese car brand in the global market, especially in the United States. Earlier in August 2022, Autonomy had ordered 22,790 EVs from 17 different car makers for its subscription services. Out of that number, 400 were for VinFast while Toyota and Mercedes-Benz got 600 orders each.
With the new order announcement of 2,500 VF 8 and VF 9, VinFast now sits behind General Motors with 3,400 orders. This also places the Vietnam automaker ahead of Volkswagen (2,200) in terms of order number from Autonomy. The delivery of VinFast's largest e-SUVs is scheduled to begin in twelve months.
Delivery of VF 8 has already begun to Vietnamese customers. However, VF 8 and VF 9 are open to global reservations. What sets VinFast apart from its competitors is that it has a flexible sales option where customers can purchase EVs or leverage the battery subscription program. Also, VinFast EVs have about a 10-year warranty which is the best in the market.
Reacting to the order from Autonomy, Le Thi Thu Thuy, who is the Vice Chairwoman of Vingroup and Chairwoman of VinFast said, "It is an exciting time at VinFast as our EVs are about to enter the U.S. market. Autonomy's order clearly shows the trust we have built in the market."
VinFast currently has six stores in California where customers can learn about the brand's EVs. Those interested in experiencing VinFast can do so through Autonomy's mobile app subscription. Afterward, they will receive the car in a few weeks through Autonomy's AutoNation pickup locations or have the delivery made directly to their home.
The groundbreaking for the 5Gwh annual battery factory
VinES, the energy solutions division of Vingroup—which also owns VinFast—has entered into a joint venture with Gotion Inc for the groundbreaking ceremony on a 34.5 acre in Hà Tĩnh Province for its Lithium Iron Phosphate (LFP) battery factory. The factory is designed to have an annual capacity of 5Gwh which is the approximate equivalent of 30 million battery cells annually. The battery plant is expected to support VinFast's EV future.
Founded in August 2021, VinES Energy Solutions is a research and development arm of Vingroup. The R&D division has a special focus on the manufacture and storage applications of battery technologies.
The overall investment in the project at the moment stands at $275 million (VNĐ6,32 trillion). When completed, the key product of the factory would be rechargeable LFP battery cells that will be used mainly for energy storage systems (ESS) and EV batteries.
Leveraging cutting-edge technologies, high automation levels, and an optimized production process, the joint venture LFP battery cell factory will fulfill the needs of VinFast's EVs. Subsequently, Gotion and VinES will carry out more studies to expand the project in line with prevailing development potentials and opportunities on the market.
Emphasizing this point during the groundbreaking ceremony on Friday 18 November 2022, VinES CEO Pham Thùy Linh, said, "[The factory] will create battery supply autonomy for VinFast EVs and VinES expansion goal to become the foremost energy solutions company."
The proposed VinES battery pack factory will be located in Vũng Áng Economic Zone and complete the closed-loop production of LFP batteries in Vietnam. The factory will also open up novel development opportunities for the country's clean energy and electric vehicle sectors.
Li Zhen, the Chairman of Gotion High-Tech was also full of praise for the joint venture and explained how it would benefit Gotion. "It is an honor to cooperate with VinES of Vingroup to build the factory and contribute to economic development and energy revolution in Vietnam. The VinES Gotion Hà Tĩnh Battery factory is essential to Gotion's globalization strategy."
Upon completion, the factory will be the first LFP battery plant in Vietnam with mass production expected to begin in the third quarter of 2024. The project is estimated to create 500 new jobs.
Earlier in December 2021, VinES started the construction of a 20 acres battery manufacturing and packaging factory. The construction is in the final stages and operation is scheduled to commence in December 2022.