Domino's Turns To Chevy Bolt Electric Vehicles For Pizza Delivery
EV News
Over 800 EVs are expected to be part of the fleet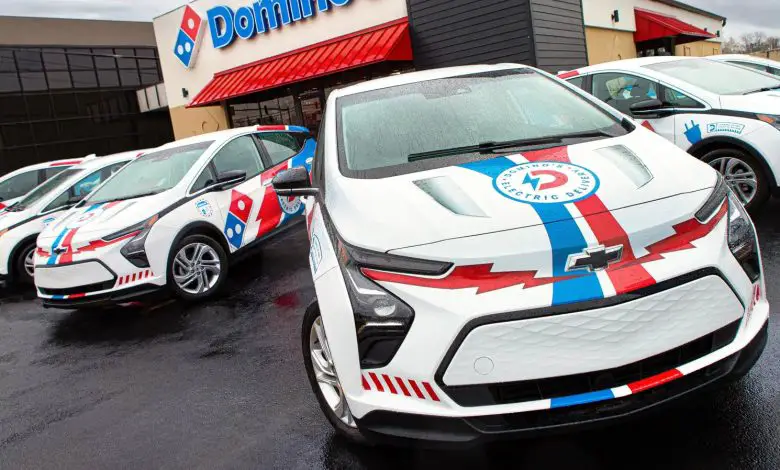 Domino's Pizza, one of the biggest pizza companies in the world is turning to electric vehicles for pizza delivery. This November, about one hundred Chevy Bolt electric vehicles will arrive at 37 corporate stores and franchises across the United States. However, about 700 more are expected to be added to the delivery chain fleet before the end of 2023.
This will make Domino's Pizza the largest EV delivery fleet in the United States once the over 800 Chevrolet Bolts are operational. According to Domino's, the choice of Bolt EVs for its delivery fleet was because they offer advanced safety features, zero-emission drive, and are cheaper to maintain compared to the traditional internal combustion engine (ICE) vehicles.
With the average national price of gas sitting at $3.662 per gallon, Domino's believes the electric vehicles will cushion the company from the financial impact of rising gas prices.
"Domino's started pizza delivery in 1960 with Volkswagen Beetle, rolled out a custom-built pizza delivery vehicle called DXP in 2015, and tested autonomous pizza delivery with robots and cars. Now we are leading the charge in the future of pizza delivery," said Domino's Chief Operating Officer, Russell Weiner.
Domino's is committed to a net-zero carbon emission by 2050. "Domino's has always spearheaded cutting-edge pizza delivery and the use of electric vehicle pizza delivery cars makes sense as automobile technology continues to evolve," said Weiner. "This is one of the ways to start reducing our impact on the environment, one delivery at a time."
In line with its innovative delivery drive, Domino's already delivers pizzas with electric scooters and bikes in 24 international markets including the United States.
EVs can help Domino's solve labor shortages
In the second quarter of 2022, Domino's encountered labor shortages to the extent that they had to "utilize call centers for deliveries to ease constraints", Weiner revealed during an October earnings call with analysts. In this method, workers could answer phones as well as step out of the stores to deliver pizzas.
However, they are optimistic that having a fleet of EVs will help the company to attract more delivery drivers that don't have personal vehicles. The Chevrolet Bolt EV can travel 417 km on a full charge. Each of the 2023 Chevrolet Bolt cost $25,600. However, it attracts a destination charge of $995.
Domino's is not the only one that is excited about the electric vehicle delivery fleet. General Motors was particularly excited that Domino's picked them over all the other electric car brands.
"We are excited that Domino's chose the Chevrolet Bolt EV for their electric pizza delivery fleet in the United States," said the vice president of GM Fleet, Ed Peper. "Both companies are dedicated to a better environment. A combination of fun driving characteristics, affordable price, and 259 miles range makes the Chevy Bolt EV the future of Domino's electrified deliveries."
Peper went ahead to mention that GM was planning to put an end to "tailpipe emissions from new light-duty vehicles" in the United States by 2035.
Skeptics doubt the Domino's delivery electrification drive
Some analysts think the electrification announcement by Domino's is only a media stunt that should not be taken seriously. During Yahoo Finance Live, the anchors made light of the announcement. Just after one of the anchors, Julie Hyman had read out the company's announcement, another anchor Brian Sozzi recalled the last time that the company made a similar announcement but nothing came out of it.
"I think it was 2015 or 2016, Domino's came out with new cars that had pizza warming ovens," Sozzi said. "They made a splashy press release and nothing came out of it. Although it sounds good that they are moving electric, I would like to see the actual delivery of these vehicles and see them on the road to believe."
The third anchor on the show Brad Smith reminded the crew that this was not Domino's first major partnership with an auto manufacturer. Smith said, "they did something with Ford in 2017 or 2018", during the test of autonomous vehicle delivery. "They also tested something with Nuro," Smith said. The goal has always been to keep the pizza hot at the destination.
Domino's Chevy Bolt EV Giveaways
To launch the new fleet of EV deliveries, Domino's is also organizing a giveaway where two lucky customers will win one of two 2023 Chevy Bolt EVs. The giveaways are in two categories namely;
Order a Domino's delivery online from 21 November 2022 to 12 February 2023 to enter
Share why you are the biggest fan of Domino's pizza on Instagram Reels and TikTok from 21 November to 4 December 2022 using the hashtags #DominosDeliversAChevy and #Contest to enter
Further details on how to enter the contest by ordering a pizza can be found here. Those who want to participate in the social media contest can find further instructions here.