Rolls-Royce Announces Spectre, Ultra-Luxury Electric Super Coupé
EV News
Spectre will have 260 miles of range and a top speed of 155 mph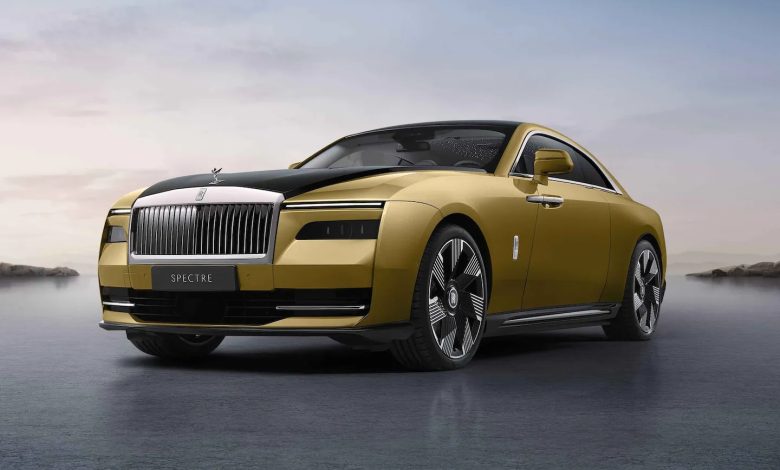 Rolls-Royce releases its first production electric vehicle, Spectre. The fully-electric ultra-luxury coupe has an estimated 260 miles of range. Customers will be able to take delivery at the end of 2023 for the 2024 model.
While Rolls-Royce chose not to release a price for the Spectre, they did confirm that it would fall somewhere in between the Cullinan ($350,750) and Phantom ($460,000).
The Spectre's 23-inch wheel will carry the EV's 6,500 weight. It will produce 577 horsepower and 664 pound-feet of torque. It will do zero-to-60 mph in 4.4 seconds and has a top speed of 155 mph. The battery alone will weigh over 1,500 pounds.
Additionally, the vehicle will use Planar suspension. In Rolls-Royce's press release it had the following to say, "an orchestra of systems with precisely defined responses to driver inputs and road conditions, made possible by the latest software and hardware developments, delivering Rolls-Royce's hallmark 'magic carpet ride'."
Spectre will be built on the 'Architecture of Luxury' architecture, a highly flexible all-aluminium spaceframe. The company calls the EV the "most connected Rolls-Royce in history" with its Decentralised Intelligence.
"This is the start of a bold new chapter for our marque, our extraordinary clients and the luxury industry. For this reason, I believe Spectre is the most perfect product that Rolls-Royce has ever produced", said chief executive officer Torsten Müller-Ötvös.
The company has a goal of being fully electric by 2030.
SPECTRE DIMENSIONS:,
Number of doors / seats         2 doors / 4 seats
Vehicle length                         5453 mm / 214.685 in
Vehicle width                           2080 mm / 81.889 in
Vehicle height (unladen)          1559 mm / 61.377 in
Wheelbase                              3210 mm / 126.378 in
Turning circle                           12.7 m
Kerb weight                             2975 kg
Rolls-Royce debuts Spectre, the marque's first fully-electric motor car
Spectre is a prophecy fulfilled, a promise kept and an undertaking completed
Spectre "demonstrates how perfectly Rolls-Royce is suited to electrification"
Spectre heralds the beginning of all-electric era for Rolls-Royce Motor Cars
Built on the Rolls-Royce all-aluminium Architecture of Luxury
Spectre uses new SPIRIT software architecture with full Whispers integration
World's first Ultra-Luxury Electric Super Coupé is spiritual successor to Phantom Coupé
First customer cars to be delivered in the fourth quarter of 2023