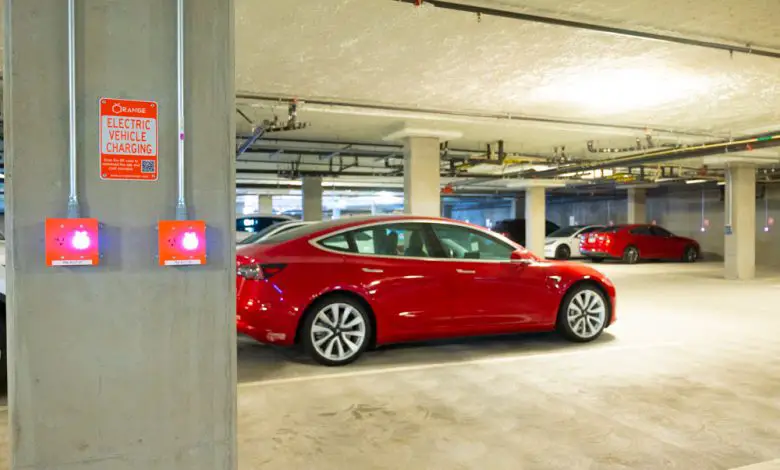 The lack of adequate charging infrastructure has always been a stumbling block on the path of electric vehicle adoption. Orange, a startup founded by ex-Tesla engineers with partial funding from Tesla co-founders have closed $2.5M which will be channeled towards the installation of EV chargers in apartments.
Orange is approaching the EV charging problem from a different perspective with the creation of an affordable charging network that provides apartment owners compelling returns on investment while bringing electric vehicle charging to disadvantaged communities.
In other words, they are making it easier for building managers to install charging sockets for the charging of EVs overnight which is judged cheaper than fast chargers. The silver bullet here is that they are making the sockets as easy to install as the standard house wall socket.
"Orange has realized unbiassed access to electricity by re-imagining the whole vehicle charging process," said the company's CEO, Nicholas Johnson, "through the creation of a system specifically for apartment communities, instead of forcing a public charging model that doesn't fit."
The installation is done for the lowest possible cost. Since their chargers are 120-volt and 240-volt options, numerous units of the chargers can be installed on the same circuit. Therefore, an EV charger can be installed for every member of a resident at any property.
Orange did not include charger cables which give EV drivers the option of using their vehicle's 110V or 240V cables. It is estimated that Orange Outlet will lower the cost of charging EVs for 39 million Americans living in apartment communities by over 70%.
Orange Outlets are different from traditional chargers
Due to the simplified design of Orange chargers, there is little to no maintenance cost when compared to traditional charging solutions. Orange Outlets make use of a proprietary software called OrangeNet through which property owners can manage all the outlets in different sites and charge residents based on their usage.
"Most charging infrastructure today sell overpriced, pedestal boxes that are irrelevant to vehicle charging," said Johnson. "A lot of EV owners only drive 30 to 45 miles daily rather than exhausting their battery's full range. So, you plug in when you return home eliminating the need to charge from your everyday life."
The startup claims that its EV charging solutions can offer up to 150% return on investment which is far beyond what any other company can offer. The funding round was led by Baukunst, a leading pre-seed firm at the forefront of technology and design.
"We are excited to lead the pre-sed round for Nicholas and the team at Orange," said Matt Thomas, the General Partner at Baukunst. "At Baukunst, we believe a charging solution designed specifically for affordability and rapid adoption in apartment communities will catalyze the equitable EV movement."
Other notable investors that participated in the funding round include Tesla co-founder Marc Tarpenning and Martin Eberhard, notable angel investors in the EV sector. Nobel-winning chemist, Sven Thesan and Jonathan Crowder, the founder of Intelis Capital, also participated in the funding round.
"We are excited to collaborate with the Orange Charger team," said Crowder, "on their mission to solve the challenge of delivering affordable and convenient EV solutions for multi-family property residents and building owners."
Features of Orange EV charging units
Each Orange box comes with Bluetooth, Wi-Fi, and cellular connectivity. Since some areas of apartment buildings, like garages, often have challenges with cell signals, the company is planning to add Wi-Fi mesh networking that allows each socket to extend the range of other sockets.
"The sole purpose of the mesh network is for notifications," said Johnson. "For example, if your car is unplugged or something goes wrong. Also, we use the network for our data metrics, temperature measurements, and future updates we may add as we improve our firmware."
Also, the sockets don't require internet connections to start charging. The app on the user's phone which connects to the socket through Bluetooth will activate charging and keep track of their usage.
Orange wants to rival other EV charging point providers
Orange has openly voiced its displeasure over the business model of other EV charging providers like the grant-funded ChargePoint. Johnson explains that its main selling point is "lowering the upfront installation cost" to a property owner.
Johnson further explains that "someone living in a multifamily building may pay more for electricity than a single-family home. However, they didn't have to pay to install a charger. The charger cost becomes amortized over a 3 to 5 years payback period."
At the moment, Orange has only installed about 500 outlets across 75 different locations. However, the company is working on accelerating the rollout of apartment chargers using the funds realized from the funding round and the primary target is multifamily developers.
According to Johnson, "[Our] target are developers like Greystars, Camden, Irvine, and Essex. They have from 50 to 60,000 units under management,"
With the massive shift to electric vehicles, Johnson believes that property managers are already trying to solve the ensuing charging problem. They would fancy partnering with Orange since they are both after solving the same problem.