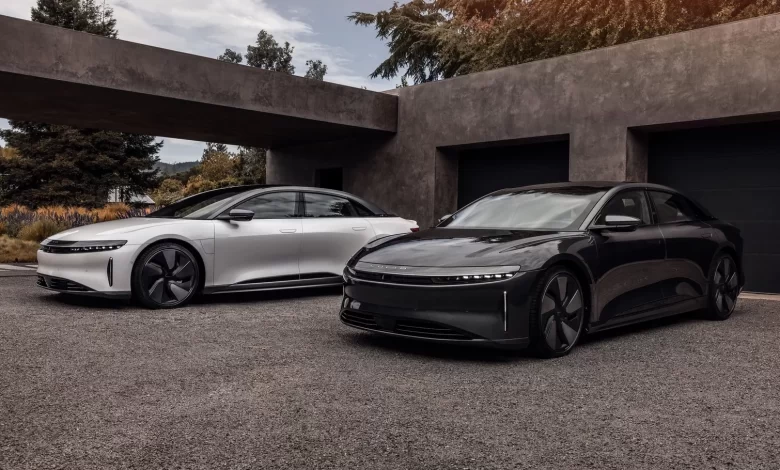 Lucid Group Inc announced its first quarter revenue on Monday, May 8 and it was below expectations. The company also trimmed its production target for 2023 as demands continue to be affected by recession fears, rising interest rates, and the EV price war sparked by Tesla price cuts. The result sent the company's shares tumbling by more than 9% in early trading hours.
Some traditional automakers have launched lower-priced electric models which has hurt demands for products from startups like Rivian Automotive Inc and Lucid. Peter Rawlinson, Lucid CEO acknowledged these challenges in a discussion with analysts but insists it is an industry-wide challenge.
"I believe that there is a challenge to the entire market right now because of macroeconomics and because of interest rates," Rawlinson said.
Although under pressure from snowballing losses, Lucid has refused to lower the prices of its Air luxury sedan which starts at $87,400 or $89,050 with shipping. Rather, the luxury EV maker announced a restructuring plan to cut costs in late March that saw the slash of 18% of its staff or about 1,300 employees across the organization.
Lucid reported first-quarter revenue of $149.4 million which was well below the projected average of $209.9 million by Refinitiv—although it was more than twice higher than its revenue the same time last year. Last month, the company reported production and delivery figures that were lower than the previous quarter.
"The revenue was actually the weakest that's been since the second quarter of last year, so there's a big miss on the top line," said CFRA Research analyst, Garrett Nelson. "This could be an indication that this pricing war is having a direct impact on their results."
Lucid has cut its projected production target for 2023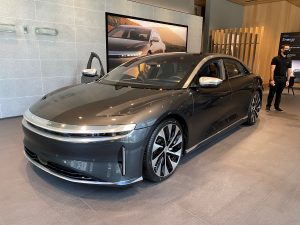 At the earnings call, Rawlinson disclosed that the company was on track to make 10,000 EVs this year. The earlier forecast was between 10,000 and 14,000 units. Lucid's first-quarter net loss grew to $779.5 million from $604.6 million a year earlier.
"We are on track to produce over 10,000 vehicles in 2023, with company-wide initiatives ongoing that will enable Lucid to pivot to higher volumes as market conditions allow," Rawlinson said. "We continue to grow our brand awareness and I'm proud to say that the Lucid Air was recently awarded a number of prestigious accolades."
Also, the company's cash and cash equivalents dropped to $900 million in the first quarter compared to $1.74 billion in the fourth quarter. Lucid hopes to launch the Gravity SUV this year instead of the projected 2024 in an attempt to boost demand.
"We will unveil our Gravity SUV later this year ahead of its launch in 2024 and we cannot wait for everyone to experience it," Rawlinson said. "The Lucid Air redefined the luxury sedan category and we believe the continuing advancements of our in-house technology position our Gravity SUV to do the same in the SUV category—game-changing range, driving experience, charging speed, voluminous interior space, and an unrivaled combination of luxury and performance."
Chief Financial Officer Sherry House said Lucid had $4.1 billion in liquidity which was enough to fund the brand's operations at least into the second quarter of 2024. To boost revenue, Lucid has engaged multiple parties on selling and licensing its powertrain technology, although Rawlinson refused to provide details.
Lucid lures Tesla drivers at LA supercharger station
Companies are always looking for creative means to steal some of the customers of their rivals. For Lucid, it was setting up a shop at the Tesla Supercharger station in Los Angeles where it offers Tesla owners test drives in the Lucid Air. The company hopes that after the test drive, some of the testers will be convinced to ditch their Teslas for Lucid Air.
Considering the fact that Lucid offered luxury EVs which don't come cheap, placing their test vehicles in a place where drivers that can afford them huddle was considered a genius move by some. However, many dedicated Tesla fans lashed out at the idea with some calling it "desperate".
Many drivers said they were considering a Lucid but were held back by the high price. Lucid doesn't qualify for President Biden's EV tax credits which have been a huge incentive for many drivers when it comes to choosing a brand.
It is hard to tell if the Lucid Air test drive offer had a positive effect on the company's dwindling demands. Lucid would easily attract more buyers by lowering the price of its vehicles. However, that would push the startup that is already shedding cash further into bankruptcy.
Lucid kicks off a 42-city tour across the United States
Lucid is doing all it takes to grow the sales of its Air sedan and the latest is a seven-month, 42-city pop-up tour of the U.S. with the electric Air sedan to increase the product's publicity. The luxury automaker is taking the Air sedan to locations that are not primarily known as EV hotspots.
The tour tagged "Dream Ahead Tour 2023" began in mid-April with 4 stops in Florida and will end in mid-November in Dallas. The event will offer test drives and information about the company's proprietary EV technologies.
According to the company, the roadshow is designed "to showcase Lucid Air's game-changing electric vehicle performance and technology". It will also present a unique opportunity to U.S. consumers to have a behind-the-wheel experience of different Lucid Air models including the $139,650 Air Grand Touring with 819-horsepower and 516 miles estimated EPA range.
Lucid makes use of the direct-sales model in getting its products to the hands of consumers. The automaker has 35 retail stores in North America, particularly in EV-friendly cities. The tour will give the company the opportunity to take its products to Bozeman (Montana), Jackson Hole (Wyoming), Louisville (Kentucky), Birmingham (Alabama), and Nashville (Tennessee). EVs are not popular in some of these cities.
The tour will also visit major cities with rich buyers including Las Vegas, Chicago, Boston, and the Hamptons in New York. The company's "pop-up activations will collect contact information from interested parties and share with sales for follow-up".
Related
Lucid Gravity SUV Public Road Test Is A Step Toward Production