GreenPower EVs Qualify For Up To $40,000 Commercial Clean Vehicle Credit
EV News
In March, GreenPower will deploy its BEAST electric school buses made in West Virginia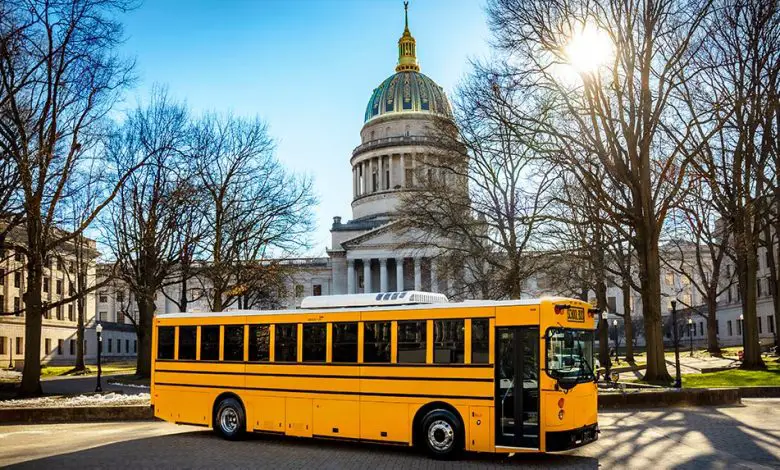 On February 22, 2023, GreenPower Motor Company Inc announced that it has qualified for the commercial clean vehicle credit available to automakers through the Inflation Reduction Act. 
All GreenPower's commercial EVs models that weigh over 14,000 pounds Gross Vehicle Weight Rating (GVWR) can get up to $40,000 in tax credit while vehicles that weigh less than 14,000 pounds GVWR can get up to $7,500.
"As businesses continue to explore and invest in electrifying their fleets, they need help with costs to accelerate adoption," said Brendan Riley, President of GreenPower.
Founded in Vancouver, Canada, GreenPower is one of the leading makers and distributors of purpose-built, zero-emission heavy-duty and medium vehicles. Their EVs serve the school bus sector, shuttle and transit space, and the cargo and delivery market.
The commercial clean vehicle credit and tax-exempt became available to businesses and organizations on January 1, 2023. It was to serve as an incentive that will increase EV adoption and aid local production. At the moment, no limit has been set to the number of tax credits a business can claim.
"By being a qualified U.S. manufacturer, we can proudly provide better, cleaner, and safer transportation alternatives to businesses looking to deploy purpose-built, all-electric vehicles including trucks and cargo vans," said Riley. "With the tax credit, owning an all-electric commercial vehicle will be more affordable in the long run than ICE units in many cases."
The roster of GreenPower's EVs that qualified for the tax credit
GreenPower uses innovative technologies that can push down fuel costs for businesses as well as minimize maintenance costs. The automaker also claims its technology is reliable, efficient, and helps in combating climate change. Below is a list of the GreenPower EVs that attract tax credits.
EV Star: A multipurpose commercial vehicle with a range of up to 150 miles as well as offers dual charging. GreenPower claims it is the only vehicle in its class to be tested by Altoona and obtained the highest score of 92.2.
EV Star Cargo and Cargo Plus: Having a cargo volume of around 836 cubic feet, a carrying capacity of about 5,000 pounds, and a driving range of up to 150 miles, this cargo EV can easily exceed delivery targets.
EV Star Cab Chassis: This flagship EV is designed for mid-and-last mile delivery. It falls under the class 4 mini-bus classification and has a carrying capacity of 6,000 pounds. Powered by a 118-kWh battery pack, this heavy-duty mini-bus can travel 150 miles on a single charge.
Type A Nano BEAST: Purpose-built EV with a clean sheet design that facilitates weight distribution and the optimal placement of battery pack. Based on GreenPower's flagship EV Star platform, the EV offers a longer range and set a new standard for emission-free student transportation.
Type D BEAST: This electric school bus features a monocoque chassis, pass-through storage, ABS disk brakes, and air-ride suspension. It has a seating capacity of about 90 passengers.
GreenPower takes school bus pilot to West Virginia
In early March 2023, GreenPower will deploy its BEAST electric school buses made in West Virginia to two more counties in the state. A week earlier, Lewis and Upshur counties revealed that they will incorporate electric school buses into their school systems as part of the GreenPower pilot project's fourth phase.
Other counties like Raleigh, McDowell, Boone, Mercer, Kanawha, Cabell, Grant, Clay, Ohio, and Monongalia have already given GreenPower BEAST a try. GreenPower Electric Nano BEAST school bus will be delivered to Upshur County. The electric buses are equipped with curbside and wheelchair securement.
On the other hand, several GreenPower Type D BEAST school buses will be deployed to Lewis County. This will happen in the first week of March in both counties. A press conference is scheduled for March 1 in Lewis followed by the deployment of the electric school buses the following day.
The buses will be available to the public. It will be in the Transportation Bus Garage by 6:30 a.m. and move to Leading Creek Elementary School afterward. In Upshur County, a press conference is expected to hold on March 2, 2023 while the bus will make its first trip the following day.
GreenPower Motor Company Inc makes all the buses in South Charleston, West Virginia. The manufacturing plant opened its doors in August 2022 and only makes EVs including electric buses.
On December 31, 2022, the automaker announced that it has delivered 101 EVs. The majority of the vehicles delivered at that time were the EV Star Cargoes and EV Star Cab and Chassis. However, the company also announced the delivery of its first Nano BEAST Type A school bus.