Ford Breaks On F-150 Production And Shipment After Battery Fire
EV News
The Company Is Considering Solid Axles With Hub-Mounted Motors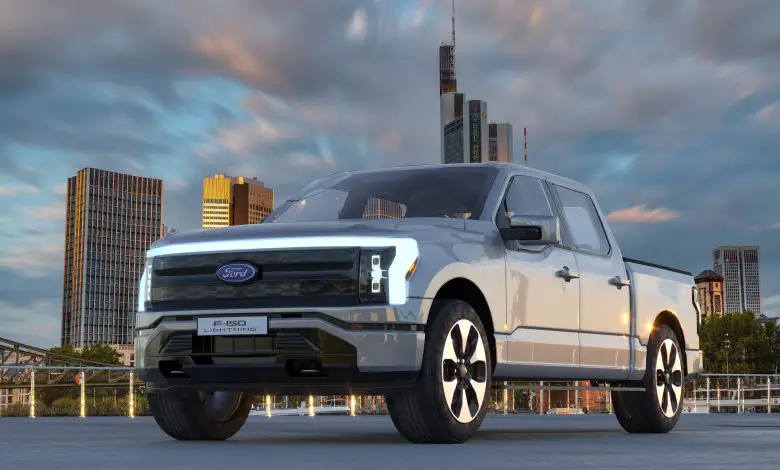 Ford has temporarily stopped the production of its F-150 Lightning electric vehicle after the battery of one of the vehicles caught fire earlier in the month. In a statement on Wednesday 15 February 2023, Ford said the pause will last at least a week. Ford's statement was a confirmation of an earlier publication of the incident by the Detroit Free Press.
The Michigan-based automaker and second-largest automaker by sales behind General Motors Co revealed that one F-150 truck caught fire on Feb. 4 during a pre-delivery quality inspection in an outdoor holding lot in Dearborn, Michigan.
The fire eventually spread to two nearby trucks forcing the company to halt production the following day at its Dearborn assembly plant. In total 3 trucks were damaged by the fire. However, no injuries were recorded.
After a preliminary investigation, Ford said it thinks it has found the cause of the fire but will take definite action after it concludes the investigation in a week's time. The findings of the investigation will be applied to the truck's battery production process in the coming weeks.
"By the end of next week, we expect to conclude our investigation and apply what we learn to the truck's battery production process," said Emma Bergg, Ford's spokeswoman
Ford confirmed it will hold "all produced vehicles while working through engineering and process updates". However, the company is unlikely to issue a recall order saying it was "not aware of any incidents or this issue in the field and do not believe F-150 Lightnings already in customers' hands are affected by this issue."
Ford's F-150 Lightning truck uses batteries supplied by SK innovations. The Korean supplier has a factory in Georgia.
The fire incident compounds Ford's delivery struggles
These production interruptions are coming at a time when the automaker is struggling with recalls, quality issues, and high warranty costs that have stretched for several years. The issues also mean Ford has to apply the brakes on its most popular product.
According to Bergg, the company has a backlog of close to 200,000 reservations for the F-150 Lightning, even though it stopped taking orders in December 2021. Reservation holders had to pay a $100 deposit which Ford converted to orders. In 2022, Ford sold over 15,000 F-150 in its first full production year.
This is not the first report of a problem with the lithium-ion batteries used in an EV. Battery fires can burn really hot and consume thousands of gallons of water to extinguish. 
Extinguishing EV battery fires always present a huge challenge for firefighters as recorded in several Tesla crashes where the battery ignited. Several automakers including BMW, Hyundai, General Motors, and others have all issued recalls based on battery issues.
Similarly, Ford has temporarily paused production at its Louisville Assembly Plant to resolve production issues with its revamped 2023 Escape SUV, as reported by Automotive News media. The report cited a memo that linked the issue to software in the vehicle's data display cluster.
Workers were told that the plant would be idle from Feb. 13 to 19 according to the Automotive News report. Reuters reached out to Ford but the automaker failed to confirm the stoppage.
Ford EVs may use solid axles with hub-mounted motors in the future
Ford is likely working on a novel powertrain that combines solid axles with integrated hub motors for future EVs according to credible reports. This was revealed through a patent filing with the United States Patent & Trademark Office (USPTO) by the Michigan-based automaker.
Solid axles pivot when they move over uneven surfaces which is different from individual suspension systems. Although this type of suspension has been a primary feature in pickup trucks, Ford wants to bring it to future EVs.
Based on the document submitted to USPTO, Ford will include a hub motor assembly at each wheel to a solid axle, rather than the regular inboard-mounted motors that currently feature in most EVs.
For Ford, hub motors are not really new. The automaker previously considered using it for the F-150 Lightning but later scrapped the idea. However, it appears the automaker is giving it a rethink for use in both private and commercial vehicles.
While exploring the new form of EV powertrains, Ford has reported potential problems with hub motors. Some of the concerns include their higher risk of damage, interference with friction brakes, and a rise in unsprung mass which can make handling more difficult.
Ford is not the only company working on hub-mounted motors. Elaphe, a Slovenian company is exploring the same technology and there are reports it would supply them for vehicles like Aptera three-wheeler and the solar-powered Lightyear 0 supercar.
There are reports that Elaphe has partnered with McLaren to merge their racing tech into the development of future hub-motor powertrains. The Slovenian company recently began shipping its hub motors for use in Lordstown Motors' Endurance pickup trucks.