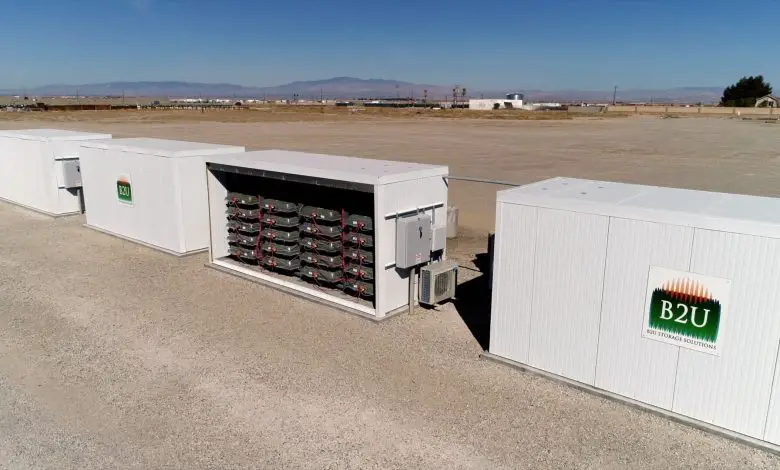 EV Batteries Are Doing More Than Just Traveling Long Distances
A decade ago, the sole aim of manufacturers of electric vehicle batteries was trying to make them go the extra mile. Today, manufacturers are looking for more creative ways to use EV batteries including solving the used battery waste problem.
A Los Angeles-based startup, B2U Storage Solutions Inc, said it has 25 megawatt-hours of storage capacity using 1,300 used EV batteries anchored to a solar energy facility in Lancaster, California. The startup believes that giving the used EV batteries a second life will significantly lower the cost of storing carbon-free energy.
The project is considered a pioneer in the field. It was able to sell power to the wholesale market in 2022 and earned $1 million from doing so, as Freeman Hall, the Chief Executive of B2U Storage Solutions Inc reported.
Although the project is new, it has demonstrated how grid-scale storage can provide useful destinations for millions of used battery packs from EVs. This will be most useful in preventing the burden of battery waste in the future as more drivers transition from internal combustion engine (ICE) vehicles to EVs.
It is also believed to be a more cost-effective method for deploying the large amount of battery capacity needed to store wind and solar energy for use when the wind is not blowing or the sun is not shining. The technology used by B2U makes it possible to bundle the EV battery packs together without first tearing them apart.
Founded in 2019, B2U is backed by Marubeni Corp, a Japanese trading company. By deploying used batteries, project developers can save costs and resources. Hall estimates that B2U's system can lower grid-scale battery capital costs by up to 40%.
"Second life and re-use help the overall lifecycle to be more energy efficient, given all the efforts that go into making that battery," Hall said. "So, you are getting maximum value out of it."
According to Hall, due to working hard, EV battery range deteriorates over time. However, they can still hold enough charge for stationary storage which has a gentler demand. 
Some of the batteries used in the B2U system are about 8 years old and once powered Nissan and Honda EVs. The startup is aiming to develop more projects in Texas and California.
EV batteries can power homes for days
Cold storms and other natural disasters often leave many homes without power for days. That was the story of Nate Graham who lives in New Mexico. After experiencing a power outage that lasted for two days, Graham bought a $150 inverter that he hooked to his new Chevy Bolt.
The inverter converted the direct current in the EV battery into an alternating current needed to run home appliances. The battery of the Chevy Bolt was able to power his refrigerator, lights, and other important devices.
While the neighborhood outside Albuquerque groaned in darkness, the life of Graham and his family remained fairly unchanged. Graham said "it was a complete game changer making power outages a nonissue. It lasted a day and a half, but it could have gone much longer."
Automakers are promising home batteries on wheels with reversible electricity flow to power the entire home through the main electric panel. Apart from helping to curb green gas emissions, EV batteries can revolutionize American society and serve as a key step in the nation's transition to renewable energy.
Why more Americans are powering their homes with EV batteries
America's power grid is in bad shape. While reliability is on a decline, energy prices are on the rise. The number of major outages has risen from less than two dozen in 2000 to over 180 annually according to federal data. Average utility customers endured up to eight hours of power outage in 2020 which doubles the power interruptions from the previous decade.
Since 2008, prices have risen to 21%, and it is projected to continue climbing as utilities invest over $1 trillion in infrastructure upgrades, protection against extreme weather, and erecting transmission lines for renewable energy.
About 8% of U.S. homeowners are opting out of public utilities by installing solar panels. A large number of them are opting for batteries from companies such as Tesla, LG, and Panasonic.
Ford redefined what an electric truck should be
Ryan O'Gorman of Ford's energy services program claims that Ford changed how customers viewed electric trucks with the unveiling of its hybrid F-150. The truck doubles as a generator and has up to 11 outlets distributed all over the vehicle.
The icing is the inclusion of a 240-volt outlet which is typically the type used for clothes dryers and other similar appliances. After an ice storm disaster in 2021 left millions of people in Texas without power, Ford dealers lent out the F-150s hybrid to those affected for use as home generators.
The Lightning F-150, the all-electric version of the truck functions like a backup power. A massive 98 kWh to 131 kWh (depending on the trim) battery pack is sitting under the EV. According to Ford's estimate, the battery is enough to power a home for 3 days or up to 10 days if rationed.
Unlike other EVs where the user has to plug appliances into the truck, the Lightning F-150 plugs into the home and replaces the grid. However, the homeowner will need to install a home integration system and an 80-watt bidirectional charger to enjoy this feature.
Ford has chosen Sunrun as its preferred installation partner. Nevertheless, any licensed professional should easily install the bidirectional charger and home integration system.
First Rivian-powered vasectomy
In September 2022, Dr. Christopher Yang announce on Twitter that he had performed what would likely be the first "Rivian-powered vasectomy" in Austin, Texas. According to the physician, a power outage forced him to resort to the Rivian EV as an alternative power source.
"Power in clinic went out, the patient didn't want to reschedule because he already had time off," Dr. Yang wrote on Twitter. "Electrocautery was normal, procedure went great!"
This is another compelling story that shows how manufacturers envisage the use of vehicle-to-load capabilities in EVs in day-to-day life to combat any possible adverse effect of blackouts. EV drivers have to look for creative ways to maximize their battery, especially if they don't drive long distances daily.