Canoo Showcase 600 HP Electric Vehicle For U.S. Army
EV News
Canoo has now made two presentations to the Army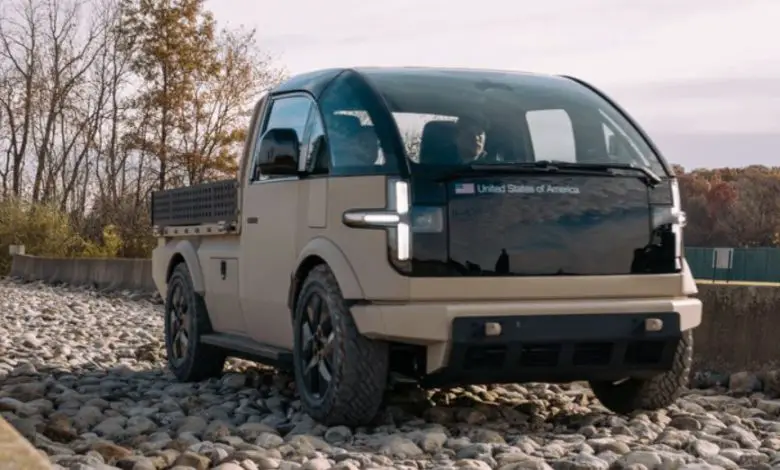 Canoo has been struggling to deliver after claiming it could make about 6,000 electric vehicles in 2022. The company's stock has been one of the worst-performing EV stocks. After a merger with a special purpose acquisition company (SPAC), it started trading on 22 December 2020 at $22.75 per share. However, its share today is worth about $1.
However, there may just be light at the end of the tunnel for the automaker which has just unveiled its first electric light tactical vehicle (LTV) for the United States army with 600 horsepower—which is higher than the standard model that will have about 500 hp.
The LTV which will be used for analysis and demonstration purposes shares similarities with the automaker's upcoming pickup. But, it comes with a single cab configuration and is equipped with 32-inch all-terrain tires and raised suspension. In addition to that, it features a proprietary all-wheel drive system.
Canoo electric LTV attempts to stand out from the competition
Although Canoo announced that the electric LTV was based on its flexible Multi-Purpose Platform and was "engineered for extreme environments and equipped with stealth configurations", a lot of specifics were left out. The company also claimed the LTV was designed for durability as well as to offer optimum protection for the passenger and battery pack.
The model developed for the U.S. army uses carbon Kevlar for strength while the convertible flatbed platform allows the EV to transform from a pickup to a cargo vehicle or flatbed truck. Canoo praised its modular attachment system saying that it made mounting "ramps, racks, tents, storage boxes, or tactical systems," easier.
According to the company, the use of a modular uplifting approach made it possible for them to cut the model's cost. Also, this feature allows the model to be customized according to the requirements of any mission.
The Canoo LTV may not square up to the Army's GMC Hummer EV but the company's CEO Tony Aquila is full of praise for what they have achieved. "The LTV is a huge milestone that validates the strength of our technology and its implementation, even in tactical situations," Aquila said.
The impact of an EV on the U.S. military's greener future
The U.S. Army contacted Canoo in July 2022 to supply EVs for demonstration and analysis. Earlier in February, the U.S. Army unveiled a new climate strategy to lower climate emissions which included the implementation of EVs.
It is important to mention that Canoo is not the only automaker that has been tapped by the U.S. military. General Motors Defense, an advanced arm of GM in charge of defense mobility innovation was selected by the Defense Innovation Unit (DUI) to make a battery pack that is powerful enough to drive functional electric military vehicles.
The announcement by the U.S. Army to adopt EVs has raised eyebrows with many people wondering if it would make a difference to their carbon emissions. Also, there are concerns pertaining to the performance of military EVs in rugged combat environments.
On 1 December 2022, Modern War Institute at West Point published a post highlighting some of the benefits of EVs over gas-powered vehicles in tactical situations and how its implementation will be beneficial to the U.S.Army's greener future. According to the U.S. military, EVs are stealthier and more powerful as well as feature technologically advanced options.
Offering insights on how the electrification in the U.S. military will impact carbon emissions, the post made some shocking revelations on the U.S. military's fuel consumption as follows;
The U.S. military gulps 4.2 billion gallons of fuel annually making it the largest institutional consumer of petroleum in the world.

Defense Logistics Agency spent over $9 billion on fuel in 2019 (paying in premium)

About $1,000 is spent per gallon to deliver fuel to remote operations

Fuel convoys are more prone to attacks. From 2003 to 2007, one in eight casualties recorded in Iraq was during the protection of convoys.
The ongoing war between Russia and Ukraine has further exposed the advantage of EVs over ICE-powered vehicles in war situations. Russian troops were stuck in a 40-mile-long convoy after a fuel logistics setback.
However, Ukrainian snipers used quiet electric bikes to sneak into target proximity, deliver deadly strikes on their enemies, and flee before being spotted. Perhaps, one of the most important accomplishments of the electrification of the U.S. military fleet will be the reduction in dependence on foreign fossil.
Canoo's struggle for survival
Founded in 2017, Canoo has been able to scale through multiple hurdles to bring its "use case" EV platform to the market. It took close to $1 billion in investment and more than 250 patents for Canoo's Multi-Purpose Platform to become a reality. Notwithstanding its technological advancement, the automaker has been struggling with funds to continue operations.
To keep the company's doors open, Canoo entered into an agreement with Walmart. According to the purchase agreement, the automaker will deliver no fewer than 4,500 EVs to the retail giant in exchange for exercisable warranty shares.
However, Canoo's "Made in America" strategy positions the company to benefit from incentives from the Inflation Reduction Act. After settling for a 630,000-square-foot facility in Oklahoma City, Canoo said it is ready to start mass production of its EVs.