BYD Dominates Australian Market, Expansion Into Other Markets Coming
EV News
BYD will begin offering its EVs in Mexico in 2023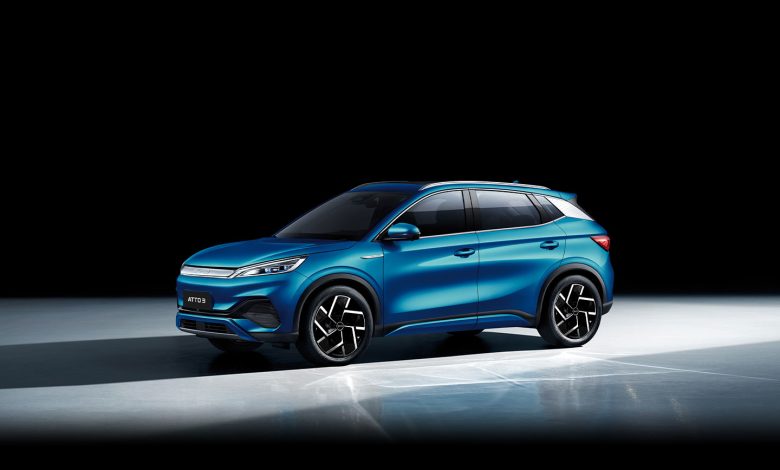 After much speculation, BYD finally revealed its sales figures in Australia for the first time. According to monthly data with VFACTS, 845 units of Atto 3 were sold in November. This shows a 153% rise in production compared to the same time of the previous year. VFACT is a compilation by the Federal Chamber of Automotive Industries.
With the numbers, Atto 3 has jumped to the second spot on EV sales charts, accounting for 1-in-5 EVs sold in the country. What is more interesting is that Atto 3 sales only kicked off in mid-November after delays attributed to Australian Design Rule challenges—especially with the ISOFIX anchor points.
However, an importer of BYD in Australia, EVDirect, revealed to CarExpert that the year-to-date sales of Atto 3 were closer to 1,000 units because many had already been delivered before the pause took effect. The importer is also predicting higher deliveries in December.
In all, the sale of EVs jumped to 4,457 in November 2022, or 4.7% of the total market share. Tesla Model Y continues to dominate the EVs sales with around 1,805 monthly deliveries while the Tesla Model 3 trails far behind with 391 units sold in November.
Despite the presumed low sales of the Tesla Model 3 compared to the Model Y, it still trumps other leading competitors. The Polestar 2 recorded only about 240 sales while the Volvo C40 managed 243 sales.
BYD continues to grow at an exponential rate and is gradually expanding into Europe. Many experts in the industry now think of BYD as Tesla's key rival globally. The Warren Buffett's Berkshire Hathaway-backed company has just produced its 3-millionth new electric vehicles (NEVs), comprising all-battery electric and plug-in hybrid.
It took BYD 13 years to sell 1 million NEVs, 1 year to sell two million, and has just hit 3 million sales in about six months. EVDirect is planning to bring BYD Seal Sedan (a potential rival to Tesla Model 3) and EA1/Dolphin small hatch (with prices starting under $40,000) to the Australian market in 2023. BYD claims it has the capacity to make 500 EVs a day for Australia—if demand ever gets there.
Ateco Automotive adds more BYD dealers in New Zealand
In what can only be described as a growing demand for BYD's EV, Ateco Automotive, the leading independent vehicle distributor and automotive service provider, has expanded the number of dealers it has in New Zealand for the BYD brand. Ateco added four new dealerships as franchises for BYD with five more coming in the next six months.
The four dealers are evenly distributed between the north and south islands and are envisioned to be operational before the close of 2022. At the moment, there are currently 7 dealerships that were progressively opened since June when BYD was launched into the New Zealand market.
Ateco's Phase Two network expansion will add more dealers in the north and south and they are envisioned to start selling before March 2023. This includes Bayswater BYD in Hawkes Bay to take orders from customers in Hastings and Napier and Keith Andrew's Northland BYD in Whangarei, Northland. Queenstown will also get a service center.
Explaining the expansion of the Chinese automaker's dealership in New Zealand, Warren Willmot, the BYD New Zealand brand manager said: "Following BYD's Atto 3 sales success in New Zealand, phase two expansion of the network is coming at the right time. Our available showrooms have been busy since the launch of BYD Auto in June 2022. Prospective buyers will be delighted to learn about the opening of new BYD showrooms close to them."
BYD will launch EVs in Mexico in 2023
The Chinese EV maker also announced that it will launch its brand in Mexico in 2023. BYD will partner with eight dealers to bring its Han sedan and Tang sport utility vehicle (SUV) to Mexico. The company hopes to raise the number of licensed dealers to 15 in 2023 and 30 by 2024. This was revealed by Zhou Zou, the company's head in Mexico.
A senior executive has projected a sale of up to 10,000 vehicles in Mexico in 2023 and a double or triple of that number in 2024. Zou added that the long-term goal of the company is to grab 10% of the total market share. BYD is yet to disclose the prices of its EVs in Mexico. However, Zou emphasized BYD's affordability which makes them a "brand for everybody".
EV sales figures in Mexico have not been the most impressive compared to the United States. Mexico's Automotive Industry Association revealed that just 31,000 cars (or 4.5%) sold in the first 8 months of 2022 were hybrid out of the total 693,000 sales.
Nevertheless, Mexico is pushing to make EVs more affordable by cutting import tariffs and sales taxes. The country's officials have affirmed that Mexico was still on course to meet the goal of turning 50% of all new cars into EVs by 2030—but General Motors executive thinks Mexico will only be able to achieve 15% by 2030.
BYD buys ship to avert supply chain disruption
Supply chain disruption was worse during the peak of the coronavirus pandemic. To avert future disruptions and to make sure that anyone that wants to drive BYD will get it on time, the Chinese automaker acquired at least 6 ships in October. Each of the ships will have a capacity of 7,700 cars and cost the company 5 billion yuan ($710 million)—but it will take a while for them to come online.
China has overtaken Germany as the leading automobile exporter. In the first 10 months of 2022, China exported 2.6 million cars abroad which dwarfs the previous year's performance.
While the number of vehicle exports has increased, the number of carriers has remained the same prompting fears of future supply chain delays. Without a doubt, the investment in car carriers is a path toward securing the worldwide consumer demand for Chinese vehicles.