Tesla: Look out for new models in 2023
EV News
Three new models could be released in 2023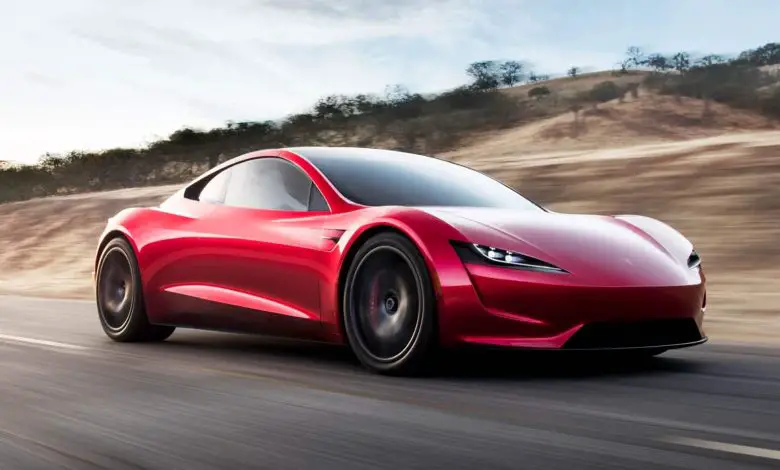 Tesla is a renowned company famous for introducing the concept of electric cars. However, now, they have started to explore other domains as well. Until 2020, their primary selling products were their four electric cars. These were the Tesla Model X, Model 3, Tesla Model Y, and Tesla Model S. But we've got good news for you. Tesla is going to release some new consumer vehicles in 2023, as promised by Elon Musk himself. Tesla will introduce some models for the first time in the market, whereas others, such as the Model X and the Model 3, will be slightly upgraded.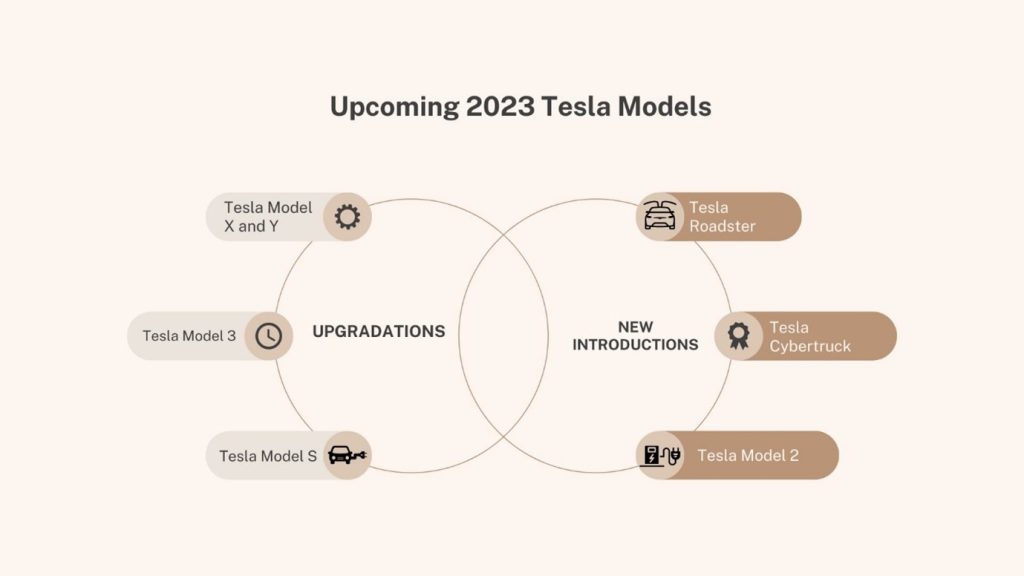 New introductions in the market:
Tesla is going to introduce three new vehicles in the market, although technically the Roadster is more of a return after the previous production stopped in 2012. Of the new models available, two are electric cars, and the other is the long-anticipated Tesla truck. Many people will be looking out for those two car models as they represent both extremes of driving. One is a supercar with high-speed acceleration. The other is a budget model that most everyday users will be looking to buy. Let's have a detailed discussion on them one by one.
1)    Tesla Roadster: 2nd generation, A speed beast
Roadster – A New Addition To The Tesla Lineup; an all-electric vehicle, the quickest electric car in the world, with record-setting speed, range, and performance.
The roadster is not actually a completely new introduction in the market. The public witnessed its previous generation being unveiled in 2008. It has taken Tesla 15 years to come up with Tesla Roadster (2nd generation) but what you will see is entirely worth the wait. Tesla has made many improvements over the previous generation in speed, Range, seating capacity, and overall car shape. Elon Musk first hinted about a new generation in 2016, but he added that it might take years before the product goes public. The salient features of the car include:
Acceleration:
What is a sports car without a mind-boggling acceleration? The same is the case with Tesla Roadster. Tesla claims the car goes from 0 to 60mph in a mere 1.9 seconds. To put that into perspective, you can cover a quarter of a mile in JUST 8.8 SECONDS!
Top speed:
The Tesla Roadster offers a top speed of 250mph, which comes out to be around 400km/h. It is faster than the BUGATTI CHIRON, the car which stunned the world with its speed. Moreover, the Tesla Roadster costs $3 million less than the BUGATTI CHIRON.
Range:
All these top speed and acceleration stats are of no value if the car can not travel for long ranges. When put practically, all those pumped-up speed and acceleration stats mean that you will travel a greater distance in a shorter duration. Therefore, it increases the frequency of charging the car. But Tesla has outsmarted everyone here too. They have placed a 200kWh battery inside this beast. It is double capacity compared to the current batteries used in Tesla models. Therefore, it can provide 620 miles at highway speed on a single charge. It provides a seamless driving experience where you can enjoy the ride without constantly thinking about the car's battery running out.
Variants:
As of now, Tesla will be releasing more than one car variant. It has a base model and further additions, just like all the other cars in the lineup. However, one exciting thing to note here is the introduction of a "Space X" named model, which will have ten small and seamless rockets arranged around the car to give it more speed and stability.
Tesla Roadster 2023 price:
Tesla is going to introduce the base model starting from $200,000. But as the features add up, the price is also expected to hike. Reservations start at $50,000.
Summary of the features:
| | |
| --- | --- |
| Price | $200,000 |
| Acceleration | 0-60mph in 1.9s |
| Top speed | 250mph+/400kmph+ |
| Range | 620 miles on highway speed |
| Battery | 200kWh |
| Seating | 2+2 |
| Torque | 10,000 Nm |
2)    Tesla Model 2: A Budget Tesla priced around $25,000
Entry-Level Tesla (Model 2): An ideal and excellent blend of performance, superb driving range, and affordable pricing, the upcoming Tesla Model 2 is an electric vehicle that has brought new hype to the world. Production dates have not been released. 
The Tesla Model 3 is the entry car for Tesla right now, and it is priced at $46,990. Tesla is thinking of expanding its customer base. For this, they will introduce an entry-level Tesla that will cost around $25,000. Elon Musk has confirmed this in a tweet. However, he stated that the car would not be called a Model 2. We do not know its approved name yet, so we will use Model 2 to address this car..
It will, I think, swiftly become, like shortly exceed the production of all our other vehicles combined.

Elon Musk, Tesla Q3 2022 earnings call on October 19, 2022
Features:
Most people would think that cutting the price in half would mean that Tesla would also miss some of the features. But it is quite the opposite. They are introducing some new features to make this gar as value for money as possible. Let's take a closer look at our best guess on what we may see once the new vehicle is released.
Battery:
Tesla will likely use the 4680 tabless battery design in the upcoming Tesla Model 2. These batteries will have the advantage of being lightweight and more efficient electrically. Therefore, they would provide more range than other batteries of the same energy. These new battery cells will give about 16% more per kWh battery range.
Driving:
Until now, Tesla has only provided electric vehicles with options for full self-driving and auto-pilot. But, taking the driving world to fully self-driving has been the company's dream since day one. Therefore, it has been speculated that this car would be completely autonomous or driverless. During the initial release, we expect to see human drivers operating the vehicle.
Range:
The only slight downside to the car can be its range. Considering the efficient battery and light design, the car could provide somewhere around 250 miles before needing to be charged again. To put it into perspective, some similar electric vehicles offer around 150 miles while still being priced at approximately $5000 more.
Release Date:
| | |
| --- | --- |
| Price | Around $25,000 |
| Range | Around 250 miles |
| Battery | 4680 Tabless Battery |
| Driving | Human and later autonomous |
| Acceleration | 0-60 in 6-8 seconds (speculated) |
Tesla is working on a completely autonomous model, which might take some time before the product hits the market. It might get released late next year if the production does not get delayed due to unforeseen circumstances.
3)    Tesla Cybertruck:
A unique and popular body style in America. Built with an exterior shell made up for extreme durability and passenger protection.
This product is mainly for transportation companies that operate massive trucks over long distances. This truck has a dent and scratch-resistant stainless steel exterior, making it one of the safest vehicles out there. On April 7, 2022, Elon Musk promised that the truck would release in 2023. It targets one of the biggest industries in the US, pickup trucks.
Features of Tesla truck:
The Tesla Cybertruck is unique in its shape, making it stand out from all the pickup trucks you have seen. However, the three variants Tesla will introduce are the most prominent features.
Variants:
The variants are distinguishable based on the number of engines they have. The base variant comes with a single engine and can go from 0 to 60mph in 6.5 seconds with a top speed of 110mph. The variant with two engines can go from 0 to 60mph in 4.5 seconds and clock a top speed of 120mph. The variant with three engines can go from 0 to 60mph in 2.9s and clock up to 130mph.
Adjustable air suspension:
The Cybertruck comes with an adjustable air suspension that can be raised or lowered depending on needs.
How much weight can they support?
The weight that these trucks support depends upon the number of engines. Therefore, the base variant can pull up to 7500 pounds, the bi-engine variant can support up to 10,000 pounds, and the tri-engine beast can pull up to 14,000 pounds.
Interior:
The Tesla Cybertruck is quite spacious with a six-person sitting. It has a flat dashboard with a large touch screen in the middle. The steering wheel is also unique as it is squared.
Price of the Tesla Cybertruck:
The base model of the Tesla Cybertruck starts at $39,900, with the price hiking as you keep adding the features.
| | |
| --- | --- |
| Price | $39,900 (initial estimate) |
| Range | 250-500 miles + |
| Acceleration | 0-60mph in 6.5s (Base model) |
| Maximum load | 7500-14,000 pounds |
| Seating capacity | Six persons |
| Driving | FSD/Auto-pilot + Human |
Vehicles with upgrades:
Right now, Tesla is offering four cars to the general public. As discussed already, these include Model S, Model X, Model Y, and Model 3.
1)    Model S:
It is one of THE FASTEST CARS that Tesla is offering right now. It can clock 0-60mph in 2.3s, just 0.4s behind the Tesla Roadster. It has a seating capacity of 5 people and is available in multiple variants. The car is already near perfection, but slight improvements can be expected in the following domains:
Slight increase in Range
Slight betterment in braking and handling
Round steering wheel (optional)
2)    Model X:
Tesla Model X is a good choice for people with bigger families since it has a seating capacity of around seven people and offers a range of approximately 351 miles. We can expect only a few changes, although Tesla has not officially stated any upgrades. The only area we can expect a slight improvement is the:
Autosteer might finally reach its perfect form
3)    Model Y:
We can expect some improvements in the software domain but nothing much in the hardware domain. Some of the things that might get improved are:
Switch from Intel chips to AMD Ryzen chips
Faster processing speed
Better graphical details
Slightly reduced prices in some markets to compete locally
They might introduce the yoke wheel as they did in the other cars.
4)    Tesla Model 3:
Tesla Model 3 is one of the most successful electric cars that Tesla is offering. It is less likely that Tesla will try to change things up. But still, we can expect anything from Elon Musk. But there could be:
Slightly longer Range
Slightly reduced prices in some markets to compete locally
Conclusion:
If you buy a car from any four of the above, waiting for the new model might not be worth the wait. All the features, both in software and hardware, will be approximately the same, and we don't yet know when these new models will be released in the next year. However, the more recent models (Cybertruck, Model 2 and Roadster) that will be introduced are worth every second of your wait. Especially the Tesla Roadster and Tesla Model 2 look quite promising to most of the audience. Their price tag also indicates that they will be value for money. HAPPY EV-olving!
And don't worry, we'll be covering Tesla's semi soon!