Volkswagen Plans Gigafactory EV Battery Plant
EV News
VW Slashes Price Of ID.3
German automaker, Volkswagen, announced on March 13, 2023 that it plans to build a gigafactory for electric vehicle batteries in Canada. The battery plant will be established in St. Thomas in southwestern Ontario in partnership with its battery company PowerCo. Production in the new plant is planned to start in 2027.
"The Group and its battery company PowerCo selected St. Thomas in Ontario, Canada to establish Volkswagen's first oversea gigafactory for cell manufacturing, which will produce sustainable unified cells," read a statement from Volkswagen Group.
In 2022, Volkswagen signed an agreement with the Canadian government. Part of the agreement was for the automaker to identify a suitable site for building such a facility in Canada. Volkswagen was also committed to investigating ways the North American nation will contribute to the automaker's battery supply chains, including assembly and raw materials.
The decision was a massive blow to Oklahoma's Governor Kevin Stitt and other state officials who hoped to attract the project to the MidAmerica Industrial Park in Pryor, approximately 45 miles from Tulsa. In 2020, the state also lost Tesla's manufacturing facility to Austin, Texas.
"There is no doubt that today's announcement was disappointing," said Stitt. "We would have rather seen those thousands of jobs come to the U.S., specifically Oklahoma than go across the border to Canada. That said, Oklahoma has never been in a position to compete with an entire country for a major project, but that's exactly what we did."
Constructing the plant in Canada will give Volkswagen access to U.S. and Canadian subsidies. Volkswagen's Chairman-Management Board/CEO Oliver Blume continues to stress the importance of North America to the company's marketing strategy.
Why Volkswagen's choice of Canada makes strategic sense
Canada's mining sector is robust, particularly for the mining of nickel, lithium, and cobalt. These minerals are all essential for the production of EV batteries. Also, there is a 1,500-acre "mega site" reserved in southwestern Ontario.
Last month, the province of Ontario hastily passed a law to adjust the municipal boundaries to bring the "mega site" into one municipality to eliminate bureaucratic challenges that may arise from dealing with two municipalities.
Canada has also set aside a multi-billion green technology fund to protect the future of its manufacturing center in Ontario. With the fund, the North American nation hopes to attract companies in the EV supply chain to the country. So far, the country has attracted no fewer than 10 major EV-related commitments totaling over 16 billion Canadian dollars.
With the new battery plant, Volkswagen is also showing its resolve to break away from dependence on Asia for essential parts. Also, it plans to rival Tesla for dominance in the EV market. By 2030, Volkswagen has set the goal of introducing 25 new EV models in the United States.
Details surrounding the amount Volkswagen plans to invest as well as the number of jobs that would be created will be revealed in subsequent announcements according to Ontario Economic Development Minister, Vic Fedeli. Volkswagen believes Canada offered an ideal environment including wide access to clean energy and local raw material supply.
"Canada and Ontario are perfect partners for scaling up our battery business and green economy jobs, as we share the same values of sustainability, responsibility, and cooperation," said Thomas Schmall, chairman of the supervisory board of PowerCo SE.
What Volkswagen missed out on by not choosing Oklahoma for the battery plant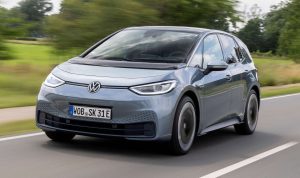 Last year Stitt and the state Legislature approved some incentives for a Panasonic plant. That incentive was recently modified. The modified legislation would have given Volkswagen close to $700 million in state rebates if the company spent a minimum of $3.6 billion on the project and reached certain employment benchmarks.
According to the old employment requirements, Volkswagen would need to have 500 full-time workers in its first year and grow that number to 3,500 full-time staff between four and five years to qualify for state incentives. However, with the new legislature, Volkswagen must create 4,000 jobs to qualify for the incentives.
"Now we are right back to work pursuing additional opportunities in the pipeline and will continue our critical efforts to help companies who are already in Oklahoma expand and grow," said Stitt. "I remain committed and optimistic that if we continue to work together, Oklahoma will land one of these historic opportunities."
If Volkswagen picked Oklahoma, by the time the company was fully staffed, it would have ranked among the top 40 employers in the state and in the top 20 among private employers. Volkswagen Group did not respond to questions about Oklahoma's incentives.
Volkswagen slash ID.3 price
In continuation of the EV price war triggered by Tesla, Volkswagen has cut the price of ID.3, the automaker's flagship electric hatchback. The $3,200 price drop puts it in direct competition with Tesla Model Y. According to reports, the price of ID.3 will likely drop below $42,000.
Ferdinand Dudenhoeffer, an industry analyst believes that Volkswagen perceives Tesla as its biggest rival in the EV market, particularly in China. The expected price drop of the ID.3 will make it more affordable compared to Tesla Model Y Long Range as well as the Tesla Model Y Performance in Europe and the United States.
Tesla Model Y Long Range starts at $54,990 in the U.S. while the performance starts at $58,990. The expected ID.3 price will put it at par with the cost of the Tesla Model Y base model in China. Model Y's RWD option starts at $38.080 while the Long Range and Performance models sell for $45,350 and $52,620 respectively.
China contributes about 40% to Volkswagen group's sales. A local German report claims that Volkswagen holds a 16% market share in China. This is mostly linked to the sales of the automaker's internal combustion engine (ICE) in the Chinese market.
"The times when traditional German carmakers could take their market shares [in China] for granted are gone," said Gregor Sebastian, a Mercator Institute for China Studies analyst. "In China, where people spend a lot of time in traffic jams and highly value new technologies, the car's interaction with the smartphone and overall connectivity is more important."
Related: Volkswagen To Build $2B EV Plant In South Carolina