The New Nissan Ariya Takes Inspiration From 5 Japanese Designs Philosophies
EV News
Owners can expect 329 miles of range with the Emporium Plus trim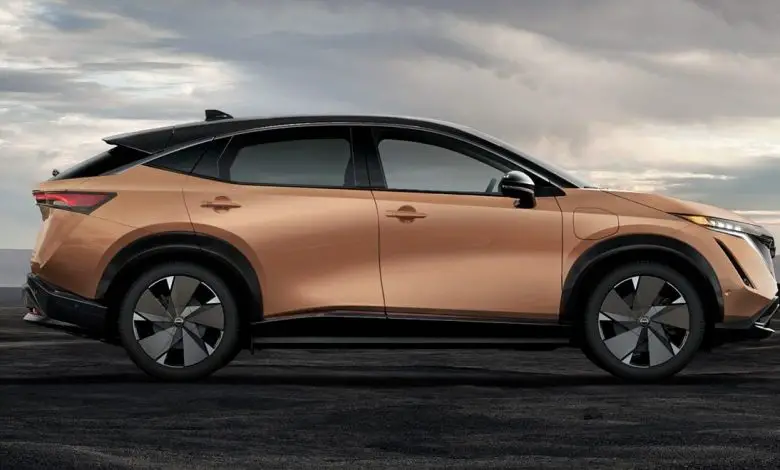 The New Nissan Ariya Takes Inspiration From 5 Japanese Designs Philosophies
For automakers, it is not just about electrifying the passenger vehicle sector, it is more about telling stories with every new design. The new Nissan Ariya follows this trend. Inspired by timeless Japanese designs and philosophies, the new crossover is not only stylish but judged one of the safest and most efficient EVs to date.
The design of the Nissan Ariya incorporates aerodynamic innovations and advanced technologies all geared towards a more sustainable future. Both the exterior and interior of the Ariya contain elements that can be traced back to traditional Japanese design philosophy.
Kabuku—a bold diverse expression that goes against the common approach
In front of the Nissan Ariya, there is a bold one-piece grille that shields the high-tech driving sensors beneath. This includes the all-important Nissan ProPILOT Assist with Navi-Link that helps to make driving safer and easier. 
The grille design delivers a drag coefficient of about 0.297Cd as well as makes it easier for other road users to identify the Ariya as an electric vehicle.
A combination of flat underfloor, clever docks, and sleek lines shaped by nature, Ariya allows air to flow efficiently around it making it one of the most aerodynamic crossovers from Nissan. The LED headlights are reduced to a thin boomerang-like shape.
The headlights work with sequential indicators to reinvent Nissan's iconic V-Motion front-end design. On the rear, a single strip of LED indicator stretches across
Ma—a mastery of empty space by respecting its construction
The interior design of the Ariya is guided by the Japanese philosophy that less is more. The low battery and compact design of the Ariya give room for longer, lower, and flatter floors. This combines with the power adjustable sliding center consoles and slim zero gravity seat to give a lounge-like feel.
 The center console can be moved backward to reveal a hidden large storage compartment. There is also a resourceful mini storage bin and tray or work surface that pulls out of the dashboard with a simple touch of a button.
Sei—a love of craftsmanship
Nissan Ariya comes with a wealth of internal distinctive touches that are also inspired by traditional Japanese crafts. For example, by the door, you will find the Kumiko lattices that are reminiscent of Japanese woodwork.
Around the dashboard, you will find embossed Sakura cherry blossom which is always a great sight to behold. It also has subtle mood lighting that evokes the warm glow of paper lanterns.
Engawa—the undefined space between inside and outside; the space between here and there
Instead of conforming to conventions where a bulky tablet is hooked in the middle of the dashboard, Nissan Ariya goes with a slimmer and wider digital display that appears more balanced. The choice of the display revolves around the idea that we absorb information better when we scan side to side across the horizon.
The design puts critical driving information in your line of sight and closer to the road. Also, the digital display allows you to seamlessly swipe through data between screens. In other words, it embeds traditional navigation into a new ergonomic 12.3-inch touchscreen design.
The touchscreen is responsive and has broad compatibility with wireless Apple CarPlay. Android Auto users will have to rely on a wired connection to get by. The touch display is also compatible with Alexa which allows you to control some functionalities with your voice.
Iki—chic. Cutting edge. Simplistic fresh feeling
In most conventional EVs, buttons usually cluster the dashboards and steering wheel. Nissan has done away with the majority of those buttons in the Ariya. In their place, Nissan has introduced haptic buttons that are effortlessly blended into the trim. When touched, they vibrate to give tactile feedback.
In addition to the innovative buttons, NissanConnect Services makes it possible to remotely control some basic functions on Ariya using your mobile phone. This includes checking the status of your charging or pre-plan your journey before synchronizing it with the area.
What to expect in terms of performance
In the top-range model of the Nissan Ariya, there are powerful front and rear motors that deliver about 306 horsepower and 60 Nm of instant electric torque. Since the EV makes use of both front and rear regenerative braking, the Nissan Ariya offers a smooth braking experience.
Also, the Nissan Ariya offers an advanced all-electric, all-wheel drive that provides exceptional control in corners and tough weather. You can get up to 329 miles of range with the Emporium Plus trim with a larger 87-kilowatt-hour battery or 205 miles with the smaller 63-kWh that comes with the standard trim.
Using the ultra-rapid 130 KW charger, you can add 186 miles in range in just 30 minutes. Regardless of the trim you choose, you will get the extensive Nissan Safety Shield 360 suite.
The Nissan Ariya comes with smart-driving aids that help to make every journey less stressful and safer. For example, e-pedal step one pedal driving and a range of driver assistance aids a lending hand and keeping you on track in your lane and avoiding hazards.
It also comes with an intelligent rear-view mirror that works with an intelligent around-view monitor that makes reverse parking easier. A ProPilots Park guides your car into an available space. The styling and intuitive features of the Ariya reimagines what an electric car can be.
Nissan Ariya has an impressive Moose Test score
The Nissan Ariya has been performing remarkably well in terms of security since its release. It bagged a 5-star safety rating from Euro NCAP. When subjected to Moose Test, it gave impressive results too. The moose test checks how easily a vehicle can weave through obstacles in a zigzag manner.
Both in terms of security and from the point of speed, Ariya's performance was considerably high. It was easy to keep the car under control in all the tests. This is partially thanks to the ESC kicking into action to lower the speed of the car. The car was able to achieve the best performance at 77 km/h (48 mph). Overall, the reaction was neutral, safe, and easy to control.
Factors worth considering before making a purchase
The sloping roof chops off ample headspace from the rear of the car which can be a problem—especially for taller passengers. Also, the thick pillars, protruding rear camera, and low roof all work together to lower visibility. 
The lower range of the Nissan Ariya compared to its competitors is also another source of worry for those with range anxiety. Interestingly, the available trims don't have AWD yet which tends to dampen the traditional compact SUV experience. 
However, Nissan projects that it will be available in early 2023. It is also unlikely that Nissan Ariya will qualify for federal tax credit meaning buyers have to bear all the cost out of pocket. Regardless, Nissan Ariya has all it takes to give rivals a run for their money.