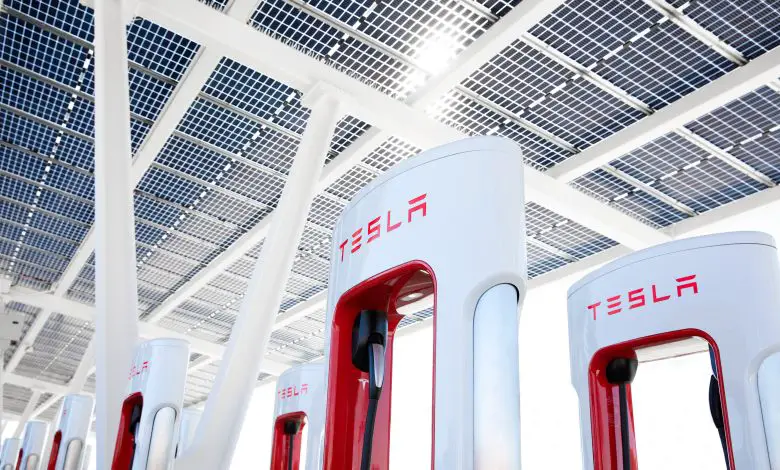 Tesla, the world's leading electric vehicle maker, may lose out on $7.5 billion in charger subsidies if it fails to open its EV charging network to competitors. According to Reuters, next week, the Department of Transportation will finalize a requirement that puts pressure on Tesla to add the charger used by rival electric-vehicle makers. Currently, Tesla's SuperCharger network has several stations in the US than any other charging company, but they can only connect to plugs used by Tesla cars.
The Biden administration plans to lay out the $7.5 billion funding to increase the number of charging stations in the US. However, if Tesla doesn't open up its network to competitors, it could miss out on the funding. Administration officials told Reuters that they understand that Tesla is looking to change its system to be more open access, and if they meet the eligibility requirements, they will be eligible for funding.
The transportation development division head of Iowa, Stuart Anderson, confirmed to Reuters that Tesla is looking to make its system more open access. Tesla CEO, Elon Musk, has previously spoken about opening up the Supercharger network, but he hasn't moved publicly to let others in.
Will Tesla Share Its Massive Charging Network with Competitors?
Tesla is prominent in chargers in the US, with a huge private network of over 40,000 EV chargers globally. However, opening up that network to competitors like Ford, GM, and Rivian could take some of the shine off Tesla's brand, as it removes its customers' exclusive use. On the other hand, it could be a new revenue stream for Tesla, in addition to any subsidy windfall.
All the shares in it were up 1.1% in premarket trading on Monday after closing 5% lower on Friday in a broader-based stock slide. The EV maker's stock has risen about 60% in the year to date.
In February, the DOT tweaked its $7,500 tax credit consumer incentive plan to include more eligible models by expanding the definition of an SUV. This increased the potential demand for some of Tesla's models.
Tesla CEO, Elon Musk, met with two White House officials last month to talk about EV production and the Bipartisan Infrastructure Law, which includes legislation on charging equipment.
However, the move to open up Tesla's network could potentially be a win-win for the company and its competitors. By opening up the network, Tesla could gain access to new revenue streams, while its competitors could expand their customer base. Furthermore, the move towards greater cooperation could enhance the adoption of electric vehicles in the US, leading to a more sustainable future for all.
Tesla Charging Stations: Fueling Your EV Across the Globe
Do you want to hit the open road without the stress of charging? The Tesla Supercharger network has got you covered. With more than 40,000 charging stalls worldwide, Tesla's network of fast DC chargers has become one of the most recognizable and accessible charging options available to EV drivers, providing a compelling reason to choose a Tesla over other electric vehicle models.
Although the network has historically only been available to Tesla owners, the company has plans to open up the Supercharger network to all EV drivers in the near future, making it even more accessible for everyone. So whether you are planning a cross-country road trip or just need a quick top-up while running errands around town, Tesla's Supercharger network has got you covered.
With more than 1,400 Supercharger stations and 7,000 chargers in the US alone, Tesla has covered the country with convenient and accessible charging options. Whether you're cruising through the rolling hills of the Midwest or weaving through the busy streets of a bustling metropolis, you can rest assured that a quick recharge is always just a few miles away.
Of course, Tesla's Superchargers are not only limited to the United States. With stations in Canada, Mexico, and locations across the globe, the possibilities for EV travel are nearly limitless. However, with even more Supercharger stations in the works, Tesla's commitment to making EVs accessible and convenient is unwavering.
How to find a Tesla Charging Station?
Worried about how you will find a Tesla Charging Station? Tesla owners can rest assured that their vehicles will always be equipped to find the nearest Supercharger station. The Tesla app, conveniently located right in the car, offers real-time information on available Superchargers in the surrounding area, as well as along planned routes. Based on expected range usage and other pertinent information, the app will even recommend ideal stopping points for recharging, complete with details on nearby amenities.
But what if you're on the go and away from your car? Not to worry, as the same information is available at your fingertips via the Tesla smartphone app. Whether you're in need of a quick recharge during a road trip or simply searching for the nearest Supercharger on a busy city street, Tesla's comprehensive network has you covered.
With these tools, Tesla is making it easier for drivers to take full advantage of their electric vehicles without worrying about running out of power. So whether you're a tech-savvy person or a seasoned road driver, you can hit the road with confidence, knowing that Tesla has your back.
Is the Tesla Network Better Than Rival Fast-Charging Networks?
The Supercharger network is currently exclusive to Tesla owners, offering a superior fast-charging experience compared to other networks. Tesla has announced plans to open up the network to other electric vehicle brands eventually, but it remains to be seen how well the network will accommodate those users. Factors such as compatibility, reliability, convenience, and pricing relative to other networks are unknown at this time.
Non-Tesla owners who intend to use the Supercharger network will need an adapter to connect to Tesla's proprietary charging hardware, as well as the Tesla smartphone app to access the network and pay for charging.
Despite these limitations, the Supercharger network is considered one of the best and most widespread charging networks currently available. Tesla is actively expanding the production capacity of chargers and related hardware to meet the growing demand for electric vehicle charging and to improve compatibility with other EV brands.
Final Thoughts
In conclusion, the pressure on Tesla to open up its charging network could potentially be a turning point for the EV market in the US. By embracing a more open and collaborative approach, all players could benefit, leading to a cleaner and more sustainable future for all.