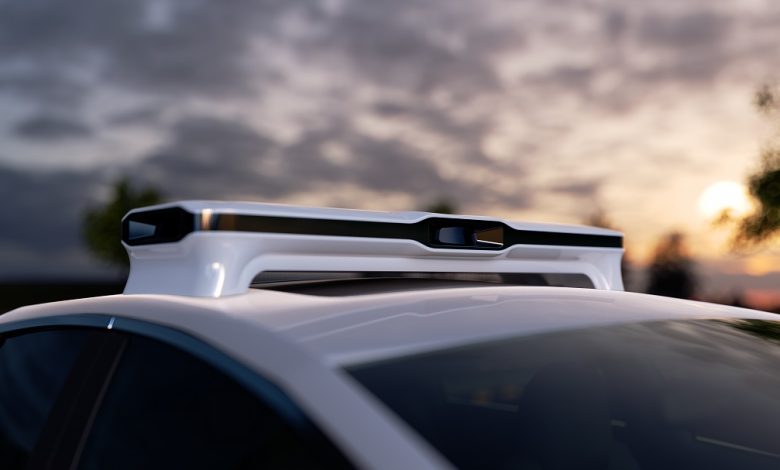 RoboSense has unveiled RS-Fusion-P6 (P6), its first automotive solid-state LiDAR perception solution for Level 4 ( L4) Autonomous Driving. The Shenzhen-based Smart LiDAR Sensor Systems provider made the announcement on Thursday 2 March 2023.
Leveraging advanced hardware and software from the company, the P6 delivers intelligent and precise capabilities. Some of the advantages of P6 over other similar systems include;
Promotion of rapid implementation of large-scale self-driving commercial operations

Giving autonomous vehicles the ability to navigate complex driving scenes with ease

Reducing costs and increasing efficiency
The solid-state LiDAR perception solution seamlessly integrates software based on artificial intelligence technology and hardware based on two-dimensional MEMS scanning technology. It was designed to be scalable and flexible which gives it a broad autonomous driving application. In other words, it can be customized to fit into various vehicle platforms without compromising its accuracy and performance.
One of the critical features of the P6 is its high-performance start-to-finish perception power for full-scene surroundings which makes it ideal for a broad range of driving environments from highways to streets and every other thing in between. With the help of four M-series solid-state LiDars, the P6 delivers dynamic switching, accurate, and high-resolution detection for long distances.
With this feature, the P6 can detect the traffic condition as far as 200 meters away. This information is quickly processed to provide feedback to the autonomous driving control center so that the vehicle can react in milliseconds to environmental changes while driving.
The launch of P6 shows RoboSense's deep understanding of autonomous driving challenges
Also, P6 is equipped with 'RoboSense Perception', a real-time point cloud perception software that offers intelligent processing. With the help of RoboSense Perception, P6 can analyze complex traffic environment data with pinpoint accuracy.
The ability of P6 to accurately identify trucks, cars, electric vehicles, pedestrians, and other obstacles on the road will remain high in mixed traffic and bad weather conditions. In addition to identifying the obstacle, P6 will track its location, acceleration, and speed.
RoboSense claims that vehicles equipped with P6 can make accurate judgments and perform the right action in real time. Thus, the launch of P6 can provide the foundation for the rapid evolution and adoption of autonomous driving technology.
P6 is a worthy addition to RoboSense's portfolio which includes integrated sensing solutions. Perception software as well as mechanical and solid-state LiDAR sensors. With this vast and robust portfolio, RoboSense is primed to be one of the leaders of autonomous driving in the mobility sector.
Tesla failed to make the top 10 on the list of self-driving companies
Tesla has invested a huge amount of money in the development of autonomous driving features for its EVs. However, it still failed to be in the top ten position among 16 self-driving companies ranked by Guidehouse Insights, a research and consulting firm.
Every year, Guidehouse Insights ranks the self-driving technology of some of the biggest names in the automotive industry. The 2023 ranking placed Tesla in the last position. This year, the focus of Guidehouse was the development of self-driving technology for light- to medium-duty vehicles.
The ranking is coming at a time when the autonomous driving industry is facing myriads of challenges including shrinking investor interest, diminishing funds, and supply chain disruptions. However, some companies have fared better than others in dealing with those setbacks.
For example, Ford and Volkswagen were forced to shut down their joint self-driving unit known as Argo AI. GM's autonomous driving subsidiary, Cruise, was slammed with a probe from the National Highway Traffic Safety Administration(NHTSA). Alphabet Inc-backed Waymo and Nuro (a delivery startup) have had to trim their workforce.
Nevertheless, the autonomous driving industry still presented promising developments. Guidehouse Insights pointed out the ambitious plans by Mobileye, Zoox, and Motional to launch autonomous driving services this year. Also, AutoX, Baidu, and Cruise are all performing pilots of their commercial robotaxi service.
Factors Guidehouse considered to come up with the list
Guidehouse considers several factors when ranking self-driving companies including commercial readiness, tech, partners, go-to-market and production strategies, the company's vision, and so on. During the ranking process, Guidehouse divides the companies into four categories namely;
Leaders

Contenders

Challengers

Followers
Guidehouse considers Waymo, Mobileye, Baidu, and Cruise "Leaders" in the autonomous driving industry. Tesla was the only "Follower" in the ranking. The majority of the ranked self-driving companies fell under the "Contender" category namely Motional, Nvidia, Aurora, WeRide, Zoox, Gatik, Nuro, and AutoX.
Autonomous A2Z, May Mobility, and Pony AI were considered "Challengers" in the autonomous driving industry. Tesla's ranking was based on its low rantings in self-driving execution and strategy. Tesla has come under severe scrutiny by regulators for its Autopilot and Full Self-Driving (FSD) technologies.
For a long time, Tesla's CEO, Elon Musk, has promised autonomous driving vehicles. However, the company has failed to live up to its promise. The best Tesla EVs offer at the moment is FSD which drivers can install for $15,000. However, it still requires the driver to keep their hands on the wheels at all times.
The Society of Automotive Engineers, the body that establishes the industry standard for autonomous driving levels, classifies it as a Level 2 (L2)—which can be compared to systems like GM's Super Cruise and Ford's BlueCruise.
Here is a list of how Guidehouse Insights ranked self-driving companies from the best to the worst;
Mobileye

Waymo

Baidu

Cruise

Motional

Nvidia

Aurora

WeRide

Zoox

Gatik

Nuro

AutoX

Autonomous A2Z

May Mobility

Pony AI

Tesla