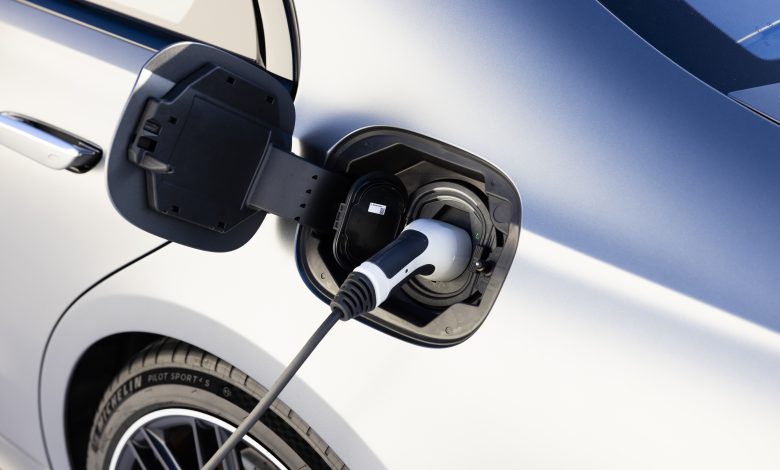 An announcement from Mercedes-Benz was anticipated at CES 2023. Most people thought it would be something in the line of a new electric vehicle concept or an upgrade to an existing EV. 
However, the German automaker made a different announcement on Thursday 5 January 2023. Inasmuch as it may not be what many expected, it was still a huge step toward encouraging EV adoption.
Mercedes-Benz revealed that it will build a network of 2,500 high-powered chargers in the United States by 2027, starting this year. Building the charging network in the United States will cost the company $1.05 billion. If there was ever a doubt about Mercedes-Benz committing to EVs, this unexpected reveal clears the air on the company's future.  
The fast chargers will be distributed into 400 stations and operate under the company's brand, something similar to what Tesla is already doing. While Mercedes-Benz plans to open the network to drivers of other EV brands, owners of Mercedes-Benz will get preferential treatment.
One of the privileges that Mercedes drivers will enjoy is the ability to reserve charging time across the network. Since the network is tailored to work automatically with Mercedes cars, drivers simply need to plug in their vehicles.
No doubt, Tesla's extensive network of charging stations was instrumental to the company's success and record sales. The extensive charging network helped to quell the fears of new drivers of the brand who didn't have to worry about finding a place to plug their vehicles or being stranded on the roadside.
Mercedes-Benz's proposed charging network may not be enough
Mercedes-Benz has lost a significant number of customers to Tesla but making frantic efforts to win them back. In 2022, the German automaker opened a battery factory in Alabama and began the production of an electric SUV, the EQS, at a plant close to Tuscaloosa.
However, even if Mercedes-Benz successfully installs all 2,500 high-powered chargers, it will still be one-third the size of Tesla's charging network in the United States. Tesla claims on its website that it has 40,000 charging points across the globe.
This extensive charging port gives Tesla an edge over other EV makers who mostly rely on privately-owned charging stations to power up the drivers of their brand. Mercedes-Benz's approach is more ambitious than other automakers.
For example, Volkswagen owns the majority stake in Electrify America which has 3,400 fast chargers installed across 790 locations in the United States. However, the Volkswagen brand is not displayed prominently on the chargers.
The chief executive of Mercedes-Benz, Ola Källenius, told reporters that the move toward Mercedes-branded chargers was "a strategic decision to put our money where our mouth is".
Mercedes-Benz is already a partner in a European charging network called Ionity. Leveraging the platform, the company plans to install Mercedes-branded chargers in Europe and China, after kicking off the project in the United States. When completed, the network will have more than 10,000 plugs across the globe.
Mercedes plans to split the project cost with MN8, a solar energy producer that will power the sites. The companies have the intention of applying for federal subsidies reserved for companies that build chargers.
The CEO of ChargePoint, Pasquale Romano will supply the charging equipment to Mercedes. According to Romano, charging and payment "both happen under the covers, in an invisible way".
Mercedes-branded chargers will be strategically located
Some of the fast chargers that Mercedes plans to install will have the capacity of pumping energy into cars at 350 kilowatts per hour. This is faster than traditional chargers found in the United States.
In terms of where the chargers will be installed, Mercedes plans to build hubs in key population centers and cities, especially close to major roads, restrooms, and businesses like restaurants.
For example, some of the hubs will be located close to luxury malls visited frequently by the company's customers. Others will be installed at participating Mercedes dealerships.
Each of the hubs will have four to twelve ports. According to Källenius, "this is one of the building blocks that will encourage more customers to hop into the electric vehicles of Mercedes-Benz".
Mercedes also plans to install surveillance cameras in the hubs for maximum security. This is undoubtedly a strategy Mercedes wants to use to address complaints that some EV owners nurse pertaining to the use of chargers in isolated areas.
Markus Schäfer, Mercedes' chief technology officer assured that the hubs will be located in well-lighted, "safe locations, not next to the dumpster at the backyard of a shopping center".
Mercedes-Benz wants to invest $4.1 billion from 2023 to 2030 in battery-electric vehicles (BEVs). From 2025, their newly launched platforms will be all-electric.