Ford F-150 Lightning Price Hike: Still worth the money?
EV News
Price increases continue for Ford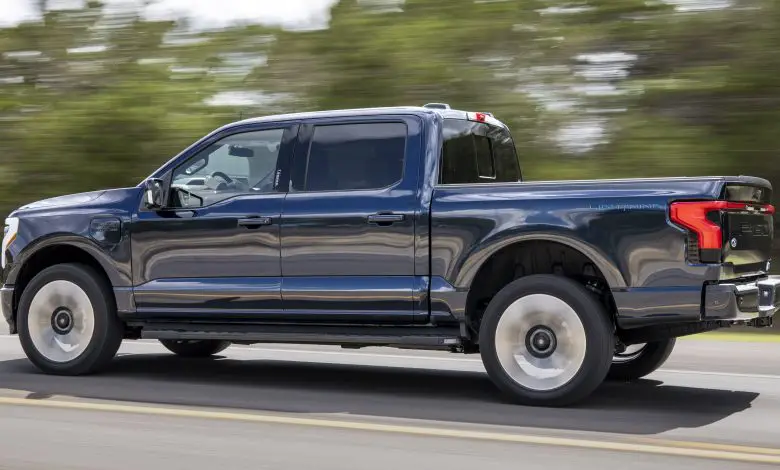 Ford is a company renowned for its cars and trucks. But, the trucks it makes are just on another whole level. Ford was quick to jump to the production of electric trucks after seeing the increasing trend of shifting toward electric vehicles. They released the Ford F-150 Lightning, available in four different models. The price started from $40,000 for the base variant. It was a sweet spot for most people since most high-end electric cars also came with this price tag. At the same time, the truck has its aura when you drive it on the road. This release was a success for Ford, and they eventually had to close taking the orders for the base variant in December last year because they had already received 200,000 orders. That is a HUGE number. Well, then, why would they increase the price? Let's look into the causative factors.
How much has the price increased?
The price hike is asymmetric between the models. The Base model (also called the Pro Model) now stands at $52,000. Previously, it was priced at $40,000. That is a hefty $12,000 gap between the two prices.
The top-most model, the PLATINUM model, was priced at $92,000 last year. It has seen a relatively lesser price hike and stands at $97,000 now. Resources say that these prices exclude the $1750 shipping cost.
Most of the resources exclude Ford F-150 Lightning from the federal tax credit. However, if it becomes applicable at any point in the future, it would be a sigh of relief for the potential customers.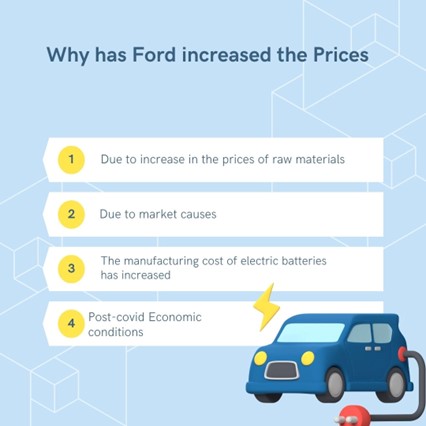 Why has Ford increased the price?
Many people are asking the same question. "Why would you increase the price of such a popular consumer truck?". Ford has answered the question to clear all the rising voices. According to them, the decision to increase the prices has been made owing to the increase in raw materials prices and other market factors. Although they have not defined other market factors, many people speculate that these factors relate to the economic conditions post-covid.
Secondly, if they have increased the prices due to the rise in raw material costs, will they decrease the price when raw materials become cheaper? To address this, Ford has ensured its customers that they will closely monitor the vehicles' prices throughout the year. It has raised some hope that the prices might go down if raw materials get cheaper.
Does this raise apply to already ordered vehicles?
Some people are also worried about their pre-orders and that this price hike might affect them. Therefore, Ford has clarified that this price hike applies only to the trucks ordered after October 2022. The customers who have already placed their orders remain unaffected by this price hike.
Are the trucks still worth the money?
Ford F-150 lightning trucks are still one of the most affordable options available in the market, even after the massive price hike. It depicts how much Ford cares for its customers and that their decision was inevitable due to the economic situation. Just to put things into perspective, We have compared Ford (after the price hike) and another truck from a famous company so that people can understand whether the Ford F-150 truck is still worth their money or not.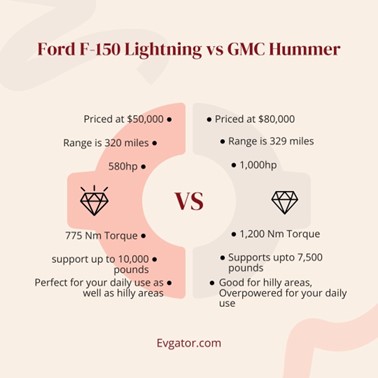 The average consumer is mainly concerned with the Range or Acceleration. These are the two things that concern him in real life. Some people will see better stats in the case of Torque and Horsepower for the Hummer. But the main point here is, "Are you really going to use all that horsepower and torque in your daily life?" If the answer is yes, then you might as well spend the extra $30,000 and buy a GMC Hummer, but if the answer is no, then the Ford F-150 lightning is still the best choice that you have got.
Well, if you have made up your mind to buy a Ford, let us make the selection of the variant a bit easier for you.
Ford F-150 Lightning models and variants:
Ford F-150 lightning comes in four different variants priced between $51,000 to $97,000. Let us have a look at them one-by-one
Ford F-150 Lightning Pro: $51,000
It is the base variant of the lineup. The fact that Ford even starts its base variant with the name Pro indicates how epic their trucks are. We have described the significant features affecting the consumer's choice of vehicle purchase. For all the tiny details, you should preferably visit the website.
Range:
The base model offers a range of 240 miles on a full charge. It might seem a bit less, provided the updated price of the truck, but it is due to the greater torque and horsepower you will enjoy. Moreover, this range is suitable for in-city driving and long drives with your family.
Acceleration:
It is where things start to get spicy. This beast takes you from 0-60 mph in 4.1 seconds. The adrenaline you get pumping through your blood makes this beast worth every penny.
Towing:
Ford F-150 Lightning Pro (2023) can support up to 7,700 pounds. It means you can have a smooth ride with all your family and all the luggage. You can go on a long drive with your family or plan a road trip since this giant can give you a smooth ride on a hilly track. Do not worry about that range. There are enough charging stations to make your journey a seamless one.
Charging:
You can charge the truck overnight. It takes about 10 hours for it to go from 15-100. These stats are for home-installed chargers. Using a High-voltage DC charger might reduce the time and give you a faster charge.
Extras:
The base variant provides a rear-view and lane-keeping system to assist you in driving. Moreover, it also has a post-collision braking system to minimize the damage in case a collision happens. It adds a lot of safety to driving. The truck also has cruise control, and there is a push-button start. It means there are no keys. There are substantial 18-inch machine tires to get you through bumpy areas smoothly.
| | |
| --- | --- |
| Range | 240 miles |
| Acceleration | 0-60 in 4.1s |
| Torque | 775 Nm |
| Towing | 7700 pounds |
| Charging | 15-100 in 10 hours |
| Extras | Rear-view, Lane-keeping, Cruise-control, Post-collision braking |
Ford F-150 Lightning XLT: $59,000
It is the next variant after the base model. It is better in some domains and at par in others.
Range:
The substantial increase is in the range of the vehicle. XLT variant covers 320 miles on a single charge which is 80 miles or 1/3rd more than the base model.
Acceleration:
There is only a slight improvement here as the XLT variant takes you from 0-60 mph in less than 4s.
Towing capacity:
We again see a dramatic increase in this domain. It supports 2,300 pounds more than the base model, which means that it can support up to 10,000 pounds.
Charging:
The charging takes ten hours to go from 15% to fully charged. On paper, it seems similar to the base model. But the thing to notice here is that this truck offers 80 miles more on the same charge. Therefore, it is much better than the base model.
Extras:
It is where things start to get interesting. It offers the same cruise control and push button start as the base variant, but here you get to see a leather steering wheel, lightning ford logo on the front, LED mirror-mounted spotlights, and better tires in the form of 20-inch alloy carbonized tires. In addition to the post-collision braking seen in the base variant, this variant also offers pre-collision assistance with automatic emergency braking. Rain-sensing wipers get activated by rain and start to function automatically. The pro-power onboard feature is present. It allows the vehicle to provide power externally via 120V power sockets.
| | |
| --- | --- |
| Range | 320 miles |
| Acceleration | 0-60 under 4s |
| Torque | 775 Nm+ |
| Towing | 10,000 |
| Charging | 15-100 in 10 hours |
| Extras | All in Pro model + leather steering wheel, lightning ford logo, rain-sensing wipers, pre-collision emergency braking, and 20-inch tires. |
Ford Lightning F-150 Lariat: $76,000
This variant is superior to the two described previously. It has a $15,000 price gap from the previous variant. It is not much better in the major areas, but the extras are where it makes the difference.
Range:
Lariat provides a smooth 320 miles ride before you need to recharge it. Even though the drive "quantity" in terms of the mileage might not be better, the drive "quality" is certainly much better than the previously discussed models.
Acceleration:
The acceleration is better than the base model but at par with the XLT model.
Charging:
The Lariat model also takes about 10 hours, from 15% to fully charged. These stats are for home-based chargers. If any fast charging station is available in your vicinity, you might take advantage of that.
Extras:
Some people like to have a moon or sliding roof on the car. This option is available in this variant. It is not built-in, and you might have to pay some extra money to avail of this option. There are heated side mirrors. The side mirrors are also machine mounted, the rain wipers are still automatic, and there is a leather steering.
| | |
| --- | --- |
| Range | 320 miles |
| Acceleration | 0-60 in under 4s |
| Torque | 775 Nm+ |
| Towing | 10,000 pounds |
| Charging | 15-100 in 10 hours |
| Extras | Rear-view, Lane-keeping, Cruise-control, Post-collision braking, electric mounted side mirrors, heated side mirrors, moonroof (available) |
Ford F-16 Lightning Platinum:
It is the last and the highest-end truck that Ford offers. It contains all the extras in the previous models combined. Some of the significant features are:
Range:
The range of the truck is slightly less as it covers 300 miles on a single charge. It might be due to the toll of those "extras" on the battery.
Charging:
It can go from 15% to 100% in 8 hours on house-based chargers. It provides a significant 2-hour advantage over all the previous models. Using the facility of fast-charging stations can further get the time down.
Acceleration and towing:
Acceleration is the same, i.e., 0-60 mph in less than 4 seconds, but it can support more weight, up to 8,600 pounds.
Extras:
Along with all the extras discussed previously, it has a built-in twin-panel moonroof and 22-inch bright machined w/ebony tires that give a smooth and steady ride.
| | |
| --- | --- |
| Range | 300 miles |
| Acceleration | 0-60 in under 4s |
| Torque | 775 Nm+ |
| Towing | 8600 pounds |
| Charging | 15-100 in 08 hours |
| Extras | Rear-view, Lane-keeping, Cruise-control, Post-collision braking, pre-collision braking, 22-inch tires, |